Played
August 21, 2010 8:30 PM EDT
Robertson Stadium, Houston, United States
Referee:‬ Kevin Stott‎
Chicago Fire vs. Houston Dynamo: Head To Head Preview
Both teams need the points.
By Isaac Heath and Kevin McCauley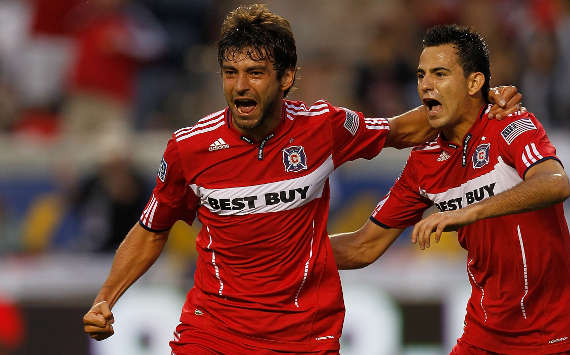 On Form:

Chicago: While the Fire got a much needed win on Wednesday over the Revolution, they still struggled mightily much of the match. That being said, two players who really stood out were Calen Carr, and Freddie Ljunberg. Carr scored a game winner with five minutes to play in his first game of the season, and the forward is likely to play a big role off the bench for Chicago the rest of the season. Ljunberg has been great for Chicago ever since he arrived and his playmaking abilities will be the key to any success the Fire enjoys.

Houston: Considering that the Houston Dynamo registered one shot on target against the New England Revolution in an absolute snoozefest of a game, it's fair to say that no one is really on target for the Dynamo right now. The team is winless in their last ten MLS matches, giving more weight to the argument that no one is worthy of this space. So, just skip to the next section. It's entitled "Off Target," which is precisely what the Houston Dynamo are.

Off Target

Chicago: I hesitate to really say that his play is "off target" at this point because he is still working his way into game shape, but Nery Castillo has looked awkwardly uncomfortable in his first two appearances with the Fire. Carlos de los Cobos is confident that Castillo will be at his best soon, and maybe playing on the road will help Castillo relax and play better. If the Fire can keep winning while Castillo figures things out, they will be all the better for it when he hits his stride.

Houston: The Houston Dynamo. It's difficult to pick out a single player that doesn't fall into this category right now. Tally Hall didn't have an atrocious game against New England, but he let in the only shot that challenged him. Danny Cruz wasn't abysmal, but he didn't create a whole lot either. At least he had flashes of being potentially dangerous. Other than those two, it's not unfair to call the performance of the rest of the team atrocious and completely unacceptable. Geoff Cameron played in the center of defense against New England because of injuries, but maybe he'll provide a boost if he's allowed to move back into the midfield. If Houston wants to have any chance at respectability this season, starts Brian Ching and Bobby Boswell are going to need to be the players that jump out of this "Off Target" category. No player makes a team and everyone has to play better for the Dynamo to get out of their rut, but it will be nearly impossible for the team to succeed with Brian Ching and Bobby Boswell in their current form.

Tactics

Chicago: Houston has struggled this year, no doubt feeling the loss of Stuart Holden. De los Cobos really wants to play an attacking style of soccer with Castillo, Pappa, and Ljunberg pushing the pace, so I expect to see a 4-4-2 once again with Castillo on the left wing and Ljunberg and McBride up top. As the game goes on, look for Castillo to almost play as a third striker.

Houston: When a team is completely ravaged by injuries and suspensions, tactics become a bit of an afterthought. One might look at the squad that Dominic Kinnear deployed against New England last week and think that he didn't give his side the best chance to win, but in reality he was just playing the players that he had. With Brad Davis, Ryan Cochrane, Mike Chabala, and Adrian Serioux all unavailable, Kinnear had to make do with the players that were available to him. The lineup that resulted had Andrew Hainault at left back, Richard Mulrooney at right back, two defensive minded midfielders in Anthony Obodai and Lovel Palmer in the center, and Brian Mullan up top with Brian Ching. Chabala returns this week, but the other three do not.

This means that Houston are likely to deploy Cameron in defense again with both Palmer and Obodai in the middle. It would be interesting to see one of those two players sacrificed to have Brian Mullan or Joseph Ngwenya play in the hole, since both Obodai and Palmer are lacking in creativity and attacking instincts.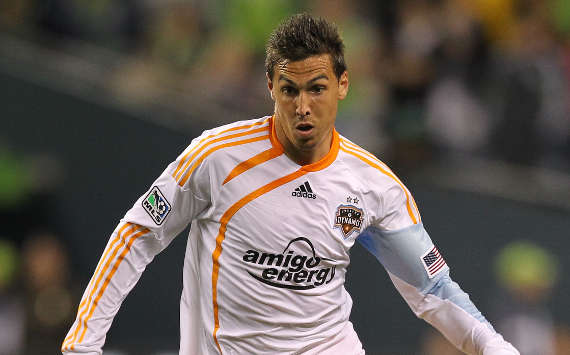 Intangibles

Chicago: The Fire have a couple games in hand on the rest of MLS, so any wins they get here feel like a bonus. With how the season has gone it is hard to believe that the Fire is just 3 points behind Toronto for third place in the east. If the Fire can win, they will have grabbed 10 points out of a possible 12 in their last 4 games and will tighten their grip on a playoff berth.

Houston: It seemed like Geoff Cameron might provide the Dynamo with a significant psychological boost, but they certainly didn't show it last Saturday. At this point, finding the right mindset to win games is probably very difficult for the Dynamo since they haven't won in the league since May. Something ridiculous has to happen, either a wonder goal or a bad mistake by Chicago that gifts them a lead. Fortunately for Houston, Wilman Conde made himself look perfectly capable of this with his comical error against New England on Wednesday. The Dynamo are beyond the point of needing a great pep talk or a leader to step up. Someone has to put them on the scoresheet, and early. It's the only way they'll be able to gain any kind of edge in the mental battle.

Outcome

Chicago: I think that the Fire will win this game, but it will be much more difficult than it seems on paper. Look for a 2-1 victory for Chicago on the road. I won't even try to call a Castillo goal this week and jinx him.

Houston: 3-0 Dynamo win. Just kidding. I'm going to go out on a limb and predict that the Dynamo get an early goal, only to throw away three points in heartbreaking fashion as Chicago scores a garbage equalizer that should have been called back for a foul or offsides. It would be fitting for this season, wouldn't it? 1-1 draw.

For more on Major League Soccer, visit Goal.com's MLS page and join Goal.com USA's Facebook fan page!
Field Report
Top 3 Predictions
Houston Dynamo 0-2 Chicago Fire

21.43 %

Houston Dynamo 1-0 Chicago Fire

21.43 %

Houston Dynamo 0-3 Chicago Fire

14.29 %
Live Final scheduled Suspended Cancelled Postponed