Played
August 21, 2010 1:00 PM EDT

Toronto FC Vs New York Red Bulls: Head To Head Preview
The two Eastern Conference foes will do battle at BMO Field.
By Mike Beauvais & Avery Raimondo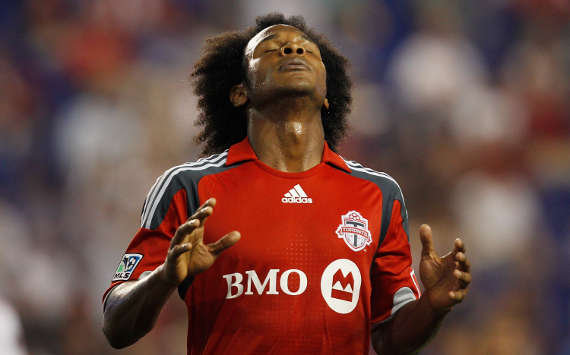 On Form
Toronto FC: With no league action for Toronto now approaching a fortnight, the Reds made their Champions League group stage debut on Tuesday night a triumphant one with a surprise 2-1 win over Cruz Azul. While the win itself was impressive, more inspiring was the number of key contributions that came from guys outside of the usual suspects.
Jon Conway, a virtual nonentity this season due to the sparkling play of Stefan Frei, came off of the bench and made a trio of fine saves to preserve the victory. The offense was spearheaded by predominately defensive midfielder, Martin Saric, who not only scored the opener, but whose screen provided an opening for the winner. The winning goal was scored by Mista, who seems to be coming around to North American football after a slow period of adaptation.
New York Red Bulls: Despite another dropped result and zero goals scored last weekend against the Galaxy, the New York Red Bulls still sustained a dangerous attack that always seemed on the verge of finding a breakthrough. Juan Pablo Angel hasn't scored since Thierry Henry's debut against Houston and the French star is still yet to find his first goal in MLS, but the end of both streaks is inevitable as the forwards gel.
Off Target
Toronto FC: While the first half of Tuesday's match seemed to be a far cry from the plodding offensive showing TFC had at Red Bulls Arena last Wednesday, the latter stages of the match were cause for concern for the Reds.
The 2-1 scoreline was a flattering one for Cruz Azul, as they were completely out of sorts defensively for the entire first half and a large part of the second, but the Reds couldn't take advantage of this, due to seeming complacency. TFC was happy to cede possession in the middle third of the field and just sit back and have Cruz Azul come at them. Granted, the Reds were able to limit their Mexican opponent's chances (and their goal came on a free kick), but that kind of effort won't cut it against a team with the firepower of NYRB. There simply was no need for the match to have been as close as it was, as they could have buried Cruz Azul. For TFC to accomplish their goal of making the playoffs (and advancing in Champions League, for that matter), they're going to need show much more of a killer instinct.
New York Red Bulls: The performance of Rafa Marquez in his first appearance within Red Bull Arena was particularly worrying for New York supporters. The Mexican was culpable for the night's lone goal as his midfield giveaway generated Edson Buddle's opportunity. The match was a wakeup call for Marquez who was nonchalant in possession during his appearance so in some ways a nightmare performance forcing him to concentrate could be a positive.
Tactics
Toronto FC: Dane Richards is back and this could be a big problem for TFC. The Reds have had trouble all season with pacey wingers and Richards will be another handful. Because of this, look for Toronto to try to hold up play in the midfield and do their best to neutralize his threat. Obviously, this won't be enough, as there is still Juan Pablo Angel and Thierry Henry to deal with, but based on recent history, what Richards has to offer is exactly the type of play that kills TFC.
The one positive in all of this for the Reds is that their XI is always a fluid one. TFC has proven to be able to seamlessly transition from a 4-5-1 to a 4-4-2 or a 4-3-3 at various times in matches for whenever the situation calls for it. As for who will make up their XI on Saturday, Dan Gargan is back from suspension and will likely feature, but the status of Maicon Santos, absent from the Champions League match, is still up in the air.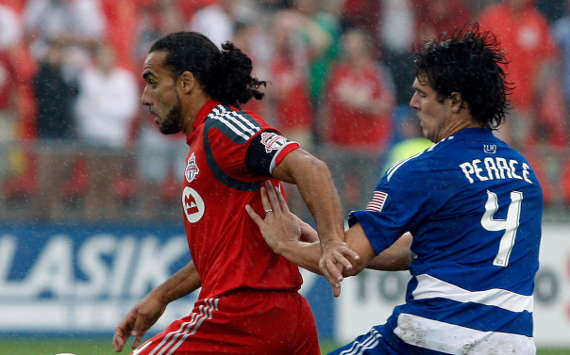 New York Red Bulls: When Head Coach Hans Backe arrived in New York, he instituted a stringent lineup with little variation. After some midseason alterations due to international duties, injuries, and player acquisitions, it appears that Backe has settled on a specific eleven once again. The Designated Players, Angel and Henry, are paired up top while Joel Lindpere, Marquez, Tony Tchani, and either Macoumba Kandji or Dane Richards support the strikers. The backline of the 4-4-2 has remained the same for most of the season with Bouna Coundoul the first choice keeper.
Intangibles
Toronto FC: With Chicago winning on Wednesday night, the Fire sit only two points adrift from the Reds with two matches in hand. A loss, hell, even a draw on Saturday would be crippling for the Reds on two fronts: NYRB and second place would be virtually unreachable and Chicago would now be in the driver's seat for third and the likely final Eastern playoff spot. To say that TFC's season depends on a win versus NYRB might be a tad dramatic, but the importance of one is incredibly vital to the Reds' playoff ambitions.
New York Red Bulls: The Red Bulls haven't defeated Toronto FC at BMO Field since the two sides' first ever match in June of 2007. In the three years since that occasion, New York has only managed one point from their games in Canada. But most of those took place during the Juan Carlos Osorio era when the club was notoriously weak away from home. Backe has instilled a mentality with the Red Bulls that has allowed them to win on the road this season. It will be vital for this trend to continue if New York wishes to maintain their location in the Eastern Conference Standings.
Prediction
Toronto FC: New York and Toronto split the home-and-home with the Reds taking a 1-0 win at BMO.
New York Red Bulls: Considering the difficulties teams have had in Toronto, a tie may be all New York can hope for. The most important part of a draw would not be the point gained, but the two denied to Toronto.
For more on Major League Soccer, visit Goal.com's MLS page and join Goal.com USA's Facebook fan page!
Field Report
Top 3 Predictions
Toronto FC 0-2 New York Red Bulls

25.93 %

Toronto FC 2-1 New York Red Bulls

18.52 %

Toronto FC 1-0 New York Red Bulls

11.11 %
Live Final scheduled Suspended Cancelled Postponed