Played
August 8, 2010 6:00 PM EDT

FC Dallas vs. Philadelphia Union: Head to Head Preview
The Hoops look to keep climbing the Western Conference table in a Sunday afternoon tilt with the Union.
By Greer Wilson-Chavez and Ramin Majd
On Form:

FC Dallas, by Greer Wilson-Chavez: An eight game unbeaten run in the league, and an impressive 2-2 tie against European Champion Inter Milan have FC Dallas feeling more than confident heading into this weekend's fixture against the Philadelphia Union. Across the board, FCD have players who are enjoying some of the best seasons of their careers.

The Dallas defense has never looked better and after doing well against an Inter offense featuring Diego Milito and Samuel Eto'o, they will feel more than prepared to handle red-hot Sebastian Le Toux and veteran Alejandro Moreno. The key to victory will be FCD players continuing to play as well as they have been.

Philadelphia Union, by Ramin Majd: You could copy and paste this sentence into any Philadelphia Union preview: Sebastien Le Toux is on form. He converted a penalty in Thursday night's loss to Columbus for his 9th goal of the season. Seba is currently third in MLS in goals scored, behind only Juan Pablo Angel and Edson Buddle.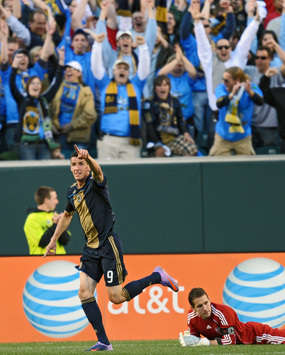 Off Target:

FC Dallas: As has been the case over the past couple months with FC Dallas, finding out-of-form players is difficult. Young Eric Avila wasn't quite meeting Coach Schellas Hyndman's expectations and was benched for a few games, but Avila looked sharp and strong in possession against Inter on Thursday. Jeff Cunningham seems to be the only FCD player consistently underperforming, though even he did well Thursday night to earn the game-tying PK.

It is worth mentioning again however, that if FC Dallas truly want to push for the Western Conference title and even the MLS Cup, they need to start asserting themselves more offensively and putting opponents away, instead of settling for ties or narrow wins. They were lucky to get a point from Colorado, but an in-form team with luck on their side is a dangerous one at the end of the day.

Philadelphia Union: The Union's deficiency in set-piece defense reared its ugly head again on Thursday. The club surrendered a goal on a Steven Lenhart header off a Guillermo Barros Schelotto free kick. Philly had another lapse in front of its net later in the game, as an unmarked Lenhart flew in to head in his second goal of the night.

Tactics:

FC Dallas: Dax McCarty made a late appearance in Thursday's exhibition and the midfield stalwart looked healthy once again. If he passes a fitness test he may be reinserted into the starting lineup against Philly. His presence will greatly improve the Hoops' possession and forward movement. However, if he isn't ready to go Sunday, either Bruno Guarda or rookie Eric Alexander will more than likely get the starting nod. Alexander seems the better bet, as he filled the role well against Colorado last week.

The biggest concern for the Dallas defense will be Le Toux, whose team high 9 goals are the main reason why the Union aren't completely out of the playoff picture, though their hopes are fading fast. Center back Ugo Ihemelu did an outstanding job of keeping Eto'o in check, and it wasn't until he was substituted that the Cameroonian found room enough to score his goal. He and George John will be tasked with keeping LeToux under control and if they can limit his time on the ball, they should help FCD earn full points.

Philadelphia Union: Union coach Peter Nowak started Justin Mapp on Thursday to spell banged-up Danny Mwanga. Expect the rookie phenom to play sparingly as Philly endures its current grueling stretch of matches. New arrival in the midfield Eduardo Coudet has played well, and is likely to start for the foreseeable future.

Intangibles:

FC Dallas: The Texas heat is something every traveling team looks forward to leaving. Inter Milan looked sluggish in a game that started at sundown; expect Philadelphia to be affected by the projected 101 degree temperate for Sunday's 5 o'clock kick-off.

Philadelphia Union: Philly will be playing their second game in four days. This one follows a tough loss, and will be on the road in sweltering Frisco, Texas against an on-form FC Dallas club. The Union will have to delve deep into their reserve of fortitude to be up to this challenge.

Outcome:

FC Dallas: All good things must come to end, but don't expect that end to come for Dallas this weekend. Impressive form at every position and on both sides of the ball, FCD will continue to ride the wave and take all three points from a Philly team who are just not as strong. Scoreline: 2-0

Philadelphia Union: Philly will be prepared and they will play hard, but the Le Toux show will need some help against the talented, streaking Hoops. FC Dallas 2-1 Philadelphia.

For more on Major League Soccer, visit Goal.com's MLS page and join Goal.com USA's Facebook fan page!
Field Report
Top 3 Predictions
FC Dallas 2-0 Philadelphia Union

16.67 %

FC Dallas 3-1 Philadelphia Union

16.67 %

FC Dallas 1-3 Philadelphia Union

16.67 %
Live Final scheduled Suspended Cancelled Postponed