Played
August 7, 2010 8:30 PM EDT
CommunityAmerica Ballpark, Kansas City, Kansas

Kansas City Wizards Vs Real Salt Lake: Head To Head Preview
Heavyweights Salt Lake face off against red-hot Kansas City.
By Isabel Navarro and Jeremy Horton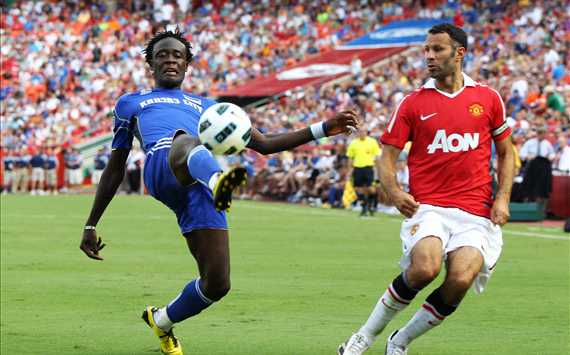 On Form

Kansas City Wizards: The Wizards have turned their season completely around and now have a three game unbeaten streak, earning seven points and lifting them to fifth place in the Eastern Conference. They were also the only MLS team to beat Manchester United during th Red Devils' North American tour, so things are definitely looking up for the Wizards. A large part of the Wizards' newfound success is due to the talented goalkeeper Jimmy Nielsen. The Dane, who earned his seventh shutout of the season against Toronto FC, is always dependable and focused. Another player who has made a significant difference is the young striker Teal Bunbury. Bunbury scored his second MLS goal against Toronto last weekend, giving Kansas City the win.

Real Salt Lake: After a recent 'slump' (if you can call 1-1-1 in three games a slump), Salt Lake found their mojo again last week in a 3-0 home thumping of D.C. The offense looked like the offense we saw in May, with all kinds of creativity on display. Kyle Beckerman continues to look better every outing after missing two months, Will Johnson is still everywhere on the field, Nelson Gonzalez opened his MLS account in style, Alvaro Saborio broke a personal slump of his own, and Robbie Findley had his best game of the season last week. In short, the offense is raising its game - not a good sign if you're a Wizards fan.

Off Target

Kansas City: The Wizards need to buckle down and focus offensively. They do a good job protecting their post but their offense needs work. They need to create more goal scoring opportunities and not just wait for the other team to make a mistake. They have the right players in Bunbury and Kei Kamara, now they just have to fight for the ball and create the opportunities. They also need to cut it out with the excessive amounts of fouls. The Wizards are quick to earn yellow and even red cards.

Real Salt Lake: RSL were extremely fortunate to not give up a goal to D.C., and Jason Kreis admitted as much afterwards. The defense committed several fouls in bad spots and got exposed by runners on multiple occasions. But shockingly, the defensive work in midfield we've become used to seeing from Real was almost non-existent against D.C. Salt Lake were so stretched vertically that any time D.C. got the ball on a midfielder's foot, he could dribble to within 30 yards of goal with no resistance. RSL need to clean that up or they will get countered to death by Kansas City.

Tactics

Kansas City: The Wizards have a tough game ahead of them going up against heavy weights Real Salt Lake. The Wizards will stick to their new winning formula, meaning same starting lineup. Jack Jewsbury and Josh Wolff will not be starters. Coach Peter Vermes will stay true to his new winning duo Teal Bunbury and Craig Rocastle.

Real Salt Lake: Don't expect any changes in tactics or major personnel swaps unless Javier Morales' swollen ankle affects his availability. If that happens, Andy Williams would fill in, but he had a great game off the bench against D.C. so there shouldn't be much dropoff. Another player who had a great game and earned himself more minutes is Gonzalez. The young Argentine mid played only five minutes but still managed to score a goal that got a 9.5 out of 10 on the Sick-O-Meter.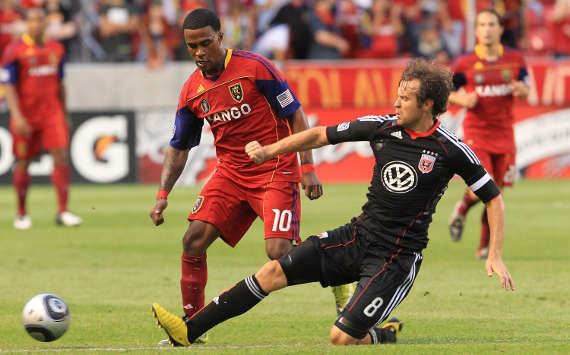 Intangibles

Kansas City: Defeating Manchester United gave the Wizards an insane amount of confidence. Not even the MLS All-stars were able to do what the Wizards did. Their newly discovered confidence will aid them in not being intimidated by any other team. As long as their confidence doesn't become cockiness it can be a weapon that will help them win.

Real Salt Lake: The heat and humidity in KC will be a major factor for Salt Lake - they haven't played well in recent matches in similar conditions, looking lethargic and lost at times. Another factor is this one will playing on a field "the size of a postage stamp" (thank you Jimmy Conrad for that quote). There is no time or space to do anything once you get the ball at CommunityAmerica Ballpark, so Real will need to get used to playing quickly. Of course, the smaller pitch means less running, which might help with their weather-related issues.

Outcome

Kansas City: Don't expect the Wizards to let the reigning champs completely dominate. It's a home game for Kansas City and they will use any advantage they have over Salt Lake to earn some points. Kansas City will protect their unbeaten streak and fight for some points they know they need to make it to the playoffs. The score will be a draw, 1-1. Nielsen will protect his goal at all cost but Real Salt Lake will most likely score.

Real Salt Lake: Success at the Wizards' place seems to be hard for RSL to come by. But they will be better rested than they have been in a while, and Kreis will put together a game plan designed to get a result. Real Salt Lake 1-1 Kansas City Wizards.

For more on Major League Soccer, visit Goal.com's MLS page and join Goal.com USA's Facebook fan page!
Field Report
Top 3 Predictions
Sporting Kansas City 0-2 Real Salt Lake

33.33 %

Sporting Kansas City 1-2 Real Salt Lake

33.33 %

Sporting Kansas City 2-1 Real Salt Lake

16.67 %


Live Final scheduled Suspended Cancelled Postponed