Played
July 31, 2010 10:30 PM EDT
Home Depot Center, Carson, Calif.
Referee:‬ Hilario Grajeda‎
Chivas USA Vs Columbus Crew: Head To Head Preview
East and West battle for points.
By Manuel Carrera and Nick Rosano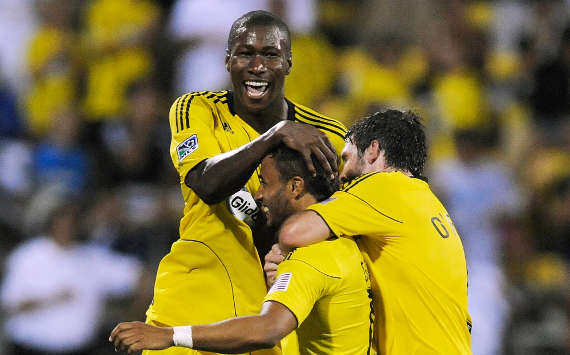 On Form

Chivas USA: Chivas USA are enjoying their longest period of the season without a defeat (1-0-2) following a draw at Rio Tinto against the defending champion Real Salt Lake. The Goats' new additions appear to be gelling with the squad while adding much needed experience to a squad that had made a habit of squandering spirited performances with late lapses. Giancarlo Maldonado has added a viable threat alongside Justin Braun, who has pestered MLS defenses all season long. In the midfield, Rodolfo Espinoza adds a degree of flair following the departure of captain Sacha Kljestan, while Paulo Nagamura stabilizes the defense with his bulldog presence.

Columbus Crew: The Crew were at their dominating best during last Saturday's game against the Houston Dynamo. Emilio Renteria put in another excellent shift up front, Guillermo Barros Schelotto ran the offense with style and efficiency, and the back line thwarted everything Houston threw at them. Leandre Griffit scored his first ever goal for the Crew just moments after stepping onto the field for his debut. It took a little while for Robert Warzycha and his team to put the right pieces in place, but now the team is humming right along, establishing itself as a near certainty for the playoffs and reestablishing itself as a contender for the Supporters' Shield.

Off Target

Chivas USA: The squad will be without captain Jonathan Bornstein, who is sidelined with a knee injury. In his place, veteran Ante Jazic wil add a defensive presence, though the Goats will miss the offensive capabilities that Bornstein can provide. Last year's Goalkeeper of the Year, Zach Thornton, is questionable with an ankle sprain, with Dan Kennedy waiting in the wings. In their previous match, Thornton stifled the Crew until a Schelotto penalty kick sunk the Goats in the 90th minute.

Columbus: The team has posted two convincing wins in a row, but in order to make a deep run into the playoffs and succeed in two other competitions (the CONCACAF Champions League and U.S. Open Cup), the Crew will need solid contributions from everyone. Robbie Rogers, despite being named as an inactive All Star, has been conspicuously subdued for much of the season, while behind Renteria and Schelotto, Steven Lenhart and Jason Garey have proved ineffective up top. With the Crew in three competitions, these players will surely be called on and if they are, they will need to up their game.

Tactics

Chivas USA: 4-4-1-1: Chivas USA will not deviate from the formation that they have used for the most part this season. Without Bornstein in the lineup, Martin Vasquez may look to Jesus Padilla to start the match to add a threat to the stifling Crew on the wing, though he has been most effective coming in as a substitute late in matches. Expected lineup: Dan Kennedy, Mariano Trujillo, Michael Umana, Dario Delgado, Ante Jazic, Michael Lahoud, Paulo Nagamura, Blair Gavin, Rodolfo Espinoza, Justin Braun, Giancarlo Maldonado.

Columbus: Robert Warzycha will stick with his tried and true 4-4-2, though he will continue to miss the absence of injured pair Steven Lenhart and Brian Carroll, whom he said might not be ready to play despite their return to training. Warzycha seems to have found his striking duo, with Renteria and Schelotto the go-to guys up top. Eddie Gaven and Adam Moffat will again start in the center of midfield with Emmanuel Ekpo and Robbie Rogers retaining their spots out wide. The only changes will come in the back, where Frankie Hejduk returns from suspension, most likely to replace rookie Shaun Francis. Otherwise, expect to see the same players in the tack, with Danny O'Rourke on the opposite flank and Andy Iro partnering Chad Marshall in the center.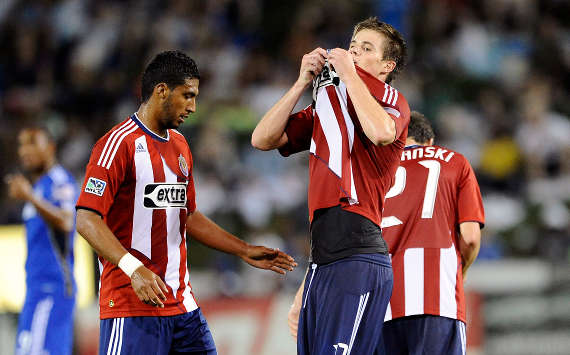 Intangibles

Chivas USA: The Goats have never given up this season and only had one major letdown (an ugly 3-0 loss to Houston), and have only improved following their new acquisitions. They know that for the rest of the season, they have very little margin for error if they hope to dig their way out of the Western Conference cellar. A renewed squad playing at home will look at this match as a barometer of where they truly stand as the second half of the season kicks off. An early goal versus the Eastern Conference leaders will be vital for the Goats to establish control of the midfield, though an early concession may dampen their confidence.

Columbus: Inconsistency has hurt the Crew this season, with the month of May the only time the team has been able to string more than two wins in a row together in MLS play. They could do it again with a victory over Chivas USA, but the team needs to remain focused and confident in its ability to play well on the road.

Prediction

Chivas USA: One gets the feeling that the Goats wanted another shot versus the Crew following a close loss in their last go-around. Chivas USA will need to establish themselves in defense for this result, but the added firepower coupled with the urgency that they are playing with will power the Goats versus a Crew squad that featured two starters in Wednesday's MLS All-Star Game. Chivas USA 2-1 Columbus Crew.

Columbus: The Crew will scrape one here, a 1-0 victory.

For more on Major League Soccer, visit Goal.com's MLS page and join Goal.com USA's Facebook fan page!

Field Report
Top 3 Predictions
Chivas USA 1-2 Columbus Crew

45.46 %

Chivas USA 0-2 Columbus Crew

27.27 %

Chivas USA 0-1 Columbus Crew

9.09 %


Live Final scheduled Suspended Cancelled Postponed