Played
July 31, 2010 8:30 PM EDT
Robertson Stadium, Houston, Texas

Houston Dynamo Vs New York Red Bulls: Head To Head Preview
The official league debut of Thierry Henry.
By Alex Labidou and Kevin McCauley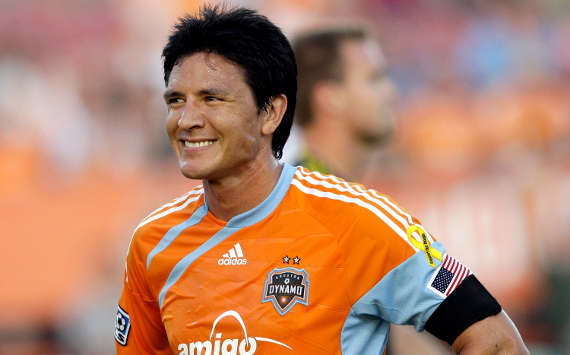 On Form

Houston Dynamo: For a team that is 0-4-3 in its last seven games, it is extremely difficult to pick out anyone who is truly on form. The Houston Dynamo's massive slump has them second from bottom in the Western Conference, but luckily, they are only four points behind the final playoff spot. Brad Davis is probably the only player who performed up to par last week against Columbus, and to be honest, he is one of only two or three players who have been consistently on form for Houston this season. Davis was deservedly selected to the All-Star game along with striker Brian Ching, and sadly, that is about all the Dynamo have going for them right now on the field. Squeezing out 150 words for the "On Form" section of a Houston Dynamo preview was the most excruciatingly difficult piece of soccer writing I have ever done in my life.

New York Red Bulls: The official debut of Thierry Henry during the New York Red Bulls international friendly break revitalized a team that has been more focused on who's coming on the team rather than who's on it. Even though the team has only lost once in its past five games, mental fatigue from having to discuss Henry every waking second of the match day was clearly distracting. Once Henry got on the pitch to face Tottenham and Manchester City, it was clear to see that the team went back to the basics that had it made it so successful in the first half of the season. One touch passes and crafty plays from the wings opened up the offense in both games.

Henry's impact was obvious on both ends of pitch. He may have lost a step from his peak, but his technical ability on the ball is unmatched in MLS, his passes were so deft that at times it appeared that other players were almost unaccustomed to being so wide open. Sans Henry, the team's defense has been overworked all season due to execution problems on offense. With Henry, it was clear to see how much more coordinated the unit was.

Off Target

Houston: The Houston Dynamo. Can I say that? Last week against Columbus, Houston created five shots and only put one on target. Bobby Boswell was sent off. Tally Hall committed the most comical goalkeeping error of the season. Simply put, the entire team is off right now. While a lot of the core pieces of the Dynamo setup are aging, there are still a lot of quality players on this team and there is no reason they should be this poor.

New York: The Red Bulls still desperately need a creative midfield player. The team is rumored to be officially announcing Rafa Marquez as their third designated player shortly but he is more of a holding possession midfielder. The only natural playmaker that the team has is Estonian midfielder Joel Lindpere and if teams succeed in closing him down, it can negate the dangerous tandem of Juan Pablo Angel and Henry as they won't have many opportunities in the final third.

As good as Henry was in his first game, there were a lot of concerns that he was doing a bit too much. After the first five minutes, he touched the ball every offensive possession in the first half and, if he has to do that every game, he will burn out very quickly. For a team that would like to possibly win the MLS Cup this season, the last thing it would want is for its best player to be too fatigued come playoff time. Team officials have confirmed that the team is looking at non-DP options in MLS, Mexico and South America to fill the void. Whoever he is, he can't come soon enough.

Tactics

Houston: Nothing new in terms of formation for the Dynamo -- I doubt coach Dominic Kinnear will deviate from the 4-4-2 diamond. However, the chances that he uses the exact same personnel as last week are minimal. Bobby Boswell is suspended and Tally Hall, Cameron Weaver, Corey Ashe, and Richard Mulrooney all deserve to be dropped to the bench. I doubt Kinnear would drop all four players, but do not be surprised to see any of Pat Onstad, Danny Cruz, Dominic Oduro, and Joseph Ngwenya in the lineup this week. Personally, I'd put in all four.

New York: Diamond 4-4-2: If there is anything constant in football, it is clear that no coaching decision is ever permanent. Head coach Hans Backe made it very clear in the beginning of the season that he doesn't favor defensive midfielders too much and out of the blue, he suddenly becomes a fan once a talent like Marquez becomes available. With Marquez's arrival all but official, the team will begin transition into a new formation with Seth Stammler keeping the 31-year-old Mexican international's seat warm for him. The team's starting lineup should look like this: Coundoul, Albright, Ream, Petke, Borman, Stammler, Lindpere, Richards, Ubiparipovic, Henry and Angel.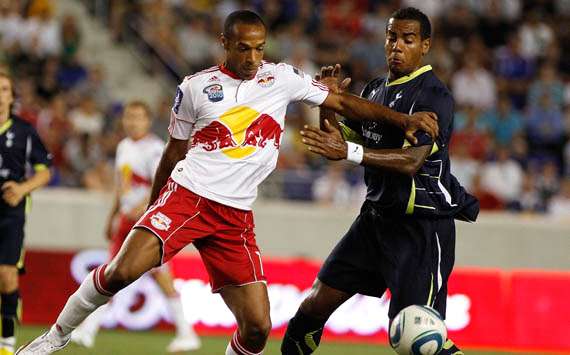 Intangibles

Houston: When a team is winless in its last seven without suffering at a major talent disparity to their opponents, a huge mental battle sets in. The Dynamo just need to get it together and snap out of their funk, whatever that takes. Maybe it will take a fiery speech from Dom. Maybe it will take a stunning 35-yard goal or a ridiculous save. Maybe it will take one player stepping up and deciding "There's no way we're losing this [bleeping] game." Whatever it will take to bring the Dynamo back to their winning ways, someone has to figure it out, and fast.

New York: The obvious answer would be Henry but Dane Richards has significant role in how well the Red Bulls will perform against the Dynamo. The 26-year-old Jamaican winger's pace is unmatched in MLS but his inconsistency baffles almost anyone who watches him. Against both Tottenham and Manchester City, Richards was as dynamic as anyone on the pitch and he clearly embarrassed his defender, former England international Wayne Bridge, several times. Whether or not this is a result of the "Henry effect," or another flash in a pan by the winger is yet to be determined, but if Richards is on his game, the Red Bulls will be very difficult to defeat.

Prediction

Houston: With the New York Red Bulls adding Thierry Henry and putting in good performances in the last week against Tottenham Hotspur and Manchester City, they should probably defeat the Houston Dynamo. The Dynamo are at home and a team with this much talent should not keep losing for an extended period of time, but this is unlikely to be their week. New York takes it 3-1.

New York: The euphoria behind Henry making his MLS debut will lift both teams as Robertson Stadium should be pulsating with excitement. Ultimately, the increased attention that the Red Bulls will receive is something that will motivate the team to not let the 32-year-old forward down. 2-1 New York Red Bulls.

For more on Major League Soccer, visit Goal.com's MLS page and join Goal.com USA's Facebook fan page!

Field Report
Top 3 Predictions
Houston Dynamo 0-2 New York Red Bulls

28.57 %

Houston Dynamo 1-2 New York Red Bulls

23.81 %

Houston Dynamo 1-3 New York Red Bulls

9.52 %
Live Final scheduled Suspended Cancelled Postponed