Played
July 22, 2010 10:30 PM EDT
Home Depot Center, Carson, Calif.
Referee:‬ Jair Marrufo‎
Los Angeles Galaxy Vs San Jose Earthquakes: Head To Head Preview
Goal.com's MLS game of the week.
By Jonathan Vera and Giovanni Albanese Jr.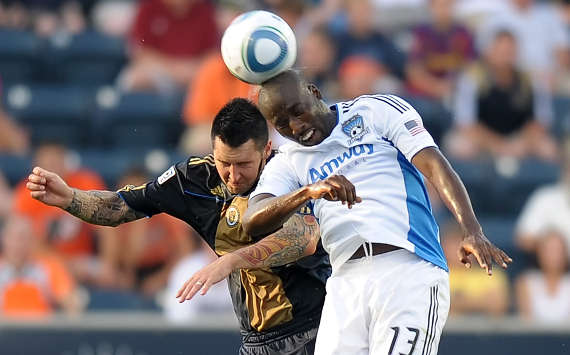 On Form

Los Angeles Galaxy: LA is slowly looking like their better selves again. Omar Gonzalez is back in the line up stuffing shoots from the opposition and Edson Buddle got his 11th goal last week after displaying some square dancing moves around the D.C. United defense. The Galaxy victory over D.C., in congruence with Real Salt Lake losing to FC Dallas, gave LA back their commanding nine point lead over RSL in the West.

San Jose Earthquakes: Is there much that can be taken from a scoreless exhibition match? Sure there is. How can you host a team from England, most likely exhausted from a trek that took upwards to a day, and not score a goal? One week prior, they scored two against a not-so-expansion-like Philadelphia Union in a win. Where's the consistency with the Quakes? It's not up top. Can the playmakers have two consecutive good games?

Off Target

Los Angeles: Even though they won last week, LA still has a few loose nuts to tighten, namely: Chris Birchall. The Trinidad and Tobago international has been in a goal drought all season and in the last two games, against the New England Revolution and D.C., his frustrations became apparent on the pitch. In or out of the 18, out of place or not, Birchall went for goal and was either stuffed or way off target. The midfielder needs to cool his horses, take a deep breath and remember, "The needs of the many outweigh the needs of the few or the one." -- Mr. Spock.

San Jose: Between Steve Beitashour and Chris Leitch on the right side of defense (they even tried Jason Hernandez on the flank too), Frank Yallop can't seem to find a formidable body out there. One person after another gets torched, and it's bound to hurt them soon. If they sure that up, San Jose could be – and this is a stretch – the stingiest defense in MLS, especially with the more apt keeping of Jon Busch.

Tactics

Los Angeles: LA have a lot on their hands in the next few days. There's this game on Thursday, a face-off against the Puerto Rico Islanders in a CONCACAF Champions League qualification match next Tuesday, the All-Star game against Manchester United (four Galaxy players are involved: Landon Donovan, Edson Buddle, Omar Gonzalez, and Donovan Ricketts). Then off to Chicago on Sunday and Puerto Rico on Wednesday, and then Real Madrid on Saturday. Long story short: they're not going to have time to sleep. Coach Bruce Arena will have to keep revising his line up to keep fresh legs on the pitch starting this Thursday. Expect Eddie Lewis, Jovan Kirovski and others to get some playing time and a lot of conservative play as they try to keep some gas in the tank.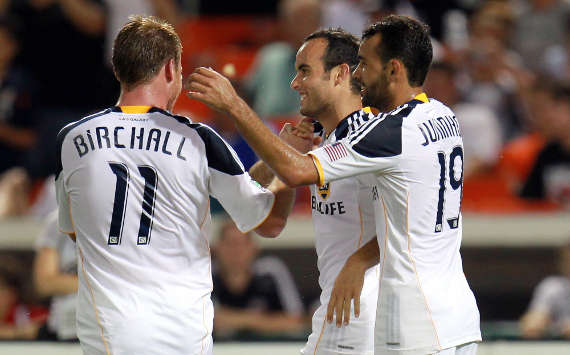 San Jose: Frank Yallop continues to rely on his traditional 4-4-2 formation. Some games it works; sometimes it doesn't. There's not much more you can expect from a middle-of-the-road team with a predictable formation. Perhaps Yallop can spice it up with a 4-5-1 with Cornell Glen up top. Glen's relentless play seems like a match with a one-forward formation. Drop Chris Wondolowski into a goal scorer, facilitator hybrid with Bobby Convey and Joey Gjertsen on the wings and they might produce more often.

Intangibles

Los Angeles: Its the first meeting of 2010 for these rival clubs. Los Galacticos have had a clear edge on the visiting Quakes in the California Clasico and lead the series 24-14-6. LA is undefeated at home with one draw and will use that as an advantage when they take on a fifth place in the West, San Jose.

San Jose: When Ike Opara shoots, he's likely to score. If the Quakes rookie defender takes a shot this Thursday, it has a 43 percent chance of going in. Opara has taken seven shots this season, scoring three times. If the Quakes build up from the back, don't be surprised to see Opara filling in a lane to collect a cross.

Outcome

Los Angeles: LA, more times than not, show up for the California Clasico. However, this time they'll be operating with three days' rest. They'll have heavy legs, but not heavy enough to give San Jose the advantage. LA trumps SJ, 2-1.

San Jose: Los Angeles is the class of Major League Soccer. With Landon Donovan and Edson Buddle, it's already a tough match-up. And really, that's all that needs to be said. The Quakes have been having their troubles lately, and I don't see them solving them against the Galaxy. In the end: 2-0 Los Angeles.

For more on Major League Soccer, visit Goal.com's MLS page and join Goal.com USA's Facebook fan page!
Field Report
Top 3 Predictions
Los Angeles Galaxy 2-0 San Jose Earthquakes

42.86 %

Los Angeles Galaxy 1-1 San Jose Earthquakes

9.52 %

Los Angeles Galaxy 3-1 San Jose Earthquakes

9.52 %
Live Final scheduled Suspended Cancelled Postponed