Played
July 10, 2010 6:00 PM EDT
Union Field, Philadelphia, Penn.

Philadelphia Union Vs San Jose Earthquakes: Head To Head Preview
By Keith Hickey and Giovanni Albanese Jr.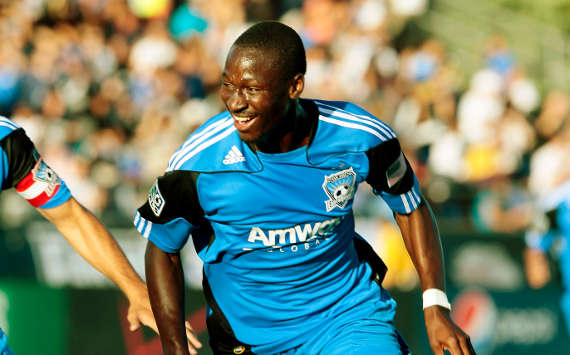 On Form

Philadelphia Union, by Keith Hickey: Can you say wunderkind? Danny Mwanga, 18, the first ever SuperDraft pick for the Union, has repaid Philadelphia's faith in youth by going on MLS' best goalscoring tear outside of anyone named Edson Buddle. In his last six games, the only one in which he has failed to score was when he was taken off early against Kansas City following Michael Orozco's red card. Sebastian Le Toux has emerged this season as one of the most productive players in the league, contributing six goals and six assists in his 10 matches. Roger Torres has the ability to change a game in an instant, demonstrated in spectacular fashion when he engineered the move for Mwanga's goal against Chivas USA last week.

San Jose, by Giovanni Albanese Jr.: If the Quakes hope to win on Saturday in Philadelphia, the winning goal may be put in by the surprisingly efficient Chris Wondolowski, who is among the MLS league leaders with three game-winning goals this season. If you're keeping track at home, that's 60 percent of the Quakes game winners, who have only notched five wins in 13 games.

Off Target

Philadelphia: Michael Orozco still has a ways to go towards justifying the Union's move to the top of the allocation list to acquire him. He's had some shaky performances, and his most memorable contribution has been his sending off against Kansas City. Arguably the Union's best game (3-1 over Seattle) came when he was suspended. Alejandro Moreno has looked excellent as a water-carrier doing the dirty work up top, but he'll be a bit frustrated not to have opened his Union goalscoring account yet.

San Jose: In the previous four games (dating back to the two games prior to the World Cup break) the Earthquakes have reverted back to its form of years past. They are lacking creativity on offense and are an opposition that no one is scared to play -- home or away. When you can't even beat the lowly D.C. United on your home field, as was the case last Saturday when they only managed a 1-1 draw, you have to look yourself in the mirror and question what you need to do in order to improve.

Tactics

Philadelphia: If Alejandro Moreno hasn't recovered from the contusion that kept him out against Chivas USA, we should see a straightforward 4-4-2 with Le Toux and Mwanga up top. If Moreno is healthy, expect the midfield to shift to accommodate Le Toux behind the pairing of Moreno and Mwanga. The rest of the team should be largely unchanged from the Chivas match.

San Jose: If it ain't broke, don't fix it. Surely, San Jose wishes it wasn't broke right now. Defensively, the Earthquakes are fine -- just one goal allowed in two games since returning from the World Cup break. Offensively, however, the Quakes have scored a single goal in three games -- lucky for them, two of those games resulted in draws. That said, seeing the Quakes NOT in a 4-4-2 would still be a shock.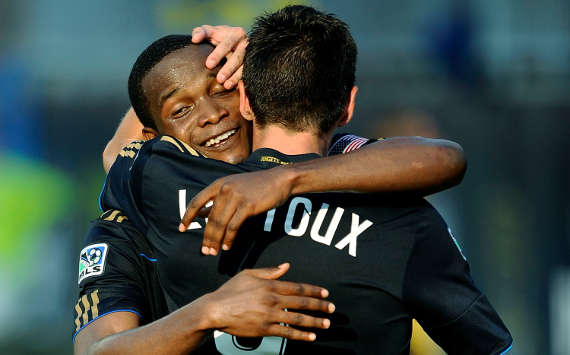 Intangibles

Philadelphia: The Union have begun the baby steps of making Philadelphia a very difficult place to play, having posted a record of two wins, no losses, and one draw when playing in front of the Sons of Ben. Added to that, avoiding a loss would give the Union their longest-ever unbeaten streak, three games.

San Jose: This is the first meeting between the San Jose Earthquakes and Philadelphia Union. Philadelphia is 3-7-2 in its inaugural season in MLS while the Quakes are 5-4-4 this season, having its best season (yes, it's been that bad) since their return to the Bay Area in 2008. But if history tells us anything, the Earthquakes are sub par in July, going 20-29-12 all time in the month.

Outcome

Philadelphia: I'm feeling confident for the home side here. The Quakes are not to be taken lightly, but they haven't taken three points since May, and I fancy Philadelphia to win 2-1. The Union may be hit-or-miss on the road, but they've been very impressive at home, and it's my opinion that theyll get the result they want.

San Jose: Expansion team vs. a regressing team: who to choose? San Jose is fairly weak on the road; Philadelphia - with a small sampling of home games - has nabbed two wins and a tie at home. All signs point to another draw. Look for a final result of 1-1, with a small gut feeling -- from a San Jose-based gut -- of a 2-1 Quakes win.

For more on Major League Soccer, visit Goal.com's MLS page and join Goal.com USA's Facebook fan page!
Field Report
Top 3 Predictions
Philadelphia Union 2-1 San Jose Earthquakes

20 %

Philadelphia Union 2-0 San Jose Earthquakes

16 %

Philadelphia Union 3-1 San Jose Earthquakes

12 %


Live Final scheduled Suspended Cancelled Postponed