Played
September 10, 2010 10:00 PM EDT
Pioneer Stadium, Hayward, CA

Philadelphia Independence 1-4 FC Gold Pride: Pride Make Statement Going Into Postseason
Gold Pride played spoiler, ruining Philadelphia's chances at jumping to second in WPS.
By Giovanni Albanese Jr.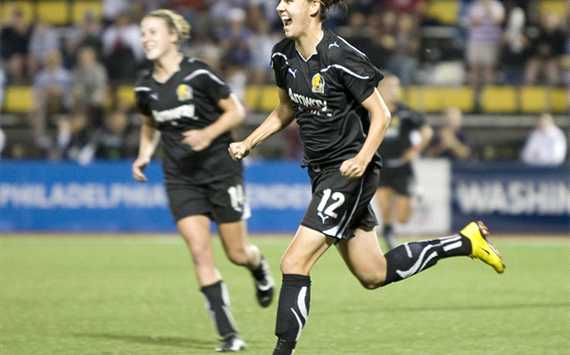 HAYWARD, Calif. -- WPS 2010 regular season champion FC Gold Pride (16-3-5, 53 points) finished off its remarkable regular season doing what it did virtually every game -- dominating its opponent. Saturday night's victim was the Philadelphia Independence (10-10-4, 34 points) to the tune of 4-1 in front of 4,003 fans at Pioneer Stadium in Hayward, Calif.

Kelley O'Hara netted a brace, with Marta and Christine Sinclair putting home the others. But O'Hara's great performance comes with a bittersweet twist. After tallying her pair of goals -- along with an assist on Marta's 19th goal of the year -- O'Hara tweaked her quad on a shot and may miss the championship on Sept. 26.

"She was playing her best game she's had this season," said Pride coach Albertin Montoya. "I was so excited for her and now (she has) a quad injury that you're out four to six weeks normally."

It's a pretty bad injury for O'Hara, who was seen on the field after the game hobbling on crutches.

"We'll cross our fingers and hope for the best," said Montoya of O'Hara, who will have an MRI on Monday. "But this team has found a way all season long in playing well with whomever we have out there."

O'Hara has gone through a whirlwind year. In her last two soccer seasons, O'Hara -- and Ali Riley -- have gone to the championship game in the NCAA with Stanford before losing to North Carolina, and now will head to the WPS Championship in their rookie year with the Pride. O'Hara also played in the WPS All-Star game in June.

"College, we came together and put an awesome season; being my rookie season, the team has done really well," said O'Hara. "As a rookie you go through some growing pains but I think I'm coming out on the other side now. It's been a really good learning experience."

O'Hara's learning curve must have been easier with Marta on her side all year. Marta set her up on both her goals. The Brazilian sent a wide ball to O'Hara in the 40th minute and, despite a horrible angle, the rookie was able to loop a shot over Val Henderson and into the side netting.

O'Hara sent Marta in for the Pride's second goal of the game just a minute later. She sent the Brazilian national in behind the Independence defense and Marta did the rest, beating Henderson off the dribble and placing it in the open net.

Then Marta took a free kick for the Pride in the 50th minute with the Pride still holding the two-goal lead.

"I basically pointed and we just linked eyes and she put it right where I wanted it," said O'Hara. "I was able to put my head on it."

Her headed goal gave the Pride an insurmountable 3-0 lead. Philadelphia fought back and got a consolation goal a minute after O'Hara's second. But the league-leaders put the game away in the 64th for good when Marta set up Sinclair in the 64th for the 4-1 lead.

"We figured if we could hand in there for 70 minutes and make it a 20 minute game," said Philadelphia coach Paul Riley. "Once we gave up that (Sinclair) goal . . . We were beaten by the better team tonight."

Now Philadelphia has to march through the WPS postseason having to win three games in seven days. It will begin on Sept. 19 at 2:30 p.m. ET when the Independence host the Washington Freedom. That winner will head to Boston on Sept. 23 for a 8 p.m. ET tilt with the Breakers. And it will all culminate with the Sept. 26, 2:30 p.m. ET WPS Championship at Pioneer Stadium in Hayward.

"(FC Gold Pride) is going to be tough to beat when they got two weeks rest while we all battle it out," said Riley. "I think it's going to be very difficult for anybody to beat this team here, especially on this field.

"They're almost impossible to play against . . . they're the best team in the league," Riley added.

That's exactly the mentality Montoya was hoping for when they finished up their regular season. Heading into the two final matches -- Sept. 5 against Boston; Saturday vs. Philadelphia -- his goal was to leave no hope should they meet in the final.

They managed to beat arguably the hottest team in Boston (outside of the Pride who now hold a 13-game unbeaten streak), 2-0, then top Philadelphia handily on Saturday.

"I think it's extremely important for us to play this well against two excellent teams," said Montoya. "We played a good 90 minutes today; against Boston we played a good 75 minutes."

Heading into the championship, with two weeks before the match, the preparation for the Pride is all about them.

"We're going to continue getting better," said Montoya. "This next two weeks, we'll challenge ourselves in practice and make each other better every day."

With all the momentum they have built in the second half of the season, Montoya believes there is a certain amount of doubt built in to the other teams' minds.

"The way we played the last two games, if I was the (opposing) coach, I'd start thinking, 'How in the heck can we beat this team,'" said Montoya. "If we start off this strong, it'll be difficult for anyone who plays us."

For more on Women's Professional Soccer, visit Goal.com's WPS page and join Goal.com USA's Facebook fan page!