Played
September 10, 2010 10:00 PM EDT
Pioneer Stadium, Hayward, CA

FC Gold Pride Looks To End Season Strong, Hosts Philadelphia Independence
Philadelphia can jump into second with a win (and a Boston Breakers loss or tie) against Gold Pride Saturday night.
By Giovanni Albanese Jr.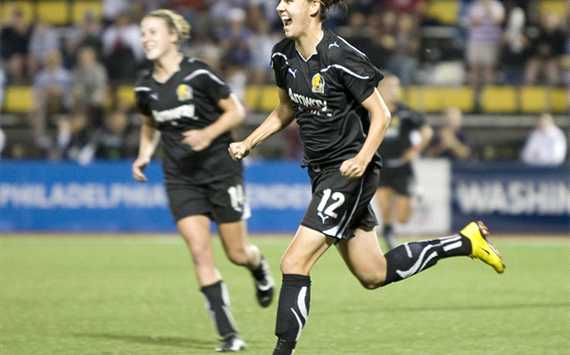 Entering the final weekend of play in Women's Professional Soccer's second season, FC Gold Pride has everything locked up, just looking to keep its solid play rolling into the playoffs.

Gold Pride's opponent Saturday night: the expansion Philadelphia Independence. While Philly has locked up a home playoff game, are reeling and need to right things before the postseason.

Philadelphia (10-9-4, 34 points), who sits in third place, can still grab hold of second place in WPS -- which would grant them home field in the WPS Super Semifinal -- should they come away with a win and a loss or tie by the Boston Breakers.

It won't be an easy task for Paul Riley's club, who have lost three straight and are going up against a team in FC Gold Pride (15-3-5, 50 points) that has run away with the WPS regular season championship and has not lost in 13 matches, going 9-0-3 since its last defeat, June 27 vs. Sky Blue FC.

"I don't think the result is the most important thing," said Riley. "I think the most important thing is the performance. We have had some poor performances and poor results.

"I think more importantly is getting ready for the home (playoff) game we already have," Riley added. "We've dug ourselves a hole. There's still everything ahead of us and if we put a good run together (we'll be fine)."



Pride midfielder Shannon Boxx is not likely to play, having picked up three yellow cards throughout the year. Another yellow and Boxx would be suspended for the club's next match, which would be the WPS Championship on Sept. 26.

"We're going to make sure we put her in a position where she doesn't pick up that yellow," said Gold Pride coach Albertin Montoya. "We want to make sure she still gets some playing time in … but we are aware of (her situation)."

For the Independence, Amy Rodriguez is the number one threat in their attack. She has been kept off the scoreboard for some time since her June outburst that got her WPS player of the month honors.

Rodriguez leads her club in goals with 12, but hasn't put one in the back of the net since Aug. 11 in a 2-1 win over the Chicago Red Stars. If the Independence hope to win their first in four matches, they'll need Rodriguez to produce.

"We have to get her the ball in better areas," said Riley of Rodriguez. "We haven't been doing that of late."

Meanwhile the Pride have a number of players who can score goals. Marta leads the team with 18, while Christine Sinclair has nine goals and nine assists.

In two previous meetings, Gold Pride has won 3-1 at Philadelphia on June 13 and 2-0 on July 17 at home. In the 3-1 win, Marta had a pair of goals; in the 2-0 win, Sinclair had a brace.

"We want to continue the momentum we have built. We don't want to let down at all (against Philadelphia)," said Montoya. "I don't want them to think they've figured us out."

Kickoff at Pioneer Stadium in Hayward is set for 8:30 p.m. ET.


For more on Women's Professional Soccer, visit Goal.com's WPS page and join Goal.com USA's Facebook fan page!