Goal 2013 Review: Fergie farewell, Bale Madrid, Ozil & more
Introduction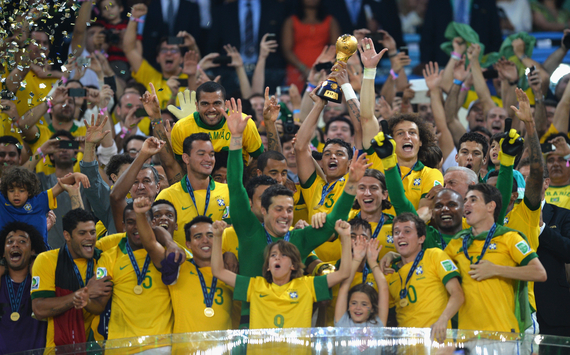 What a year. What. A. Year.
The retirement of arguably the greatest manager the game has ever seen; the biggest transfer football has ever witnessed in a record year of global spending; the near-complete overhaul of every one of Europe's biggest clubs at managerial level and the emergence of new, rich super-powers marking the dawn of a new era of the modern game; domestic and international twists, turns, intrigue and fascination the likes of which we've rarely before experienced; and some of the greatest matches on the field and most significant events off of it fans could ever hope to see.
In years to come, it's impossible to think that 2013 will be seen as anything less than a truly landmark year in football's glorious pursuit.
With Sir Alex Ferguson and David Beckham hanging up their hairdryer/boots, Luis Suarez providing a one-man headline-generation service, the likes of Gareth Bale, Mesut Ozil, Neymar, Radamel Falcao and Edinson Cavani keeping fans and financiers alike glued to the latest news, and Jose Mourinho, David Moyes, Carlo Ancelotti, Gerardo Martino and of course Pep Guardiola spinning the managerial revolving door even faster than ever, the challenge of keeping football fans informed every step of the way has rarely been tougher.
With twists and turns in the Premier League and domestic Cups, the sheer drama of the Champions League and Confederations Cup, and the ups and downs of World Cup qualification, the fantastic calendar of top-drawer action has rarely been busier.
And with match fixing rearing its ugly head, technology forcing its way ever more into the game's workings, and the battle against racism, homophobia and discrimination still ongoing, the breadth of coverage needed to stay across football's news agenda is larger than ever.
And that is exactly how we love it at Goal towers.
From London to Johannesburg, Rio de Janeiro to Tokyo, our aim is as it has always been; to share our football obsession with football fans the world over.
So it is, as we head into 2014 and a year that promises Samba Style above anything else, that we look back on a staggering year of the beautiful game.
Every year we reflect on the previous 12 months and wonder if we'll ever see the likes of it again. And every year I conclude: you better believe it, people.
This is the game that always keeps on giving.
Sam Lyon | Goal UK Chief Editor
Goal 2013 Review: Fergie farewell, Bale Madrid, Ozil & more