Man City win Milan thriller & Villa hammer Walsall - pre-season round-up
2. Player of the Day - Edin Dzeko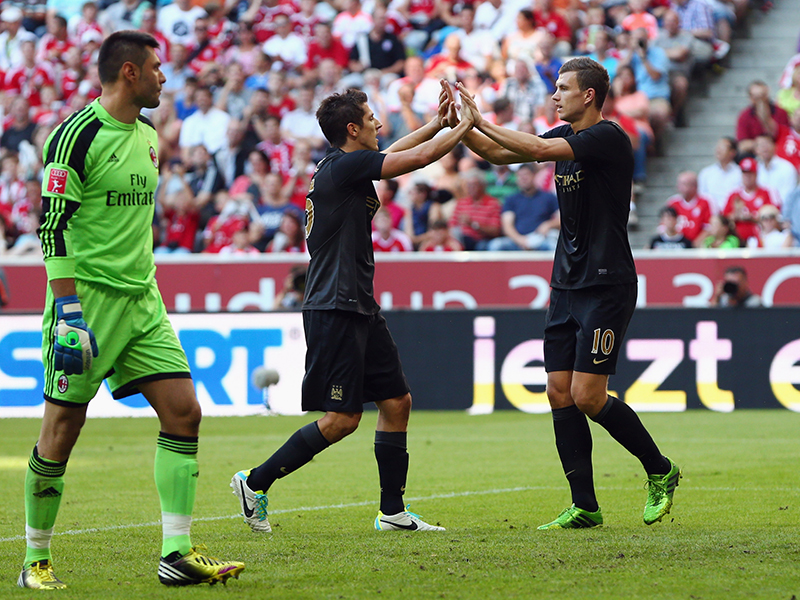 The Bosnian striker was handed a morale-boosting thumbs up by his manager Manuel Pellegrini earlier this week
when he was named Manchester City's main striker for the forthcoming season
, and he did not disappoint in Wednesday's rout of Milan.
Leading the line, Dzeko peeled to the back post for a deep Jesus Navas cross in the fourth minute to assist David Silva's opener side-footing back across the penalty box.
He then converted another pinpoint Navas cross in the 33rd minute, sliding home the low ball at the back post to give City a four-goal lead, before saving his best for last.
Yaya Toure found room on the edge of the box to clip a delicate ball over the Milan defence, enticing Dzeko to control, spin and volley expertly on his left-foot past Marco Amelia.
Dzeko has been in fine form this pre-season and looks set to play a much more central role for City under Pellegrini.
Man City win Milan thriller & Villa hammer Walsall - pre-season round-up