Prev
Giggs, Neville and Butt: Up Close and Personal
Early birds
Want to be the closest to the stage? Well, you've got to turn up early (like, five hours before the event), like how these fans did!
Sunday, June 16, 2013 2:53 AM
Prev
Giggs, Neville and Butt: Up Close and Personal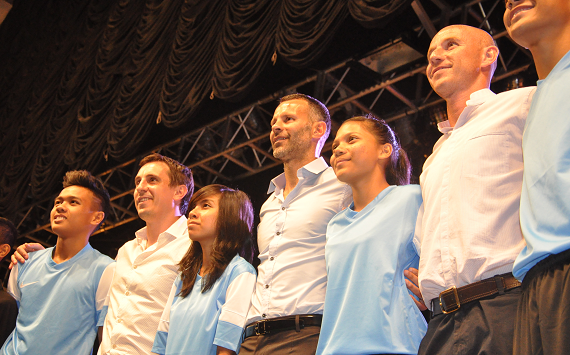 Text | Teng Kiat Pictures | Kuris

The three members of Manchester United's treble-winning 1999 squad and Fergie's Fledglings were in Singapore to meet fans as part of an event by the Singapore Olympic Foundation-Peter Lim Scholarship. You can read what they had to say here.

Meanwhile, let us take you through some of the moments from the event, which was held at D'Marquee, Downtown East!
Early birds

A question for Giggsy

Fergie's Fledglings

Scholarship recipients share their thoughts

Arrival of the stars

Stars on stage

Gary Neville talks

Ryan Giggs smiles

Nicky Butt answers questions

Lovely Kelly

Lucky fan gets picture

Lucky fan no. 2

The envy of all

Starting young

Til next time, folks
Copyright © 2013 Goal.com All rights reserved. The information contained in Goal.com may not be published, broadcast, rewritten, or redistributed without the prior written authority of Goal.com