Top 10 worst injuries in world football
2. Alf-Inge Haaland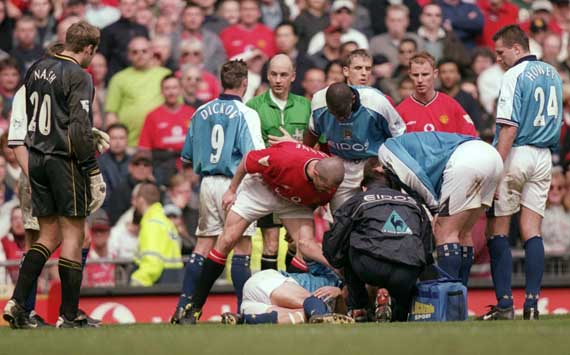 Former Manchester United captain Roy Keane is known for his uncompromising style on the pitch during his playing days, but his feud with ex-Manchester City defender Alf-Inge Haaland is perhaps one of the most famous stories in football folklore.

It all started in September 1997 when United played Leeds at Elland Road and Keane suffered an injury to his anterior cruciate ligament during the match, which subsequently kept him out for almost a year. Haaland, then playing for the home side, stood over Keane as he lay prone on the ground and suggested that the Irishman was feigning injury.

Later in April 2001, Keane dished out his own brand of revenge. Haaland had by then moved to United' rivals, City, and was the victim of a deliberate foul on the right knee by Keane, who later admitted in his autobiography that he had set out with the intention to harm Haaland.

Keane was subject to a FA inquiry and banned for a total of eight matches, in addition to being fined £150,000. Haaland never played a full match again and retired two years later in July 2003 due to a long-standing injury on his left knee, which he implied was aggravated by Keane's tackle on his other knee.



Top 10 worst injuries in world football