He burst onto the
LionsXII
scene last season, wreaking havoc amongst opposing defences with his pace and trickery.
As such,
Faris Ramli
's string of impressive performances last year during a triumphant
Malaysia Super League
(MSL) campaign earned him the
Young Player of the Year
accolade in the first ever
Goal Singapore Football Awards
.
Having beaten the likes of Adam Swandi, Delwinder Singh, Sahil Suhaimi and LionsXII teammates Shakir Hamzah and Shahfiq Ghani to win the award, the 21-year-old winger felt honoured to have been given such recognition.
Still, he was quick to pay tribute to the other nominees, most of whom are his friends.
"I feel so honoured to have won, among the rest of the young players," Faris said.
"To see the nominees, it's like we've been together for a while. There's a few of my friends [who had been nominated] and I can see that they worked hard last year and throughout the year I can see their performance, their games. The same goes to the other nominees.
"So for me to win this Young Player of the Year is really an honour."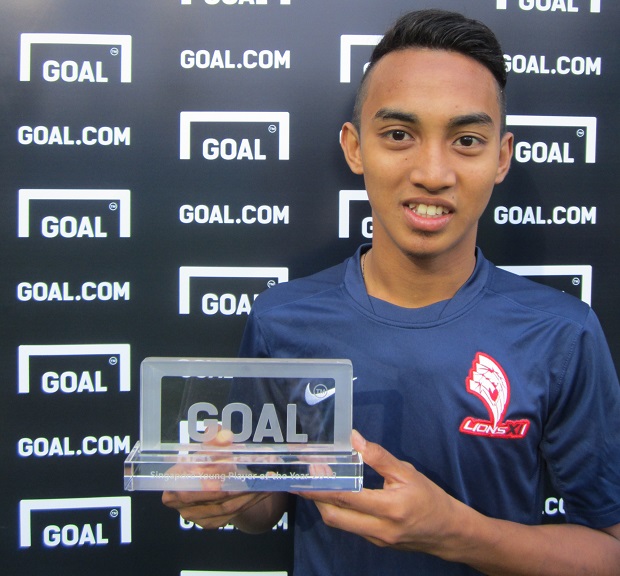 Faris is all smiles with his trophy
Faris was also thankful to the fans that voted for him, which was a validation to the hard work he has put in throughout the year.
"I'm guessing it would pay off if you work hard, as the fans see you and really give your all," he said.
"The fans are the ones who see you and believe in you. If the fans vote for you, it means they trust you. I'm so happy that the fans voted for me, I'm so glad."
With the award now under his belt, Faris looks set to become a key member of the LionsXII this season. Having been given the coveted number 17 jersey,he is looking forward to be a more senior member of the squad.
"I'm trying more to become a professional footballer, to become a senior player," he explained.
"I'm trying to step out of my comfort zone and try more things that I didn't try before. And coach Fandi [Ahmad] believes in me, so I'm ready for all the challenges that are coming this year."
Goal Singapore
congratulates Faris Ramli once again for wining the Young Player of the Year award!