He lit up the S.League in his debut season in 2013 with his classy performances, and it was not a surprise when Lee Kwan Woo was named the
Foreign Player of the Year
in the first-ever
Goal Singapore Football Awards
.
And other clubs will do well to watch out in the upcoming campaign, for the Home United playmaker believes he is getting better after one year of adapting to local football.
"Last season I was getting used to the league and I think I am getting better," he told
Goal Singapore
on Monday afternoon when we handed over the accolade to him.
After being presented with the trophy by
Goal
's Mi-Hyun Chung at Bishan Stadium, Lee also boldy declared his aim to go one better after finishing as league runners-up last season.
"I am expecting more from myself this season and I want to win the league," he asserted.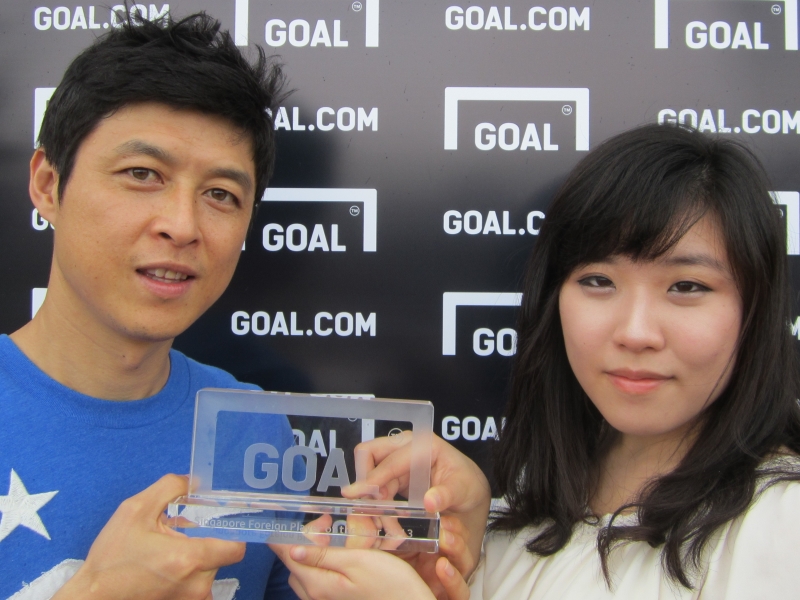 The Korean ace, who has 13 caps for his country, humbly said that he felt there had been other players who were better and he won because of the help his team-mates had given him.
The 35-year-old led the goal-scoring charts for the Protectors during a season where they also won the Singapore Cup, with Lee scoring once in a 4-1 romp over Tanjong Pagar United in the final.
But it is the AFC Cup where Lee aims to make his mark in 2014 and he believes new signings like Qiu Li, Bruno Castanheira, Yasir Hanapi, Izzdin Shafiq and Fazli Ayob will help Home become stronger.
"Coach Lee [Lim Saeng] told me that the club has reached the quarter-finals before, so I am expecting better this season," Lee said.
"We have good players who have come here and we want to show that Singapore football has improved."
Home will kick off the 2014 S.League season against league champions Tampines Rovers in the Charity Shield on February 21 at the Jalan Besar Stadium. The match will also double up as the first league game, with points on offer.
Goal Singapore
congratulates Lee Kwan Woo once again for his Foreign Player of the Year win!