The Kop idol, who will feature for the Liverpool side at this year's IG Masters Football 6's in Singapore, jested about the veteran striker, who will be making his tournament debut
Former Singapore international Aleksandar Duric will be making his debut at this year's IG Masters Football 6's Singapore Cup, but Liverpool legend Robbie Fowler is not too chuffed about it.
"I am looking at the Singapore team and they've got Aleksandar Duric; he's still playing, isn't he?" he asked the media at the second pre-tournament press conference on Thursday afternoon at the Marriott Hotel.
"Yeah, it's not fair! We've all retired a long time ago but he's still playing!"
Of course, the man Reds supporters still rever as "God" was merely jesting, as he sized up his Liverpool side's opponents at the event, which will include the Manchester United, EPL All-Stars and Singapore legends.
Another new boy who will be featuring is ex-Red Devils striker Louis Saha (right), still only 35 - the youngest player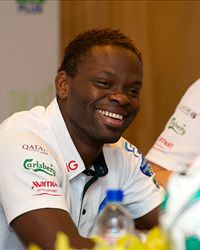 set to be on show. Already, he has set a personal target to achieve.
"It's a first time for me [here]... I am going to enjoy my football and score more goals than Robbie!" the Frenchman declared with a smile.
Saha will not be the only one trying to rack up the goals, with Singapore legend V. Sundramoorthy sure to be in the mix as well.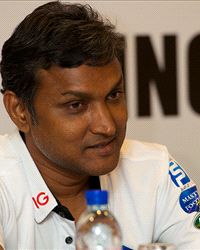 Sundram (left) was part of the Singapore team that went all the way to the final in last year's inaugural edition, where they lost 5-3 to the EPL All-Stars, thrilling the crowd in the process.
"We really played well and it was a good atmosphere, [there was a] full crowd and everybody was initially supporting the EPL team, after which they were supporting the local boys," he chuckled at the memory.
"I hope that it'll be a good turnout this year with all the star players here and we are looking forward to entertaining games and to enjoying it!"
Most of the legends may be advancing in years now, but there is no loss to their competitive edge.
"When we are on the pitch, the winning mentality kicks in and we all want to win," Fowler asserted with a slightly more serious tone.
The IG Masters Singapore tournament will be held on October 20, this Sunday, at the Indoor Stadium. It will start at 2.30p.m. and run for approximately six and a half hours.
Fans will have the opportunity to meet players up close during the pre-match signing sessions. An autograph and photography session will also be organised by IG, featuring Fowler, Saha, Steve Harkness,, Lee Sharpe, Pierre Van Hooijdonk and Regi Blinker on October 28, Friday, at Raffles Place.
Tickets for the tournament are priced as follows (prices exclude booking fee): VIP - S$200, Corporate - S$200, Standard - S$27/S$19, Kop End - S$27, Stretford End - S$27, Restricted View - S$19. VIP ticket holders will enjoy exclusive access to the VIP hospitality area with a free flow of food and drinks provided, as well as an exclusive meet-and-greet session with international and local legends in the VIP hospitality area.
Goal
readers get an
EXCLUSIVE 20% discount
on tickets! To find out how, click
here
!
Photos: Dentsu Sports Asia
Related news
Goal SG Top 5 - Reasons to watch Masters

IG Masters Football Singapore Cup: Key players Head-to-Head

Parlour to miss Singapore Masters

Louis Saha looking forward to facing Singapore side at Masters Cup
Duric to feature for Singapore Masters
Fowler, Hamann, Saha for Masters Football Singapore
Football Masters 2012 Flashback
Sundram wants to win IG Masters 2013
2013 S'pore IG Masters set to be better