The new female co-host of the weekly live show on Fridays at the Jalan Besar Stadium sat down for a chat with Goal Singapore's Teng Kiat to talk about her job, and much more
Viewers tuning in to this season's first Great Eastern YEO's S.League show would undoubtedly have noticed the fresh, new female face. Well, at least this reporter did.
One half of the show that airs "live" from the Jalan Besar Stadium on Friday match-nights, 26-year-old Kelly Josephine Latimer has impressed with her assured demeanour and chemistry with co-host Shehzad Haque.
This is despite her being previously clueless about the scene here, which she was candid about during our interview on a Wednesday afternoon at a Starbucks.
"I'd never done anything to do with local football so when they asked me I was like 'uhh I know nothing', I'll be very honest!" Latimer chuckled.
Born to an English father and a Singaporean-Chinese mother, Latimer grew up in Warwickshire, UK. The Singapore PR moved back here at 13 and the local in her was evident with the "wah"s and "lah"s smattered throughout our conversation.
She was the "only white girl" at Bedok South Secondary School, before then transferring a year later to all-girls institute St. Anthony's Canossian after getting good results. Used to the more liberal UK schooling system, it was all a massive culture shock for Latimer.
"They had a discipline mistress and I'd never been in a school like that; I watched a guy get caned on stage and I was like 'what?'" she explained.
"Then, because I'd never been in a girls' school before and all my friends are guys, that was the worst possible thing. To go from a neighbourhood school to an all-girls' school, it was like a different kind of battlefield - you go from
beng
s to bitches!"
After graduating from Temasek Polytechnic with a Communications and Media Management diploma, Latimer obtained a distinction in her Bachelor in Communication (Media) from RMIT in Australia.
She worked for her parents' executive coaching firm after getting back and then volunteered to be part of the inaugural Youth Olympic Games (YOG) as a sports presenter.
"Mark Richmond approached me and asked whether I wanted to be a full-time staff, so I spent two years with YOG, which gave me huge in-depth exposure to the sporting world and from there, I sort of very much fell into the television stuff," Latimer said.
Having emceed at events since she was 16, the transition to TV was "natural and comfortable" as she found joy in presenting. She covered the 2009 SEA Games in Laos - her first full-fledged TV appearance - before co-hosting the nightly YOG show in 2010.
Latimer has since set up her own company and is thankful things have worked out "very nicely" so far in her career.
"I know people that are 'oh I want to do this' etc., but the opportunity doesn't present itself; it's also a matter of right time, right place and it all just escalated very quickly," she said.
Venturing into the S.League
Latimer was game to give the S.League show a shot when the chance came her way, although it took "a lot of time" to get used to a show without an auto-cue. She was quick to credit the experienced Shehzad for his "amazing" help and is confident she has improved as the season progressed.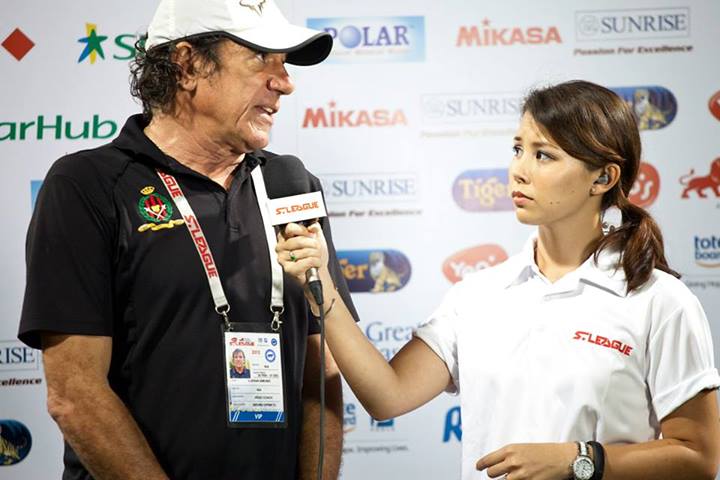 "It can be very impromptu so you got to have enough knowledge, enough backup questions to revert to," she pointed out.
Latimer loves doing post-match interviews with the coaches down on the artificial turf as it helps her to develop a rapport with them, which in turn helps her connect more to the league.
She also revealed that Home United gaffer Lee Lim Saeng - not known for his sunny disposition - has been nicknamed "Chuckles" for smiling the instant a microphone was put in front of him.
"Everyone is 'okay, maybe it's because we have a girl on the pitch'; it's kind of sexist when you think about it, but it's sport and that's why you have women in sport," she said matter-of-factly.
The gorgeous host starts doing research around mid-noon on Fridays before compiling them on her iPad, then does her hair and makeup before arriving at the stadium around 90 minutes before kick-off. There, she continues reading up until the pre-show commences.
"It's not something you can come in and, having not done any work, sound like you know what you talk about; a lot of people think TV is glamorous, but it's not," Latimer breezily said.
She is thankful for good guests who can respond well to any question and dreads boring matches or late drama.
"Shehzad and I will go 'oh my god, we have nothing to talk about!' and then we'll be thankful for a penalty or just anything [to talk about]," she laughed.
"If you have a last-minute change-around [before the post-match interview] then I'm like 'there goes my angle, thanks!'"
She has had her fair share of memorable incidents while on air.
"We usually tape our earpieces to the back of our shirts so the wires aren't visible and for some reason there was a piece that was hanging out on Shehzad's side," Latimer chortled.
"All of a sudden, this hand came in and tried to stick it down so all you see on screen is this hand coming out from the side! Everyone was like 'what the hell, get it out of shot!'
"And of course we can hear all this in our earpieces while we are having a conversation and it was hard to focus without laughing!"
Change needed in local football
Latimer's thoughts were frank when we discussed the development of local football: clubs have to think long-term (no one-year contracts) and commit to developing youth to avoid overreliance on key players, that inter-school tournaments should be scouted more often.
"I think we have a lot more talent here than is recognised and we need to hone local talent, reel them in and give them opportunities," she said.
The forthright lass did not mince her words as she added that the Football Association of Singapore could "do a lot more" for youngsters, but believes people have to be proactive.
"If we want to see changes in the footballing scene in Singapore, we are the ones that need to do that," Latimer asserted, citing the likes of R. Sasikumar (reviving Lion City Cup) and Peter Lim (setting up SOF scholarship).
"If we want to revolutionise the sporting scene here, we can't blame everyone else; just take it upon ourselves and do it!"
More support from the stands is also sorely needed, she says.
"They say the standard is not as good as the Premier League etc; well of course it's not!" Latimer burst out.
"Because until they get the support, you can't get sponsors, money and funding. Nothing's going to change until you get bums on seats."
Parental backing and infrastructural support is crucial for young footballers hoping to forge a career professionally too, even if she believes in always following one's passion.
"I used to do competitive sports (full-contact karate) and my parents were very supportive," Latimer elaborated.
"I trained six days a week, two hours a day on top of school because I wanted to. I was passionate, loved what I did and nothing could stop me.
"I broke my wrist twice within six months and my mum didn't talk to me for a week the second time.
"I was supposed to go to the SEA Games (only sports karate), which would have involved me giving up my British passport and also learning a completely new style.
"But the NSA was more concerned about owning me and making me theirs as opposed to letting me practise my other style, which I enjoyed a lot."
Keeping fit
The toned Latimer maintains an active lifestyle, filling her exercise regime with badminton and yoga in between gym sessions.
"I really am tomboyish, I will put on muscle [easily] so my biceps have more definition than some of my guys friends, which they don't really like!" she smiled.
"I don't like being unshapely, I think being fit and toned and muscular is much nicer than being skinny. I hate it when I get fair, I'd much rather be sun-kissed!"
A slim appearance also helps in her career, she readily acknowledged.
"There are companies out there that will tell you very quickly if you're getting fat," Latimer revealed.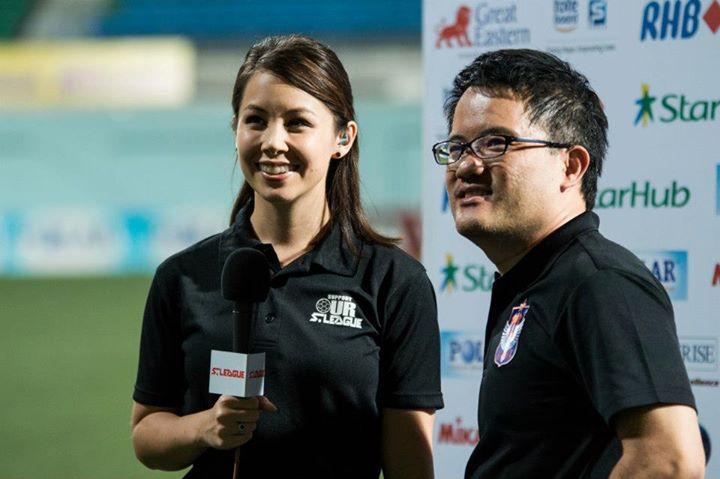 "I understand that it's a very superficial industry, but you see fat guys on TV too! I work out every single day; it's not easy and it's very expensive but I have to. Who the hell is going to hire a fat sports female TV presenter?"
Despite her hectic schedule, Latimer has a particularly important issue on her agenda at the moment: planning her wedding, scheduled for next January. It has been difficult, but she is taking things in her stride.
"We are having a full-on traditional Chinese ceremony and we might as well do it properly, so it'll be fun and enjoyable and a memory to last a lifetime," she said, possibly shattering the hearts of her male admirers in the process.
With the talk of settling down, it felt appropriate to ask Latimer how long more she sees herself doing TV work.
Five years, maybe less, she replies.
"I don't think there are many female sports presenters here in Singapore that have stuck it out, so I am trying to keep in touch with everything and I would love to do the S.League again," she said.
"I'll still do my voiceover work, where no one cares how I look like, and also the events that I do, where it's not as harsh. Those are what will probably keep me going [after TV].
"As for the TV stuff, I don't want to be an old hag and have people say 'ah no, we are going for someone younger'.
"I don't want to do it for the rest of my life, but I want to do it and then bow out on my terms!"
When that day comes, we will certainly miss her megawatt smile and charming presence on screen.