With the World Cup less than a month away, Wayne Rooney has unveiled the custom 42-song Spotify soundtrack he has compiled to put him in the right frame of mind for England's big tests on the pitch.
The Manchester United star has snubbed many of the traditional adrenaline pumping anthems in favour of a mixture of contemporary pop hits and tracks from his favourite band, Stereophonics.
WAYNE ROONEY'S WORLD CUP PLAYLIST
EDITOR'S PICKS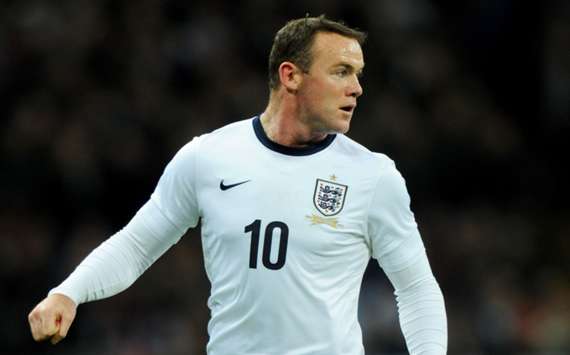 ALL OF ME - JOHN LEGEND
BIG PARADE - THE LUMINEERS

GOODBYE MY LOVER - JAMES BLUNT

MONEY ON MY MIND - SAM SMITH

THE BOXER - JERRY DOUGLAS

LITTLE LION MAN - MUMFORD AND SONS

SIGH NO MORE - MUMFORD AND SONS

There is no place for anything from the Rocky soundtrack, Eminem's 'Lose Yourself' or even the undisputed greatest football song of all time, 'Three Lions (Football's Coming Home)' by Baddiel, Skinner and the Lightning Seeds.
But while seemingly innocuous, Rooney's choice of songs might well provide an insight into the mind of the 28-year-old Roy Hodgson hopes will be his talisman in Brazil this summer.
Rooney has yet to score a World Cup goal in his career, but the selection of 'All of Me' by John Legend and 'Awake My Soul' by Mumford and Sons suggests he's determined to leave everything on the pitch this time.
The United star doesn't seem to have got Hodgson's memo about wives and girlfriends being allowed to accompany the sqaud to Brazil, however, judging on the presence of 'Goodbye my Lover' by James Blunt.
Rooney might well be intending to listen to 'Little Lion Man' by Mumford and Sons as he watches Jack Wilshere rampaging around midfield in training, flying into every tackle.
And perhaps in his free moments, the 28-year-old will put on Sam Smith's 'Money on My Mind' as he ponders how best to spend his £300k-a-week wages at the team's training base in Rio.
England fans will be hoping the presence of three songs by Passenger doesn't prove indicative of their star striker's performance, as well as Jerry Douglas's classic 'The Boxer', given his previous disciplinary problems.
But come July, Rooney will surely be hoping he can listen to the Lumineers' song 'Big Parade' as he prepares for a triumphant return with the rest of the England squad...