Andy Whitelaw, the 25-year-old producer for Red Card Sports Radio, is the host for Drive Time and Pitch Perfect segments on the radio station every week.

The young radio presenter is well on his way to become the next big thing in sports entertainment and presentation not just in Singapore, but the region as well. If you have heard Whitelaw's shows before, you would most probably have been charmed by his affability and wit.


But, do you know who he really is besides sounding like a likable fellow on air? I sat down with Andy for a little chat recently to find out more about his love for football, his aspirations and how he got to settle to the Garden City.
A seasoned Southeast Asian resident
Despite being born and raised in a small village an hour away from London, it was a pleasant surprise to find out that Andy is more than familiar with the Southeast Asian peninsular, having lived in this region for close to a decade already.
"My dad worked in Kuala Lumpur and I went on holiday there once when I was 15," he shared.
"I thought it was a pretty amazing opportunity as not every kid from England gets a chance to move halfway across the world and experience living in the tropics, living in a bustling, exciting city."
"There was an opportunity to do something different here and have a bit of an adventure. But it ended up becoming permanent because of the opportunities here work-wise."
True enough, Andy hasn't looked back since his 15-year-old self decided to move to KL, and is now residing in Singapore after starting work here five months ago.
Relentless love for football
When Andy came back to Malaysia after completing school at the University of Nottingham, he had huge plans to go to Melbourne for a few months to work, save money, and go to Buenos Aires, Argentina, to experience the life and culture there.
But he went for an interview with an independent radio company in Malaysia called BFM 89.9 prior to leaving for Australia and they offered him his first working stint on the radio talking about football.
"I didn't ever end up going to Melbourne and I've never made it to Buenos Aires, all I could do was say 'yes' in the end," he said.
"Amazing things happen when you say 'yes'."
Born in a part of the world where the most popular league in the world is held on a weekly basis, Andy naturally grew up in a football-crazy environment.
"I've always loved football since I was a kid, I've always played it," he reminisced.
"Probably I wanted to be a professional footballer but I wasn't that good. I've always been pretty open with football discussions, [collecting] everything from trading football stickers to those football 'heads'. I was obsessed with football boots and football shirts too, and I always wanted to have the coolest shirts in town."
In fact, he's actually a certified coach and has been coaching for over five years now, having got his Level Two license back home last summer. It's something he values highly.
"Getting my Level Two was a good challenge because I had to fly back all the way to Birmingham to do a week of solid theory and practical, and immediately come back," he chuckled.
"It was an especially nice achievement, because I failed my driving test!
"Anybody can talk about football, but I don't want to be like a typical random dude off the street.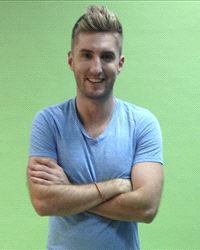 "
Coaching young kids is something that Andy enjoys more than anything else, but the best feeling was when he combined coaching, playing and watching football all in one.
"I was taking an Under-10 team, which is really fun because you find out a lot about yourself coaching kids, kind of like the pure side of the game, which is really nice," he said.
"It was pretty funny because every weekend it got to the point where the team I coach, the team I watch (Arsenal), and the team I play for in an expats veterans league in KL always had matches."
"If one of my teams lost I would feel so depressed for the whole week. But if all three won, which is very, very rare, I'd be absolutely buzzing. It was amazing. It's totally different emotions, watching a team, coaching a team and playing for a team. But when it all goes in, it's the same buzz."
A dream career
Andy studied film and sociology back in University, but the media side of it came only after he graduated.
When he was in KL, there was a radio station that was looking for people who loved football and who had some kind of media background. So he did an internship there, and has never looked back since.
"It's kind of like a dream to be paid to talk about football," he said.
"I was just so obsessed with football that the idea of having a job where you get paid to do something you love is appealing, as you can imagine. I just took every opportunity I could get. I said 'yes' to everything even if it was unpaid.
"I even went for an audition to be a basketball commentator and I just winged it. I got the gig and was thrown into the deep end, and I was really nervous as I was going on live TV and I didn't know anything about basketball!"
His bravery, as well as talent and ability, eventually caught the attention of former Singapore national footballer R. Sasikumar, who is also the managing director of Red Card Sports Radio.
"I think Sasi compares himself to Arsene Wenger and wants to nurture me!" he humorously declared.
"There are so many young talents, and I was looking for the right club and I wanted to make the right move. Red card was the right move for me. The colour was right. It's an exciting opportunity and an exciting company.
"I really love what we're doing here and I love to do a little bit of production, a little bit of presenting. I love people who are creative and I have an opportunity to show my creativity so it's a perfect fit for me."
Andy has already had his fair share of career highlights in his four years in the media industry, such as interviewing big names like Michael Owen, Louis Saha and Ray Parlour. He knows he is fortunate to do what he loves for a living.
"I think what you do should be full of great feelings in an ideal world," he said.
"Being able to go to work and love what I do, I'd say I'm a happy guy and I don't take that for granted. It's nice to be able to come out and say I'm a pretty happy and positive person. And I'm lucky to have been given these opportunities by people who have faith in me. I'm really fortunate for that.
Local football
Apart from being coached under former Kelantan coach Bojan Hodak when he was studying in KL, Andy admits he has not seen a lot of local football, until recently of course.
And he credits the LionsXII for triggering his interest in the Malaysia Super League (MSL), as well as the S.League.
"Usually it's me shoving it down people and now I have a completely blank page for the LionsXII, which is really nice; I'm like, 'who is he, what does he do, is he quick'?" he explained.
"Now, the LionsXII has sparked my interest in the MSL and I'm a lot more aware now of what's going on. It's really nice to be able to experience and get to know the team for the first time.
"I'm also really interested to start to discover local football as well. There's a nice balance there. I think obviously it'll never have the marketing power of the Premier League, but having the raw pureness of supporting a local club whoever you are, wherever you're from, is a great feeling."
The future
After all that we've heard from Andy, sometimes it is easy to forget that he is only just 25 and it's pretty much still early days in his career. Unsurprisingly, Andy has high ambitions.
"I have a pretty high aim," he said.
"I want to be the best in everything I do. I set high standards. I want to try and help put this company on the map globally, not just in Singapore.
"I think everybody should always aim higher than you'd ever dare to dream of because then if you end up reaching somewhere, that's almost around the top and you can be pretty pleased with the result."
On a personal level, Andy wants to help the industry here in Singapore and build a legacy.
"I also want to bring through young talent and have a hand in giving other people an opportunity, especially I want to bring local talents through here," he said.
"One day I'll look back and I can see a legacy. I want to help build something really amazing. I want to have quality content and cover football the way it should be covered, the way the fans want to see it. Basically as a football fan giving content that football fans want to see. And I always try to refresh and be original, dynamic and creative."
With his passion for the game, coupled with his ability and talent, don't be surprised if Andy does exactly that in the years to come.