The Frenchman sees the decision as a recognition of his good work at Tanjong Pagar United this season and has declared his intention to win the game
When Patrick Vallee returned to the S.League this season to take over the reins at Queenstown Stadium, he targeted a mid-table finish for Tanjong Pagar United at his unveiling.
With four more games left until the campaign concludes, the Jaguars sit in sixth position and are guaranteed a top-half finish - a marked improvement over last year, when they ended up 12th out of 13 teams.
The Frenchman even saw his team top the table briefly and his good work has resulted in him being named as the coach of the S.League Selection side, who are due to take on their Selangor counterparts in the Sultan of Selangor's (SOS) Cup this Saturday.
It was an appointment Vallee said he did not see coming when
Goal Singapore
spoke to him yesterday after a morning training session with the Jaguars.
"I didn't expect to coach this team, I just do my job and my work [as usual] and in the end I think when you do a good job, when you work hard every day, maybe sometimes you are rewarded [because] people recognise it," he said.
"I think they don't choose one coach [just] like that, I think they choose one who has performed and who did well this year; one who deserves to handle this team."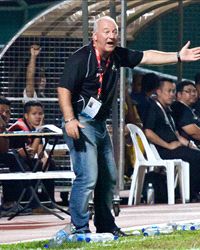 The former Etoile FC coach also admitted that he didn't know anything about the SOS Cup prior to his appointment, which led to him doing some online research.
"Just after they asked me, I tried to find something about what happened [in past years]," he explained.
"It's impressive when you watch the [past] videos about this game; I think a lot of people wait for this game every year."
Vallee let on that he was looking forward to the trip, with his only previous times in Malaysia coming during the club's pre-season tour and their away game against Harimau Muda at Pasir Gudang Stadium.
He also believes there will be no problem dealing with the players, who come from seven of the 12 S.League sides.
"Singapore is a small country so the players all know each other," Vallee pointed out.
"I just need to field the players in the right positions and ask them to play well together as a team. The relationship between the players, I think it's not a big problem. Strikers will be strikers, defenders will be defenders."
Vallee went on to stress that his "first job" was to fulfil his responsibilities at Tanjong Pagar, but he would be giving the SOS Cup his full attention since they had played their week's league fixture on Tuesday.
"I can separate my jobs," he asserted. "Now my focus is on what I can do and how to handle this team for the game."
There was no question about the ultimate objective on Vallee's mind though.
"I want to win the game," came the simple but quick response.