September 27, Friday, 7.30p.m., Jalan Besar Stadium
The Courts Young Lions will be gunning for their third win of the season when they kick off the last game of Round 23 in this week's live broadcast match.
Their opponents will be Brunei DPMM, who ended a two-game losing streak in the league with a 3-1 home win against Harimau Muda in their last outing.
Aide Iskandar's men notched only their second victory of the campaign when they saw off Geylang International 1-0 last week and they could have won by more if not for the brilliance of goalkeeper Takuma Ito.
The former Singapore captain will hope his side continue their improvement against a side they held to a 1-1 draw in Brunei back in May, which was their first point this year after losing all 12 of their games prior to that.
There is no doubting that top scorer Sherif El-Masri will be the key man in attack, the Canadian having bagged his fourth goal of the season with the winner against Geylang. That header showcased his aerial capabilities, in addition to his ability with the ball at his feet.
Nippy striker Sahil Suhaimi, labelled as Singapore's very own Jermaine Defoe by some, will also be a pesky presence while M. Anumanthan drives the side on from midfield.
Their defence will be helmed by the reliable Afiq Yunos, who is a solid wall in the centre as well as a goal threat at set-pieces. He will be in front of goalkeeper Syazwan Buhari, who has earned recognition for his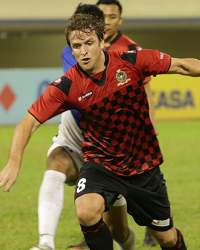 stellar displays this season.
Brazilian Rodrigo Tosi (right) is the Wasps' in-form man, having struck a stupendous volley to equalise against the Malaysians before sealing the victory with his second of the game from the spot. His skill and poise on the ball makes the former Neuchatel Xamax and Lausanne Sport man a menace and the Young Lions will have to keep him on a tight leash.
The midfielder was the only foreigner to take to the pitch in that game with coach Vjeran Simunic claiming after the win that he had waited a long time to field a team consisting mostly of Bruneian players.
The impressive showings from Shahrazen Said and Azwan Ali Rahman certainly lent his words strong support, with the club management's decision to do away with the rest of the foreign imports possibly fostering a stronger team spirit with an almost all-local line-up.
DPMM are four points behind Warriors FC, who lead the bottom-six table in this new half-round format, and they will be keen to make up for a disappointing campaign by topping the group. But the Young Lions will no pushovers with their tails up, and this should be an exciting clash to round off the week.