Warriors FC coach Alexander Weaver was a delighted man after his team came back from a goal down to beat Albirex Niigata 3-1 at the Jurong East Stadium on Friday night.

Trailing 1-0 early in the second half to a Bruno Castenheira wonder strike, his team suddenly came to life and equalised via substitute Sufian Anuar, before Mislav Karoglan scored in the 83rd minute before Shi Jiayi wrapped up the victory right at the death.

"I'm delighted about the result and for every single one of the players; a little bit more for certain individuals in the team because they've gone through a tough time," Weaver said after the game.

The Englishman reserved special praise for super-sub Sufian. who led the Warriors' comeback by scoring six minutes after he came on.

"Sufian has gone through a tough time in front of goal and he took a big dip confidence-wise," he said.

"All strikers do that at some point in their career. We've addressed that with him and he's worked hard on it, and he's got a little bit of a reward tonight."

Weaver also praised defender Marin Vidosevic for a strong second-half showing.

"I had a little conversation with Vida at half time, and he just showed exactly what he's capable of not just physically but mentally," he said.

"He was on a yellow card against a very tactical and tricky team. But he led [the defence] along with Abdil [Qayyim] extremely well."

However, the Englishman couldn't hide his disappointment at the way his team conceded the first goal.

"I was really disappointed when Albirex scored," he said.

"We've done a lot of work on one-versus-one defending these past two weeks, and we allowed Albirex's Arjen Robben (Castanheira) to come inside on his left foot.

"If you do that with somebody like Bruno, he's going to get something on target and he placed a fantastic strike on goal. To beat a goalkeeper like Hassan [Sunny] like that, it shows what a good strike it is. But we should have stopped it earlier."

As for Albirex coach Koichi Sugiyama, he felt his team did not deserve to lose the game.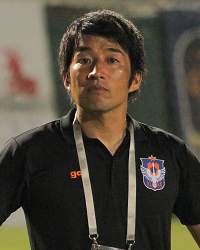 "I thought we were unlucky to concede the goals," Sugiyama (right) said.

"It [the first goal] was a scramble. The second goal was conceded from a set piece and Warriors have many tall and powerful players like Vidosevic, [Daniel] Bennett and Karoglan. We don't have something like that. The third goal was a counter attack at the end."

Still, he acknowledged that his side struggled towards the end of the game.

"In the first half we played our football," he recounted.

"But in the second half, after 70 minutes, we could not control the game anymore. Our defensive and midfield line were not compact."

The Albirex coach was also critical of the Warriors' style of play, insisting they played "kick-and-rush" football.

"There are many ways of playing football," he said in a philosophical way.

"We play possession football, and today we tried to play counter attacking football too.

"But Warriors focused on only the 'kick-and-rush' way of football, and when a team focuses on only one type of football, they become very strong in that."

Nevertheless, Sugiyama was still upbeat despite being 14 points behind league leaders Tampines Rovers with five games to go.

"If we think of Tampines and how far behind them we are in the league table, we cannot win," he explained.

"We have five more games and we want to focus on the next game against Tanjong Pagar.

"We are professional and I will always hope for a good performance every time."