Three more points enabled Tampines Rovers to close in on the S.League title after seeing off a determined challenge from Tanjong Pagar United 3-1 at Jalan Besar Stadium on Friday night.
With Albirex Niigata and Home United both losing their final scheduled games in the second round of matches, the Stags extended their lead to 14 points.
But it was not the easy game the score might have suggested, as an understrength Tanjong Pagar fought back from two goals down to almost capture a point.
The Jaguars had Monsef Zerka and Zahid Ahmad suspended and midfielder John Wilkinson out injured, as well as Walid Lounis and Sazali Salleh sidelined for the longer term.
On a positive note, club captain Hafiz Osman made his long-awaited return from injury, coming off the bench in the 77th minute to inspire his side to a near-equaliser as he took the field for the first time this season.
With Hafiz taking over at centre-back from the versatile Ahmad Latiff, coach Patrick Vallee, who had been sent to the stands by referee Jansen Foo for remonstrating with the match official earlier, pushed Latiff forward.
"I thought Ahmad Latiff could make a difference when he went forward and I was right as he won us a penalty," said Vallee after the game.
"Unfortunately Kamel [Ramdani] missed the second time, but I should correct myself and say that the goalkeeper made a really good save. It is unusual for Kamel to miss; we were a little unlucky today that the goalkeeper saved the penalty.
"I liked the game and the way we played, so I was very happy with our performance as Tampines are a very good side."
The Frenchman went on to praise his side's efforts, given their missing personnel.
"Some of our players have not played many games and it took a while for them to settle down today and that was how we conceded two goals," Vallee explained.
"I can't blame those less-experienced players, as they have not played much and needed time to adjust to the way Tampines were playing.
"We competed very well against Tampines considering that five key players were not available."
He also lauded Hafiz's rehabilitation efforts.
"I was really pleased that Hafiz was able to play today," Vallee said.
"He has worked really hard to get fit again and never gave up. I had told him I expected him to be ready by October and he has managed to play again in September and that is because he is a very strong boy and has proved himself to be a great captain for us, working with the rest of the players all year throughout his recovery programme."
Tampines coach Tay Peng Kee (right) acknowledged that his side needed a jolt to keep Tanjong Pagar from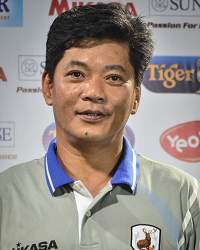 working their way back into the game.
"My players put themselves under pressure after going two goals up and I had to make some changes to get them going again," he explained.
"Tanjong Pagar played a more pressing game after going behind and my team needed to work hard to secure the points in the end.
"The substitutions were necessary, but I won't comment on anything regarding either of the two penalties that were awarded to Tanjong Pagar, or the save by our goalkeeper.
"The boys will have two days off now as we play again on Tuesday at Toa Payoh against Balestier Khalsa and there's no time for much further preparation."
With the Stags needing only three more points to seal the title, it was no wonder Tay was looking forward to that match.
"If we can win that game we'll be champions, so I'm pleased we won today and I hope we can wrap things up next week," he said, sounding relieved.