ANALYSIS

By Behnam Jafarzadeh
Like many other football derbies in the world, the Tehran Derby is more than a match worth three points; it's about pride of a city. Heading into Friday's showdown at Azadi Stadium, hosts Esteghlal currently sit atop of the Iranian Pro League table, while rivals Persepolis climbed to ninth last weekend with a win against Damash.
The Blues are title heavyweights this season, but for their fans, winning the trophy without compensation for last year's defeat to Persepolis would be an unpleasant proposition. This season's first match-up between both sides ended in a goalless draw, so this week's match is another opportunity for Ghale-noei's men to seek revenge against their bitter rivals.
However, Persepolis have improved significantly after Yahya Gol Mohammadi's appointment, which could cause problems for their bitter enemies.
February 2, 2012: A long-awaited revenge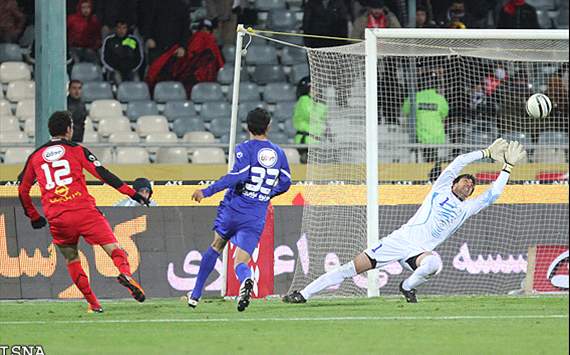 For years, Esteghlal supporters have been mocked by Persepolis fans with the nickname
shish taei-ha
, or 'senary', recalling their historic 6-0 victory in 1973.
But last season, Persepolis fans found something new to be proud of. Esteghlal had won four derbies in a row coming into the match and they were about to achieve their fifth victory through goals by Milad Meydavoudi and Fereydoon Zandi. Compounding Persepolis' misery, Mehrdad Oladi's harsh red card left the visitors a man down and sent many fans heading for the exits.
But all of this changed in the last 15 minutes of the match, when Eamon Zayed scored a stunning hat-trick to turn the game around and produce one of the most astonishing results in the derby's history. The former Derry City striker became a fan-favourite soon after, and subsequent hat-tricks against Rah Ahan and Al-Shabab earned him the nickanme of 'Mr. Hat-Trick.' Esteghlal eventually missed winning the league by a single point, in no small part thanks to this result.
A derby to remember, regardless of the result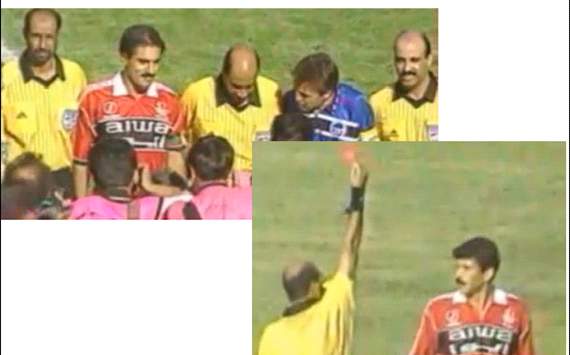 Almost every clash between Persepolis and Esteghlal comes with its own controversy, with pressure on players and coaches occasionally resulting in unexciting tactics being overshadowed by violence. Additionally, Iran's social and political situation has often added additional significance to the match and spurred rumours over the outcomes.
In recent statements, Esteghlal president Ali Fatollah Zadeh claimed that his team could have won the September 24 1999 derby as a result of two Persepolis players seeing red cards, but were asked not to score by authorities.
More than 13 years have since elapsed since this scoreless draw, but Zadeh's comments inspired both sides to trade insults and accusations. While Esteghlal players claimed that the officials at the time showed leniency toward Persepolis, Reds supporters claim that their blue-blooded rivals are simply making excuses for a five-year period in which they failed to win a derby.
After 45 years and 75 matches, a derby of a different nature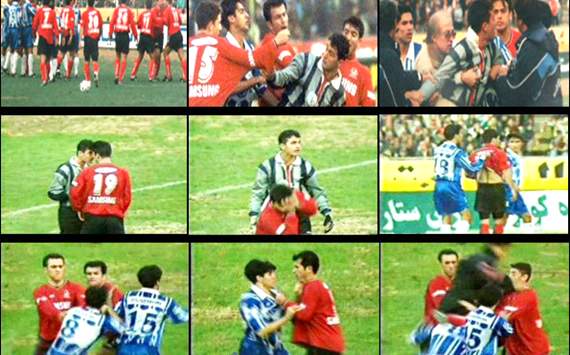 The Tehran Derby was a source of stress for Iranian football in the 1990s, with heated tempers leading to many problems on and off the pitch. After notorious clashes in 1994 and 1995, the country's football federation decided not to use Iranian referees in the derby and invite foreign referees to reign in the sides.
The government took notice as well; when the 1999 Hazfi Cup final featuring the two Tehran clubs took place just days after student protests lead to multiple deaths and over a thousand arrests, then-IFF president Mohsen Safaei Farahani was allegedly asked to have the match end in a draw in order to prevent violence from re-occurring. In the end the request was impossible for a cup final, and Persepolis won by a 2-1 result.
The two clubs have even participated in a celebratory dinner before recent derbies in order to reduce bad feelings, but this has helped little on the pitch. However, this 76th derby appears to be a beast of a different nature from previous showdowns.
Unlike previous matches where both sides have tried to reduce expectations, verbal barbs have been traded between presidents, managers, players, and even former players in the last two weeks. With both Esteghlal and Persepolis eager to claim victory in this most important of matches, Iranian football fans can surely expect a highly-charged affair.