Thailand star Teerasil Dangda is set to arrive in Spain this week for trials at top-flight club Atletico Madrid, after a series of impressive performances in the 2012 AFF Suzuki Cup recently.
The SCG Muangthong United striker hit five goals to win the Golden Boot award at the Asean tournament, building on an impressive season where he thumped in 24 goals in 29 games to lead his club to the Thai Premier League title in 2012.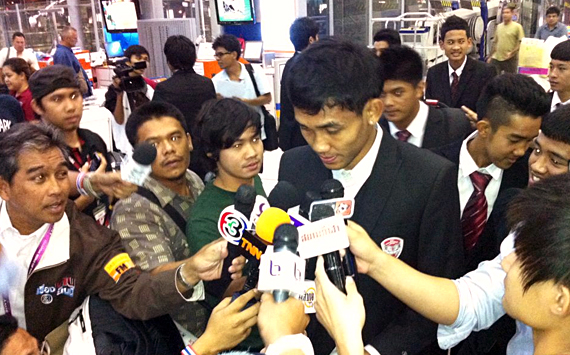 Teerasil, who signed for English giants Manchester City back in 2008 but was released after failing to make a single appearance, says he is "not in any pressure" ahead of this stint.
"I just want to be myself and do my best. My dad didn't give any advice as he has never lived abroad before. I'll emulate what I did in Thailand to let Europe know that Thai people can play good football," the 24-year-old said.
His father, Prasit Dangda, believes the La Liga side is genuinely interested in his son's footballing abilities and backed 'Mui', as Teerasil is known, to do well.
"I believe Atletico really wants him to come for the trials [and that it is] not just [for] marketing [purposes]," he stated. "They're already a big figure in La Liga [as they] currently sit in second position. They simply don't need to do that kind of thing; they must really see something in him.
"My son and daughter [Thaneekarn Dangda, Thailand women national team player] are both in football. For Mui, I only expect him to play in a lower tier like the English Championship; La Liga is something beyond, but I still believe he can do it.
"Mui is surely capable in my opinion. He just needs to be himself."
Narongwit Ounsangchan, the director of Assumption Thonburi School's football excellence programme, which Teerasil came through, believes the striker's progress bodes well for Thai football's future.
"This is the big first step. I wish Teerasil joins one of the European teams and then I'll keep raising the next [big thing]; I believe we'll have the second or third Teerasil in years to come," he stated.
Teerasil will fly in with eight youth players from Muangthong along with a staff coach, with all of them scheduled to train at Atletico for nine months.