ANALYSIS

By Peter Davis
There are
Ni Hao's
in Beijing and
Zai Jian's
in Shanghai in abundance as China's footballing world as 2013 begins, a new and passionate manager arrives in the capital, and the Chinese Super League bids farewell to Nicolas Anelka almost as quickly as he arrived.
His impact questionable, Anelka only appeared in 22 games for Shenhua, bagging just three goals, two of which were in his first four games. Shenhua's form during his 22 matches was no better, his side winning only five, losing six and drawing 11 in a season ending with a ninth place finish.
"I accepted Shanghai Shenhua's offer because I've been interested in Chinese culture since I was a child, but financial reasons also played a role"




- Nicolas Anelka

"I accepted Shanghai Shenhua's offer because I've been interested in Chinese culture since I was a child," the Frenchman told
Le Parisien
last year. "But financial reasons also played a role." Now less than one year later, the ex-Chelsea man who once commanded fees of over 20 million pounds is seemingly available for transfer with QPR and West Ham currently courting him.
Shanghai Shenhua had a season full of ups and downs; signing Drogba and Anelka has masked over what has been a crazy year by any clubs standards. Ex-Fulham boss Jean Tigana was replaced by former Argentina manager Sergio Batista with Anelka named head coach in between. Numerous stories have surfaced throughout 2012, with English-language Chinese football writers Wild East Football labelling Shenhua a 'dysfunctional club' in their overview of the club's season.
The CFA's official statistics show Shenhua's average 2012 attendance at 14,761, much higher than the 2011 average of 9,828

- Peter Davis

Commercially it can be argued that Anelka has been a success; the Chinese Football Association's official statistics show Shenhua's average 2012 attendance at 14,761, much higher than the 2011 average of 9,828. Anelka's signing lead to other famous footballers coming to China; Didier Drogba for Shenhua, Seydou Keita at Dalian Aerbin from Barcelona, ex-Blackburn forward Yakubu to Guangzhou R&F, Freddie Kanoute at Beijing Guoan and former Dortmund forward Lucas Barrios joining Marcello Lippi at CSL champions Guangzhou Evergrande.
Shenhua, though seem to be a side falling apart. Captain Yu Tao has moved on to neighbors Shanghai Shenxin after 260 appearances for the club, a move that appeared to be the last straw for Shenhua fans. "Yu Tao, you abandon us when we need you most. Running dog, you'll never be forgiven," wrote one such supporter, while the midfielder himself has simply stated that he "knows what I have to face."
On reflection, It seems fitting that Anelka's first game for Shanghai Shenhua was a 3-2 defeat to rivals Beijing Guoan, who have just appointed 39 year old Serbian coach Aleksandar Stanojević as manager, in mid-March.
The 'Imperial Guards' of the capital ended the season with a third place finish behind champions Guangzhou Evergrande and surprise package Jiangsu Sainty in second, qualifying for the Asia Champion's league in the process. Guoan though are not without controversy themselves, as Portuguese manager Jaime Pacheco was sacked when the front office sought a change and Stanojević replaced him after leaving Dalian Aerbin.
The Serb blamed uncertainty for his decision, in particular the planned merger between Dalian's two clubs. "Dalian Shide and Aerbin merged and their future is not clear," he told journalists in China following the announcement. Admittedly, football's future in the northern city of Dalian remains unclear many weeks since the decision was announced.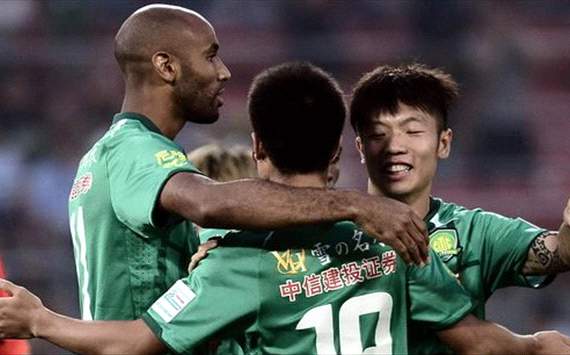 IMPERIAL GUARDS | Kanoute helped to lead Guoan to a third-place finish in 2012


Stanojević got results for Aerbin, though, taking them to a fifth place finish. The side with back-to-back promotions has a strong spine to them, including prolific Nigerian striker Peter Utaka, Australia international Daniel Mullen, ex-Middlesborough midfielder Fábio Rochemback and of course Seydou Keita.
In his first press conference to the Chinese as boss of Guoan, 'Stano' outlined his transfer targets and the side's defensive weaknesses as the main areas of needed improvement. After parrying inquiries from local press regarding Chelsea man Frank Lampard, the Serbian instead mentioned Senegalese international Lamine Diarra as a more realistic target.
Beijing Guoan now look to next season with an enjoyably difficult ACL group, including 2012 J-League Champions Sanfrecce Hiroshima, the K-League's Pohang Steelers and Bunyodkor of Uzbekistan. But for Shenhua the immediate future is not nearly as bright. With Anelka gone and others such as Drogba in limbo, the Shanghai side faces some uncertain times before the commencement of next season's Super League.
Beijing-based Peter Davis watched Liaoning Whowin play Chengdu Blades in 2008 and has been hooked on Chinese football ever since. He is a regular contributor to Wild East Football and can be found on Twitter at @peteydavis