Real Madrid finally clinched la Decima and that will likely stand out as the most enduring of last season's title wins. The 10th Champions League triumph had sealed mythical status long before Iker Casillas lifted the trophy in Lisbon and many of Real's stars are deserving of the title.
So too, however, are those in the ranks of the beaten finalists, Atletico Madrid. Diego Simeone shocked the world in assembling a team good enough to win the Liga title ahead of Barcelona and Real Madrid. Their success was forged on collective strength, much like Bayern Munich's domestic double, meaning selecting only one player worthy of individual praise might be a difficult process.
Germany captain Philipp Lahm is bidding farewell to the national team after 10 years of service and is doing so as a World Cup winner. For a long portion of his career it seemed certain that Lahm would be cursed as a nearly-man on the biggest stages. He was adept at hoovering up the domestic prizes but glory on the European and world platforms - for club and country - eluded him. Yet the last two years have, perhaps, been the most effective of Lahm's career as Bayern clinched a treble and a double and Germany took top honours in Brazil.
No one player better encapsulates the calculated rationality of both teams' successes than the inimitable Lahm. As a right-back, or even a central midfielder, he is virtually unsurpassed. He was flawless as Bayern swept the board with a domestic double and a Club World Cup to boot and played some of the best football of his international career in the latter stages of the World Cup when his experience and know-how came in useful for a youthful squad.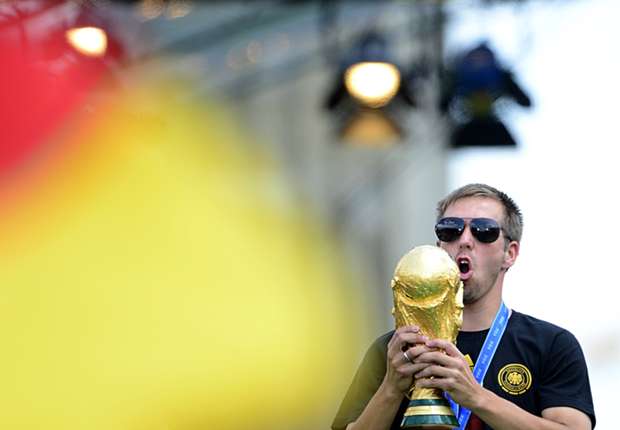 GOING OUT ON A HIGH | Lahm departs a World Cup-winning captain
Thomas Muller was the best player in the best team at the World Cup. He added five goals to his finals tally to take it to 10 and was the prominent player in all Germany's matches up to and including the final. He is a favourite of Joachim Low for good reason. In truth, there were better individuals in Bayern Munich's season and Muller even had trouble convincing Pep Guardiola that he was the man to start in some of the bigger matches during the season. There is no doubt, however, that Muller proved his worth in Brazil.
Club-mate Arjen Robben did what a lot of other high-profile players could not - a strong club season followed by a decisive showing in Brazil at the World Cup. Louis van Gaal set up his Netherlands team to extract maximum effectiveness from Robin van Persie and fellow Dutch veteran Robben and the duo responded spectacularly. From the opening-day demolition of Spain to the final nail in the Luiz Felipe Scolari regime's coffin, Robben was relentless and deserving of the title of the World Cup's best player.
He had been Bayern's best player, too, all season long as they won another double. He was instrumental in their Bundesliga title win - secured by March - as well as their DFB-Pokal victory over Borussia Dortmund in Berlin. This is a player who, two years ago, looked to be on the way out and destined for the scrapheap but he has emerged as one of the world's most influential stars for club and country. This was his best season yet.
Lionel Messi boasts a goal-scoring record that is still beyond reproach but there is little doubt that he's slowing. It would be a safe bet to suggest that his three most productive seasons are behind rather than in front of him. Last season, Messi missed lots of football through injury as 10 relentless years without a notable break began to betray the strain. His numbers were down on the season before, both in terms of goals scored and matches played, as Barcelona and Tato Martino conjured ways to win without him. Alexis Sanchez and Neymar deputised capably to the extent that in certain matches Messi was shunted back out to the right wing. The World Cup, however, put the Argentina captain back in the conversation for the individual awards. His campaign was littered with moments of era-defining magic although he and his team-mates ultimately came up short. Goals against Bosnia-Herzegovina, Iran and Nigeria might not be enough to see Messi emerge on top.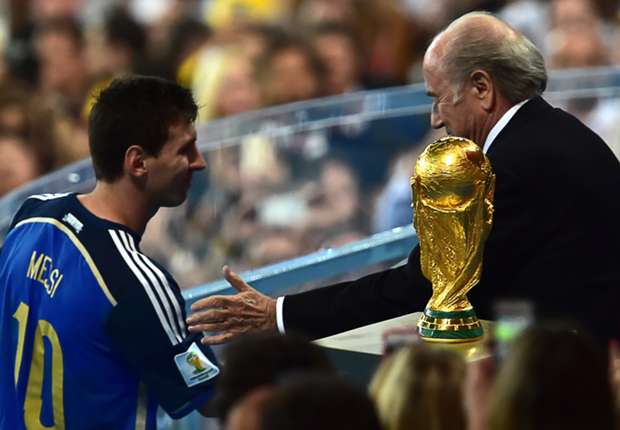 BEST OF THE BEST? | Messi was crowned with the World Cup Golden Ball
Conversely, Messi's great rival, Cristiano Ronaldo, boasted an outstanding club campaign before stalling at the World Cup. Ronaldo struggled with injury for much of his Real Madrid season, despite his exemplary play, and carrying a modest Portugal team proved beyond even his capabilities. There was even talk at one stage of Ronaldo sitting out the World Cup such were the effects of his thigh and knee injuries and now, aged 29, he needs care and attention to be 100 per cent ready for the season ahead.
Real Madrid cannot do without him and even accounting for the presence of many other great talents in the ranks at the Bernabeu, no one player bore more responsibility for their Decima triumph than the great Ronaldo. He scored a Champions League record number of goals - 17 - en route to the title in Lisbon, including Real's crowning glory in the final. The celebration was criticised as being overblown but for the manner in which Ronaldo, sometimes beneath full fitness, carried Real to the title, he deserved it.
The one player, however, who commanded more headlines than any other last season was Luis Suarez. He began the campaign for Liverpool on the sidelines serving a suspension for biting and ended it the same way but as Barcelona's new superstar. It has, like everything with Suarez, been an explosive journey.
On the field, he was the catalyst in Liverpool's title challenge and return to the Champions League. His goals came in all forms, from all angles, and he deservedly picked up England's individual awards at the end of the season. A knee injury threatened to drain his World Cup impact but he was fit enough to make a significant contribution for Uruguay against England. His entire season, not unlike his career to this point, has been overshadowed by controversy. The latest incident, a bite on Giorgio Chiellini, was deemed one step too far for Fifa, but should not obscure the fact that Suarez was close to the perfect player last season.
HAVE YOUR SAY
Get involved via our Goal 50 section this month and give us all your views on the debate by commenting below and by getting in touch on Facebook or Twitter using the hashtag #Goal50.