The towering centreback, who was in impressive form throughout Singapore's victorious 2012 AFF Suzuki Cup campaign, took to Instagram and Twitter to express his gratitude.
Since making his international debut at the age of 19 under coach Radojko 'Raddy' Avrammovic, Baihakki Khaizan has seen the highs and lows of Singapore's football in the past decade.
Successive AFF Championship triumphs in 2004 and 2007 were followed by the low of semi-final and group-stage exits in 2008 and 2010 respectively, before the Lions returned to the top in the recent 2012 edition.
After the Lions failed to progress past the group stages in Vietnam two years ago, Raddy axed eight players from the squad, including central defender Baihakki in the provisional squad of 33 players for the World Cup 2014 qualifiers.
But Baihakki did not let his exclusion deter him from performing at his best for his Indonesia club Medan Chiefs, as well as new club LionsXII in the Malaysian Super League in 2012.
The father of two soon found his way back to the national set up as he was instrumental in the Lions' 2-2 draw in a friendly against Azerbaijan in Dubai.
Once he regained his spot in the centre of Lions defence, Baihakki never looked back and established himself as a regular again.
His commanding presence for the Lions was pivotal throughout the tournament, as Singapore clinched their record fourth AFF Suzuki Cup title after seeing off favourites Thailand 3-2 on aggregate in the final.
With Raddy confirming his departure as head coach after a topsy-turvy but illustrious decade with the Lions, Baihakki posted an emotional picture he took with the Serb on popular photo sharing site 'Instagram'.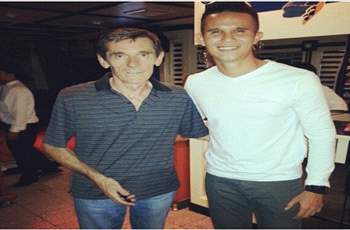 "Thank you coach Raddy for being my coach, fatherly figure to me. Your coaching has made me mature over the years and you played a major role in my career build up." Baihakki said in gratitude.
"You'll definitely be missed and I wish you the best and success in your next journey."
Baihakki also took to Twitter to pay tribute to the loyal Lions supporters and heads of state and leaders for their support during their journey in the recently concluded tournament.
"A magnificent reception from the fans at the airport, Jalan Besar Stadium and all around the nation. Definitely won't forget this memorable day," Baihakki tweeted after the Lions' victory parade on Sunday afternoon.
"A big thank you to all fans, President, Ministers, media, everyone who supported us, we'll continue to do better."