They stood for hours, sang non-stop and jiggled to the rhythm and beat of their drums at Changi Airport Terminal 3.
From the patriotic 'We Are Singapore', to the old time favourites of 'Ole, Ole, Ole', as well as several new tunes, close to a thousand fans joined members of supporters' groups Exclusinga and Lions All The Way [LATW] as they spent their Sunday awaiting the arrival of their heroes and the champions of the 2012 AFF Suzuki Cup: the Singapore national football team.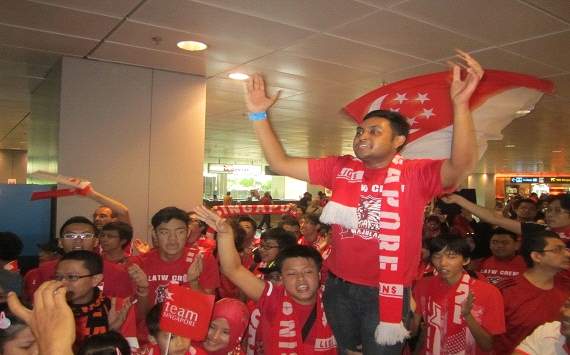 But the wait was worth it, according to LATW founder Arief Aditya.
"What drives us is the love for the flag. We have suffered long enough as fans, and two hours of that [waiting] is nothing!" he proclaimed.
A member of Exclusinga, Skyee Alfonso told Goal.com Singapore that the players deserved to lift the trophy after most of them had missed out on a title while playing for the LionsXII in the Malaysian Super League.
"This cup is simply special, as we know most of the national team players were from LionsXII and after a brave fight in the Malaysia Cup and coming in second in the Malaysian Super League, I felt the players really deserve to be crowned the kings of Asean," he asserted.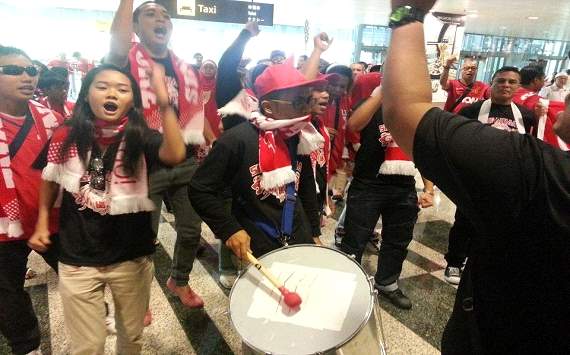 "On top of that, it is a great achievement because they are the first team to win the title four times and are the only team which had won in all the finals they played in.
"Singapore is truly 100% champions. We are proud of them!"
While many were still in celebratory mode, Arief cautioned that the road did not end here and that the players need to constantly maintain a high level of performance.
"I hope they carry on working hard because this is by no means the end," he said.
Also present at the airport to welcome the Lions was Acting Minister for Culture, Community and Youth, Lawrence Wong, Football Association of Singapore Vice-President Lim Kia Tong and former Nominated Member of Parliament Zulkifli Baharudin.