When Singapore played Malaysia in the Group B opening match for the 2012 AFF Suzuki Cup, chants of 'Singapore Anjing' or 'Singapore Dogs' by the Malaysian fans had many Lions supporters upset.
On Saturday night, when Singapore took on Thailand in the Bangkok leg of the Final, a banner hung from the terraces by a group of fans in the host nations' jerseys caught the attention of our photographer at the scene.
The banner which was made on the spot by the fans, read 'Singapore Anjing; dbunug Saja' (Singapore dog; Just kill) and was hung after the final whistle as the Singapore contingent made their way to the winners' podium.
Goal.com readers who responded to the photo on our Facebook page stated their outrage over the banner and most stated their belief that the fans in question were likely Malaysian Ultras wearing Thai jerseys. At least two fans in the photo can be seen holding Malaysia scarves.
Tima Lynne
commenting on the photo wrote: "These are the kinds of people who ruined the beautiful game of football... Absolutely no sportsmanship and incite violence among supporters. Shame on these hooligans!"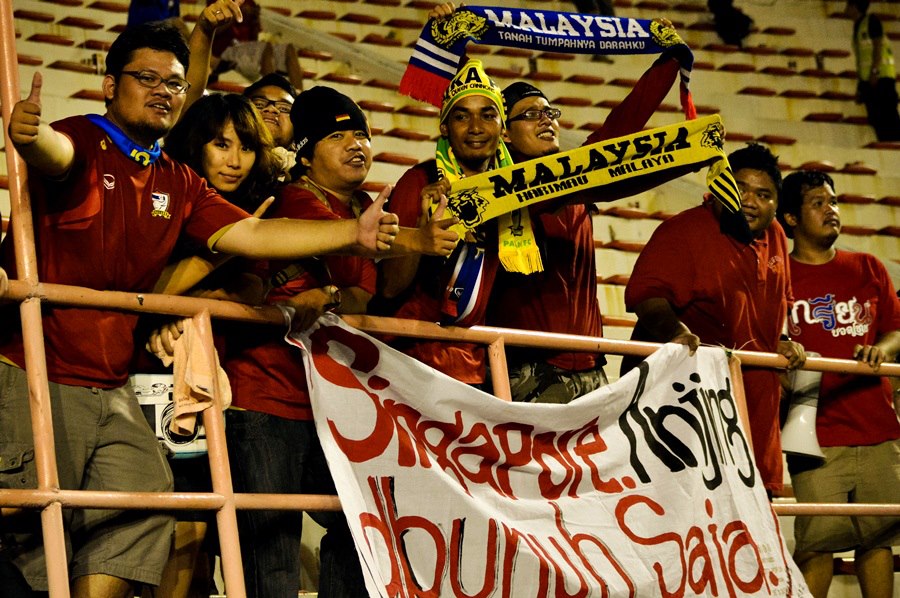 Juno Akimato said: "Obviously these are some of those "Ultra Malaya" supporters who are supporting the Thais. Harimau better luck next time. A win is still a win for Singapore!"

Others like Basil Yeo and Zaid Zain asked fans not to overreact and that such banter between fans was normal around the world.

"Why are people so offended..This happens all the time in Europe," said Yeo.

Zaid Zain added: "It should be allowed, this is football. They're at a stadium. Let them cheer, let them antagonise the opponents. When I was 6 years old watching the Malaysia Cup at the old National Stadium, we cursed at the opposition and call the referee 'kayu'. It's all part and parcel of the game. As long as there are no racist chants, I'm all okay with it. Seriously, this is nothing. You want to see real insults, watch some European league derbies. watch Galatasaray vs Fenerbahce, Roma vs Lazio and compare."

The photo has generated over 100 comments and 70 shares in just over 12 hours.