BANGKOK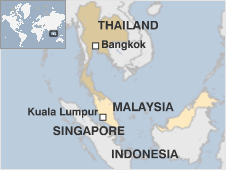 QUICK FACTS
Thailand's most populous city, with approximately 12 percent of the country's population
City's origins date back to the 18th century
Seat of the National Parliament
Center of Thai media, including all six national terrestrial stations
By Phalaphong Junumporn
For 230 years, Bangkok has remained the capital city of Thailand. The city covers an area of 1,568.737 square kilometres and is the national center of government, education, transportation, commerce, communication, and entertainment. It contains within its borders the Chao Phraya River, whose flow divides Bankok into the two main sections of Phra Nakhon and Thonburi.
Bangkok's year-round tropical climate makes it a favored destination for travelers, and the city has been named the 'World's Best City' by Travel + Leisure Magazine for three straight years. It offers equal parts history and modern culture to travelers, who on any given day can choose to visit Buddhist temples, floating markets, or kickboxing arenas.
Rattanakosin

The ancient city of Bangkok contains many interesting historical sites including the Grand Palace, Wat Phra Kaew, Wat Pho, Giant Wing, Sanam Luang, and the National Museum. In addition, tourist boats allow visitors to cruise the Chao Phraya river.
NOTE: Visitors to Wat Phra Kaew and some other religious sites of interest are forbidden from wearing shorts, skirts, sleeveless shirts, slippers, or cut-off jeans; rental clothing is available.
Siam Square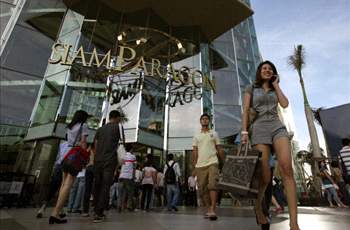 The heart of the shopping in the city is also known as the 'Times Square of Bangkok'. This area contains many popular department stores such as Siam Paragon, Central World, and the MBK Center. Art enthusiasts can also check out the nearby Bangkok Art and Culture Centre, which hosts several artifacts as well as cultural exchange activities.
Chatuchak Park Complex

One of the most attractive public parks in Bangkok, the area was formerly a State Railway of Thailand golf course. It now consists of three parks: Chatuchak Park on Phahonyothin Road, Queen Sirkit Park, and Wachirabenchathat Park. The parks contain a botanical garden, an herb pavilion, swimming pools and ponds, the State Railroad Museum, and a Buddhist park.
Khaosan Road
Khaosan Road is a multicultural tourist location that hosts many people from various cultures. Popular with backpackers in particular, cheap (but not necessarily authentic) shopping can be had with bags, shoes, clothes, CDs, and watches all in abundance. Affordable restaurants, bars, pubs, and hotels/hostels are also easily available.