Exclusive Interview
By Tongchai Sajew and Teerapatra Rundhasevi
Translation by Siravuth Subsermsri
After the entire country of Thailand witnessed SCG Muangthong United's undefeated run to the Thai Premier League championship, all eyes will be on Teerasil Dangda and his soon-to-be international fame.
Dangda's goal against BEC Tero not only helped United to secure their undefeated streak, but also assured the league's top goal-scorer of 24 goals, topping the previous record of 23 goals by Ronchai Sayomchai in 1998. The record was perhaps Dangda's final domestic milestone before his expected move overseas this winter.
Several European clubs are interested in landing Thailand's No. 1 striker such as Atletico Madrid, Getafe, Fiorentina, and even Roma. Goal.com Thailand sat down with Dangda recently to discuss several topics, ranging from the 2012 season to his future, including his favorite destination in Europe.
Goal.com:
How are you feeling after the season?
Teerasil Dangda:
This year was a great season in every aspect. It was a successful season and most importantly I was lucky not to have any major injuries that kept me out like last year.
Goal.com:
Many people say that last season's failure was a motivational push for the club's success this season.
Teerasil:
Of course, that was definitely a motivation for us to improve, and since we are 'Muangthong United' it means that we have to be successful.
Goal.com:
Who do you think is the important person for this season's successful campaign?
Teerasil:
I think everybody played a part starting from the coach (Jokanović), Thonglao, Gjurovski, Kawin, to every person that is part of the club, including the fans.
Mario Gjurovski is a great player, I think our senses of football match each other very well which makes it very efficient for both of us




- Teerasil Dangda

Goal.com:
What makes you and Gjurovski such an effective duo?
Teerasil:
Mario Gjurovski is a great player, I think our senses of football match each other very well which makes it very efficient for both of us. Sometimes during practice, Thonglao's cross might be better than Mario's, but his passing is different from Thai players. He is not scared to pass the ball no matter if it goes through or not, which is a western style. This actually helps me score more goals.
Goal.com:
How is Slaviša Jokanović different from other United coaches in the past?
Teerasil:
I like his demeanor. For detailed tactics, each Muangthong coach has different strengths. Henrique Calisto was strict but took care of every players in the team both in and out which made him loved by everyone. While Jokanović is calm has a very good psychology; when he needs to speak, he can talk to the players one-on-one.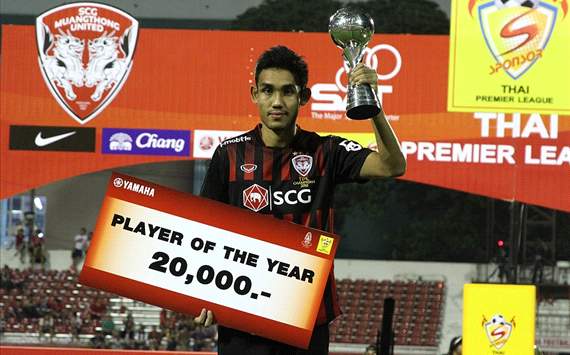 STANDING TALL | Dangda's 24 goals earned him POTY honours

Goal.com:
You were the league's top goal-scorer this year; a very different record from last year. What was your secret?
Teerasil:
I would like to thank my coach Slaviša Jokanović for turning me into a complete striker. In the past, I often dropped back for the ball which meant nobody would be waiting for the ball inside the box. The coach put plenty of effort in making me understand the true meaning of being a striker by yelling 'In the box' during matches. And by looking at the statistics, it was a real success for me.
Goal.com:
What do you think about being able to say that Ronchai Sayomchai's record was broken by Teerasil Dangda?
Teerasil:
I never think about being a top goalscorer actually, not ever in my head. If ask every forward if they want to be a top goalscorer or not, the answer would be 'yes'. But for me, it is not the main goal. Nevertheless, i would like to thank more of my teammates for helping each other in securing the trophy.
DANGDA'S IMPROVED MUANGTHONG FORM

Season
2009
2010
2011
2012
Appearances
25
25
26
31
Goals
7
7
13
24
Goal.com:
Lets talk about Muangthong being an 'Unbeatable Team' in this season. How do you feel about that?
Teerasil:
I was an Arsenal fan since i was a kid. Thierry Henry's era, Robert Pires, Dennis Bergkamp including Nwankwo Kanu was phenomenal. I think that being unbeatable is the coolest thing, so when I am part of this undefeated streak, it is one of the best feelings I've ever had.
Goal.com:
Throughout the season you played under the speculation of a European move; did it pressure you or help release your true power?
Teerasil:
At the beginning it was kinda pressuring me, but when it started to progress a bit and after a club official declared that I would not be sold until the end of the season, it made me realize that I needed to play better so that other clubs watching can have confidence with my ability. It was a big factor in helping me to have a big season.
Goal.com:
The question on everyone's minds is surely, will you go to Europe or not? In your opinion, which league would you like to go to the most? Is there any truth to the reports connecting you with Atletico Madrid?
Teerasil:
I admit that at this hour, I cannot play in the English league. During the time I was a trainee at Manchester City, the football there was too rough. The pressing was quick and very systematic. Europe is my target; it doesn't matter what country. But if a Japanese club comes in, I won't mind playing there either. However, I feel that I can adapt better in Europe. Any country will do; Italy, Portugal, Belgium, Turkey, Spain...
Especially the nutrition, I am more familiar with European bread than sushi!! And also if I can actually play in Spain...think about it (excited), then I can face Ronaldo or Messi which is fantastic. If i can really go [to Europe], I would need to somehow increase my physical attributes. But before anything, I would need to actually go there first!
Goal.com:
Finally, is there anyone you would like to thank for your success?
Teerasil:
Everybody is part of my success, starting from my father (Prasit Dangda) that has laid out the foundation since I was a kid, my mother (Kanchana Dangda) who took care and always give me confidence to every related personnel in my school, Assumption Thonburi and SCG Muangthong United.