EXCLUSIVE
By Muhd Khalis Rifhan | Goal.com Singapore
Lions All the Way (LATW) is a supporters group formed by fans of the S.League dedicated to giving their support to the Singapore national football team.
Arief Aditya, one of its founding members, who also is a fan of Tampines Rovers got the surprise of a lifetime on Sunday.
Singapore and Tampines Rovers forward Aleksandar Duric had taken time out from his busy schedule to make a unannounced visit to one of his ardent fans in Singapore.
It was a surprise that not only brought a smile to Arief's face but also to both his parents, as they took out a framed Tampines Rovers jersey autographed by Duric.
A shocked Arief was still trying to absorb Duric's presence when he spoke to Goal.com Singapore: "When I saw him at my doorstep, I was speechless and honestly didn't know what to do!"
"It felt as though everything was a dream to have your hero standing at your doorstep and wanting to join in the festivities.
"It was heartwarming as well that he took his time to not only make my day but also my family and friends who were present at my gathering. All I can say is, if it is possible, I am an even bigger fan of him today than I was yesterday!"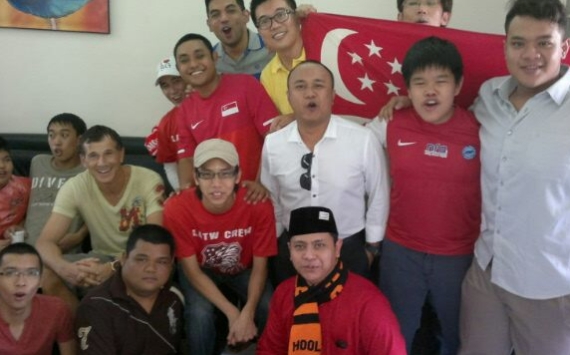 Duric also engaged in a private conversation with Arief and his parents and spoke to several of the S.League fans present at the function and said that this was one of his ways to give back to not only his loyal fans but to also fans of the S.League.
Before taking his leave, Duric told his colourful supporters: "I will do my best and hope that the team can achieve something for all the fans in the upcoming Suzuki Cup. Don't forget to support our S.League!"