The Brazilians have made an impressive start to their campaign, remaining unbeaten throughout; up against Dutch flair, can the samba boys end it off as champions?
After two weeks of exciting displays of youth football, the 25th Canon Lion City Cup will come to an end tonight, with three matches being played consecutively at the Jalan Besar Stadium.
Kicking off the day, Arsenal Under-15s will take on Eintracht Frankfurt U15 oonce again in a match that will determine the third and fourth placings of the tournament. Later on, both of Singapore's NFA teams, who were knocked out of the group stages, will go head to head.
To close the tournament, the much awaited final between Corinthians and PSV Einhodven will take place in the evening. The Brazilian samba boys are tipped as favourites to win, while the Dutch outfit will look to turn the tables.
3rd/4th Placing: Arsenal U15 vs Eintracht Frankfurt U15, 3.15p.m
Arsenal suffered a 2-0 loss against finalists Corinthians, who breezed their way through the entire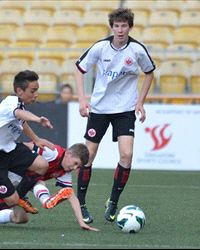 tournament. Despite this, the Gunners have been impressive in their campaign thus far, and will be gunning to clinch a bronze medal.
Eintracht Frankfurt, on the other hand, had lost 3-2 to PSV in the semi-finals. Despite being the favourites of there, the German side came up short and failed to make it through to the finals. They will be without captain Francesco Petrovic, who was sent off by referee Phung Ding Dung for receiving a second yellow card in that game.
The last time these two teams met in the group stages, Eintracht Frankfurt defeated Arsenal in a narrow 4-3 victory that saw the Gunners come back from being 2-0 down. The English side will want to seek revenge in this match, and will be sure to give it their best in their last game of the tournament.
5th/6th Placing: NFA U16 vs NFA U15. 6p.m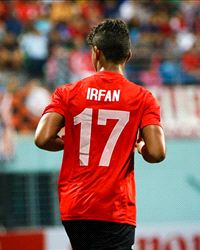 The teams from Singapore will still have one last game to play in this tournament. Despite failing to qualify for the semi-finals, both NFA teams had indeed put up a good fight against their international counterparts.
Once again, all eyes will be on NFA U16's Irfan Fandi (left), who has been a notable figure on the pitch. The on-form striker has bagged a goal each in both matches and will want to continue his scoring streak.
Singapore NFA U15 had the opportunity to play both finalists in the group stages. Despite suffering a heavy 7-0 defeat against the Brazilians, NFA U15 stepped up their game to grab a goalless draw against PSV Eindhoven.
Final: Corinthians U15 vs PSV Eindhoven U15, 8.45p.m
The much-awaited final has finally arrived and it promises to be an exhilarating 90 m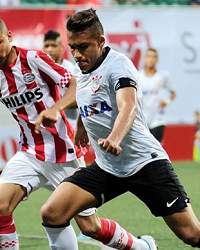 inutes of football. Corinthians have blasted their way through to the finals, demolishing every team in their way and remaining unbeaten throughout.
Beginning with a 7-0 thrashing of the NFA U15s, the Brazilian side then cruised to comfortable 2-0 victories against both PSV Eindhoven and Arsenal U15. The samba boys are technically competent and play their football with such flair, making them the favourites to win.
Corinthians' attacking duo, Leonardo Lima (right) and Matheus Da Silva, are still on the prowl for more goals. The leading top scorers have been scoring goals in every match they've played in, while the defence have yet to concede a single one.
PSV will want to bounce back from the defeat against Corinthians in the group stages, and will go into the finals as the underdogs. They edged out a much stronger Frankfurt side in the semi-finals, and will put up a tough fight against the Brazilians, with impressive goalkeeper Mike Van de Meulenhof key to their hopes here.