SPECIAL REPORT
By Victor Vago
Monaco's extravagant summer recruiting spree may have dominated the headlines, but amid Joao Moutinho, Radamel Falcao and Eric Abidal - all stars of the present - was one name that represents the future: James Rodriguez, on whom the principality outfit spent a stunning €45 million.
Though the hefty transfer fee may well seem surprising for some, the investment speaks volumes for how James - still just 22 - has risen very quickly from humble beginnings to become one of the most prized assets in European football.
He started his career in his native Colombia with second-division club Envigado before Banfield snapped him up after only one season of first-team action in 2008.
THIRD-PARTY OWNERSHIP IN PORTUGAL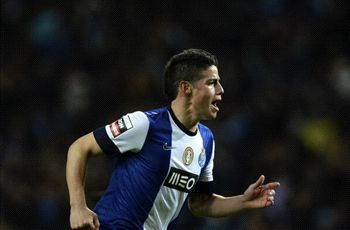 In 2010, James got his big chance to move to Europe when Porto paid Banfield €5m for 70 per cent of the player's economic rights, with the rest being held by other backers. This was to be a recurring theme of his time at the Dragao.

Porto re-sold 10 per cent to third parties and then another 35% to Gol Football Luxembourg SARL for €2.5m. Six months later, they bought the other 30% back from Convergence Capital Partners BV for €2.25m. In early 2013, they purchased 30% back from Gol Football Luxembourg for €8.57m.

By the time they sold him to Monaco, Porto held 90% of his registration.

Third-party involvement has become particularly prevalent in Portuguese football where heavily indebted clubs try to find smart solutions to keeping their heads above water.
In 2010, he got his move to European football and despite a great deal of wrangling over the status of his ownership, Rodriguez's 25 goals in 65 league games for Porto were attracting the attention of big clubs around Europe, including Juventus and Manchester United. But only Monaco, backed by Russian owner Dmitry Rybolovlev, were willing to pay the €45m buyout clause in his contract, which they did in May, also raiding the Dragao to buy Moutinho.
James' salary went from a weekly €13,000 in 2010 to €83,000 - at a far better tax rate - on a five-year deal at his new club, as negotiated by agent Jorge Mendes.
It is a remarkable journey for Rodriguez, one of the most exciting talents in European football, to end up at a team fresh out of Ligue 2 but the 22-year-old insists that the allure of playing alongside his new team-mates drew him.
He told
Goal
: "I don't know if other football countries or clubs were interested in me. The only thing I know is Monaco were. They have good players and that interests me. That's why I'm here."
And former Colombia boss Francisco Maturana believes his compatriot will only continue to grow during his time in the principality.
"He's had a meteoric career," he told
Goal
. "When I spent time with him with the Colombia Under-20 team he was a kid with a good touch and who was very motivated. He was good technically, [with] a lot of talent. He was confident and that's been fundamental in his success.
"He went to Porto and carried on improving. He's still young and hasn't reached the maximum of his potential.
"He left his homeland very young and has moved from one country to another. Now he's with Monaco. I don't think he has problems adapting to new nations. Everything depends on the player's mentality. We saw Fredy Guarin, for example, also move around very young and it's gone well for him, too.
"It's not for me to give an opinion about the size of the fee that Monaco paid. They have the conditions to pay what they want. If they're happy with him, then that's fine."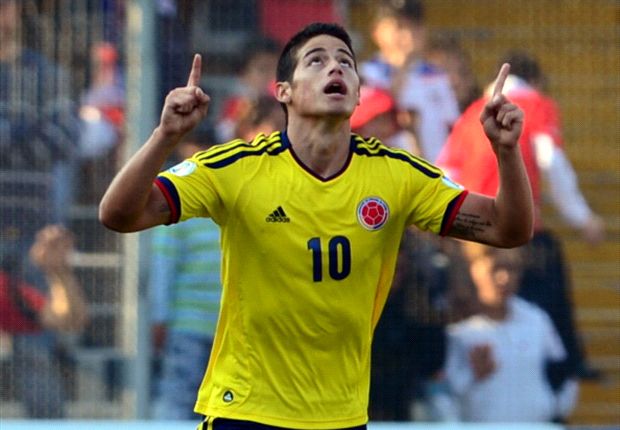 On the rise | Rodriguez is a key player for club and country despite his tender age
With Rodriguez and Falcao to the fore, Colombia, complete with first-seed status and a negotiable group, are seen as dark horses for the World Cup next year and Maturana is delighted with the game's development in his country.
"Colombia produces a lot of top players because there is a very good foundation backed up by a strong level of competence. Of course, this gives value to Colombian football as well as to its footballing image."
Reflecting on his development, Rodriguez puts his move down to the form he showed last season and says he is determined to continue in that vein in his pursuit of further silverware.
"I had a good season with Porto and this helped. I always want to play well in every game and want my team to win. Monaco are going through this scenario. Now this new project they have interests me a lot and I came here to win titles, too.
"I've been playing with great players who have been top figures and are now here. We know we have good players and a team who can win the league. PSG are strong and others are good too. But we'll compete with them until the last game."
However, Monaco's gain on the pitch has been Porto's loss. The summer sales of Rodriguez and Moutinho have been blamed for the previously dominant team's indifferent season so far under new coach Paulo Fonseca. The Portuguese have already been eliminated from the Champions League in the group stages.
However, Rodriguez believes the strong structure of the club will see them bounce back, despite the summer sales.
"Porto have always had players and coaches leave but they still win every year. They are a winning team by nature. Despite my departure and that of Joao, they'll keep winning for many years."
Former Porto vice-president Antonio Figueiredo, however, has a far less optimistic outlook. "The miracle is over," he told
Radio Renascensa
recently. "Porto sold the best they had and what came in was not the best compared with those who left.
"Paulo Fonseca is the victim of what they gave him. But Porto will quickly overcome the crisis. What I don't know is if it will happen this season."
Contrastingly, Monaco added Falcao to the signing of James and Moutinho and are well on their way to joining the European elite at the top of the club game.
THE GOAL TRANSFER LIST 2013