After just two weekends, the 2012-13 Bundesliga looks to be as exciting and fascinating as last season's edition. Bayern Munich continued their flying start to the new campaign by hitting Stuttgart for six as Borussia Dortmund could only muster a disappointing 1-1 draw at Nurnberg. Werder Bremen got their campaign off and running with a 2-0 win over local rivals Hamburg, while Eintracht Frankfurt thrashed Hoffenheim as their top-flight homecoming continued. And
Goal.com
is here to point out all of the best performers.
Hamburg may have got off to a poor start, but
Rene Adler
has been a shrewd acquisition, and a penalty save against Aaron Hunt helped the former Germany goalkeeper to a second straight Team of the Week appearance. In defence,
Sebastian Jung
played a key role as Frankfurt won 4-0 away at Hoffenheim, and
Philipp Wollscheid
and
Kyriakos Papadopoulos
' strikes for Leverkusen and Schalke respectively see them included for their first appearances.
Hunt
may have missed one spot kick in Bremen's derby win, but still found the scoresheet. Meanwhile,
Pirmin Schwegler
's spectacular effort from distance in Frankfurt's demolition of Hoffenheim has earned him a place in our selection.
Jermaine Jones
scored a superb individual effort as Schalke got their first win of the season, and
Toni Kroos
pulled all the strings, and almost broke the net with a screamer, as Bayern asserted their dominance over southern rivals Stuttgart.
Thomas Muller
is another
Roten
star to make the cut, while
Szabolcs Huszti
set up all four goals in Hannover's 4-0 triumph in the Lower Saxony derby against Wolfsburg. Another member of Mirko Slomka's side to shine was
Artur Sobiech
, who got his third and fourth goals of the season on Sunday.
RENE ADLER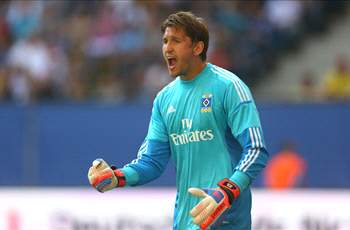 HAMBURG

vs Werder Bremen (H)
Rating:




TOTW Apps:

2

SEBASTIAN JUNG
PHILIPP WOLLSCHEID

K. PAPADOPOULOS

EINTRACHT FRANKFURT

BAYER LEVERKUSEN

SCHALKE


vs Hoffenheim (A)

vs Freiburg (H)

vs Augsburg (H)

Rating:

Rating:

Rating:

TOTW Apps:

1


TOTW Apps:

1


TOTW Apps:

1

AARON HUNT

PIRMIN SCHWEGLER

JERMAINE JONES

TONI KROOS
WERDER BREMEN


EINTRACHT FRANKFURT

SCHALKE

BAYERN MUNICH
vs Hamburg (H)

vs Hoffenheim (A)

vs

Augsburg (H)



vs VfB Stuttgart (H)
Rating:
Rating:
Rating:

Rating:

TOTW Apps:

1

TOTW Apps:

1


TOTW Apps:

1


TOTW Apps:

1



THOMAS MULLER




SZABOLCS HUSZTI











BAYERN MUNICH

HANNOVER



vs Stuttgart (H)
vs Wolfsburg (A)



Rating:

Rating:




TOTW Apps:

1


TOTW Apps:

1

ARTUR SOBIECH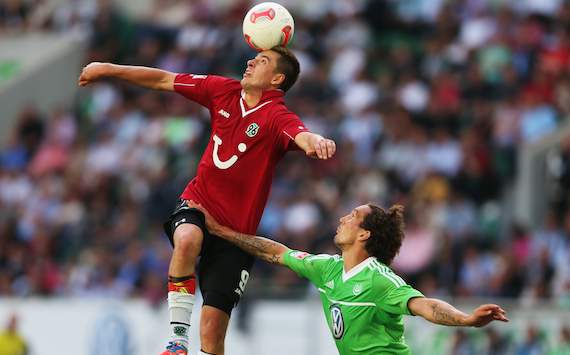 HANNOVER

vs Wolfsburg (A)
Rating:




TOTW Apps:

1