Axelle Despiegelaere, a Belgian football fan, recently shot to fame after she was photographed supporting her nation at the 2014 World Cup, and was quickly signed up international fashion brand L'Oreal.
The 17-year-old had been scouted as a hair model by the French cosmetics giant, after she was photographed in the stands and was dubbed the "most beautiful" football supporter.
But it seems that her time in the limelight has quickly ended, after L'Oreal stopped their contract with Despiegelaere, over a controversial hunting photo that was uploaded onto the teenager's official Facebook profile.
Fans were clearly outraged after seeing a photo in which Axelle was holding a rifle. and proudly sitting behind what appears to be a dead gazelle she shot while hunting.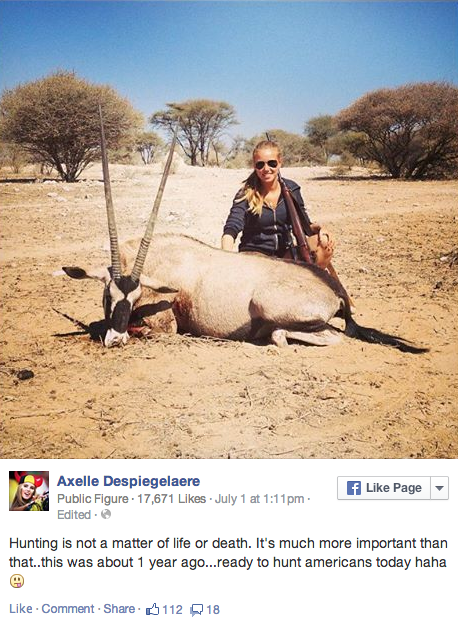 She also added in a caption, saying: "Hunting is not a matter of life or death. It's much more important than that…this was about 1 year ago… ready to hunt Americans today haha", referring to the World Cup match in which Belgium faced the USA in the knockout stage.
While Axelle later apologized in the comments section of her photo, saying that she did not mean to offend anyone with her joke, beauty giant L'Oreal has decided to stop working with the Belgian model, stating that her contract has been "completed".
"L'Oréal Professionnel Belgium collaborated with her on an ad hoc basis to produce a video for social media use in Belgium," a spokesperson told The Independent. "The contract has now been completed."
Although the announcement only came after fans expressed their outrage on social media, L'Oreal has refused to comment on whether the photo was the reason behind the decision to terminate Despiegelaere's contract.