Miroslav Klose tied Ronaldo's all-time World Cup record of 15 goals when he grabbed the crucial equaliser against Ghana on Sunday morning.
The 36-year-old came on as a late substitute and touched the ball over the line from close range, just moments after stepping on to the field.
Ronaldo's record had stood just eight years before Klose came knocking, but the legendary duo have been crossing each others paths at the World Cup since 2002.
The Brazilian forward made his World Cup bow in 1998, although he had been part of the title-winning 1994 side but never featured in any of the games. In France, Ronaldo quickly got in on the act, scoring four goals to lead his side to the final, where they were famously defeated by the host nation led by Zinedine Zidane.
His tally however was still not enough to win the Golden Boot, that accolade going to Croatia's Davor Suker who had nabbed six goals.
Four years later, Germany debuted a 24-year-old Klose and the striker's impact was instant. He scored five goals, all of them headed, also a World Cup record, including a memorable hat-trick against Saudi Arabia in an 8-0 rout.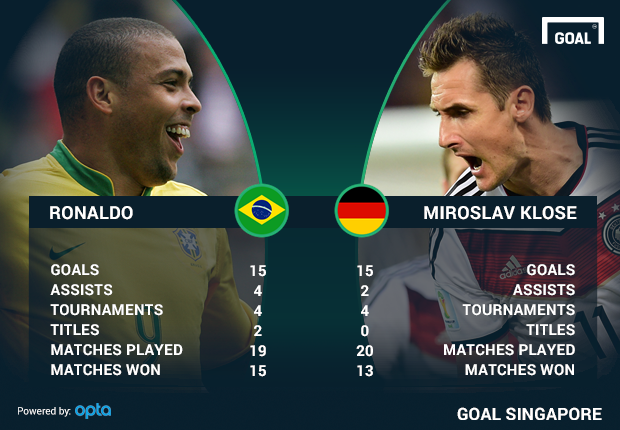 This time, however, it would be Ronaldo's year, as Brazil clinched the World Cup and the forward also went home with the top scorer award for his personal tally of eight goals. Klose, was close behind, finishing runners-up with his Germany side for the World title, as well as for the Golden Boot.
As Germany played hosts in 2006, hopes were high for the host nation to win the World Cup on home soil, and Klose was expected to lead the charge.
Ronaldo, was not done either. Despite looking distinctly out of shape, the forward scored three goals. His second against Japan, tied Gerd Muller's record of 14 goals at the World Cup, while his third and final, coming against Ghana in the Round of 16, handed the record to the Brazilian.
Klose too kept up the charge, this time clinching the Golden Boot with five goals, but could only help Germany to a third place finish.
By the time 2010 came around, Ronaldo was out of the picture. Klose at 32-years-old was also nearing the tail-end of his career. That, did not stop the towering forward from keeping up his goalscoring habit, as he bagged four goals to finish runner-up for the top scorer award.
With 14 goals to his name at the end of 2010, Klose needed just one more to tie the record with his former adversary, and he did just that on Sunday morning, erasing a disappointing result for his side with a memorable personal milestone.