It was July 13, 1998, the day after the biggest football match for four years. The result seemed pretty clear-cut, albeit not to the editor of one tabloid newspaper. "Arsenal win the World Cup," proclaimed the Mirror. It may have come as news to the people of France, who had thought their Black-Blanc-Beur team had reached the summit of the global game. It may have surprised Juventus, too: after all, Zinedine Zidane scored the two pivotal goals in the final against Brazil and Didier Deschamps lifted the trophy.
Yet the contributions of Patrick Vieira and goalscorer Emmanuel Petit gave Arsenal an element of reflected glory. Such is the nature of World Cups these days that they can give fans alternative allegiances: they are not merely supporting their country, but their club's best players.
In 2010, as in 1998, England exited in the last 16 but the Premier League was represented to the bitter end. Arsenal's Cesc Fabregas and Liverpool's Fernando Torres came off the bench in Spain's final win over Holland – the striker becoming Anfield's first World Cup winner since 1966 – while Everton's tournament, courtesy of Johnny Heitinga, ended in a red card. Manchester City, in the form of Nigel de Jong, could have suffered a similar fate for an infamous studs-up lunge at Xabi Alonso.
Fast forward to the present day and it is almost certain that a Premier League player will return from Brazil a world champion. More than one in seven footballers at the great global showpiece is employed in a small island off the north-west coast of Europe. The English divisions are sending 109 players, representing 27 nations, and fans who prefer club to country should not be short of men to support. Nor, indeed, should those whose homeland failed to qualify or is swiftly eliminated.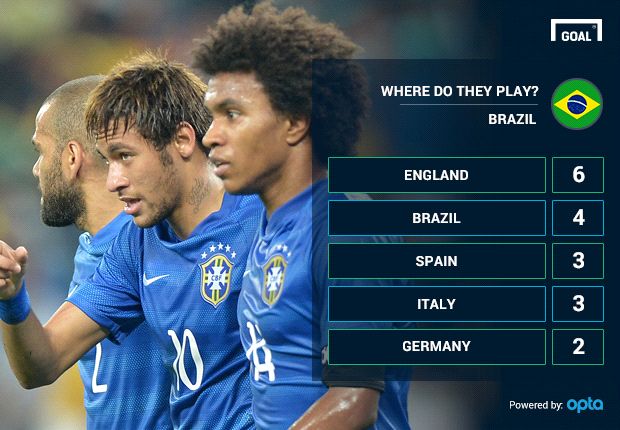 Besides England – and should Adam Lallana complete his move, they will have seven members of Roy Hodgson's squad – Liverpool loyalties used to reside with Spain. Now they have been switched to Uruguay, and not because Sebastian Coates is likely to be on the bench for Oscar Tabarez's team. Luis Suarez attracts unquestioning adoration from his devotees and his last World Cup, in truest Suarez style, was one to polarise opinions about the irrepressible Uruguayan.
Indeed, northern England and South America could be twinned again. Argentina are shaping up as the logical second team for Manchester City fans, and not merely because of the sky blue kit. The presence of Sergio Aguero, who has already acquired immortality at the Etihad Stadium, Martin Demichelis, who defied predictions of his fallibility and the talismanic Pablo Zabaleta gives them three reasons to cheer on Lionel Messi and co.
A continent's dream final – Argentina versus Brazil – could double up as a battle of England's
nouveaux riche
. Chelsea supply four of Luiz Felipe Scolari's squad, even if the cult hero David Luiz is bound for Paris Saint-Germain.
If Arsenal long looked to France, after supplying 11 players for their past four World Cup squads, their gaze may have shifted across the border now. Mesut Ozil, Per Mertesacker and Lukas Podolski give them three of the German party – only Bayern Munich and Borussia Dortmund provided more – and if the Gunners are to win the World Cup again, it may not be a cause of celebration for Arsene Wenger and his fellow Frenchmen.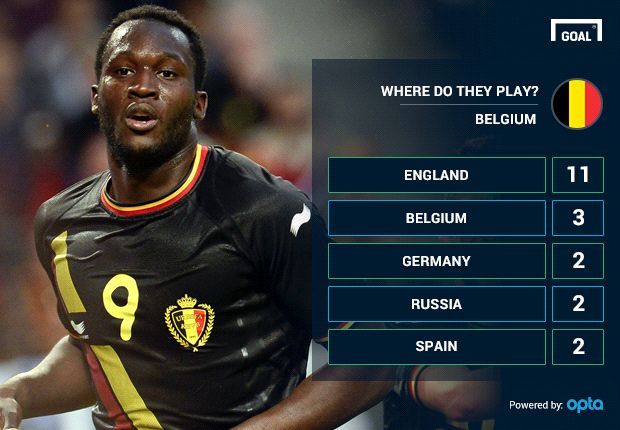 Manchester United supporters will be in a unique position, casting their gaze towards the dugout as well as the pitch. Until recently, with players representing countries from four continents, their attention could be divided. Now, apart from the English contingent, Holland should occupy their thoughts. With Robin van Persie as captain and record scorer and the Old Trafford-bound Louis van Gaal as manager, United are going Dutch, even if some may hope that Netherlands fail to reach another final. The sooner Van Gaal can concentrate on United, the better for his new employers.
Other alliances, though temporary, are different and diverse: Hull and Honduras, because of Maynor Figueroa, Swansea and Ivory Coast, due to Wilfried Bony. Newcastle can look at the France squad and see not just Mathieu Debuchy and Moussa Sissoko, the players they still have, but those they have lost, Loic Remy and Yohan Cabaye.
Yet the French have been displaced by their neighbours. Now the contenders who reflect the Premier League most are Belgium. At least one player from each of England's top seven sides is in the rising power's party. They could field a formidable, if attack-minded, team selected purely from City, United, Liverpool, Everton, Arsenal, Chelsea and Tottenham. The Premier League's alternative XI might well go further than England, too.