COMMENT
By Matthew Harold
Just not good enough. Craig Levein will wake up on Wednesday with a disgruntled nation calling for his head after two miserable performances dealt a near terminal blow to Scotland's hopes of making it through to Brazil 2014.
World Cup qualification is a distant dream after draws at home to Serbia and Macedonia. Coming as it does after a wretched Euro 2012 campaign, the deluge of criticism flowing in Levein's direction is largely justified.
He has left the country hamstrung while he steadfastly refuses to look at the bigger picture and instead continues to feud with players and persist with negative tactics.
Scotland's most expensive player, Steven Fletcher, remains in the international wilderness because of the fact that he replied to a text from a member of the Scottish Football Association saying that he would rather fight for his Wolves place than represent his country in a meaningless Four Nations tournament.
The former Hibernian striker's decision has been vindicated as he got back into the starting line-up at Molineux and eventually secured a £12m move to Sunderland this summer. He claims he is more than happy to sit down with Levein, but that still hasn't taken place.
A lack of a resolution means Kenny Miller, who ran his socks off for his country again against Macedonia, has been left to carry the load throughout and, as the 32-year-old nears the end of his international career, Levein seems to want to bury him further into the ground.
On Saturday Miller looked shattered and Levein had Jordan Rhodes, who has lit up the Under-21 side and also became a fan's favourite with his man of the match performance against Australia, on the bench, but he was left to wait until there was only 10 minutes left.
And when he finally decided to take off Miller against Macedonia he completely lost the support of The Tartan Army, opting to bring on Charlie Adam rather than one of the Football League's hottest properties.
Another feud that has gone somewhat unnoticed is the one between Levein and Celtic midfielder Kris Commons who, despite his hugely impressive start to the season in the SPL and in the Champions League for Neil Lennon's side, was omitted from the squad.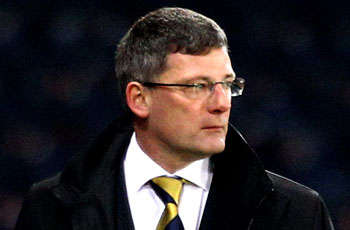 Even though the 4-6-0 experiment failed miserably, Levein still hasn't admitted that it was a mistake

Levein claims this is because there are so many good midfielders in front of Commons and not because - like Fletcher - the former Derby County man pulled out of a Scotland squad for the Four Nations tournament claiming he needed a holiday after the rigours of playing for the Hoops.
One of the players in front of Commons in Levein's queue for a Scotland call-up is Matt Phillips, a player who has rarely been able to get off the Blackpool bench so far this season and was never really considered as someone who would play a part in this double-header.
Levein has had the support on his back ever since the infamous night in Prague when he chose to try the 4-6-0 formation for the first time against Czech Republic, who were Scotland's closest rivals for a playoff place for Euro 2012.
Even though that experiment failed miserably, Levein still hasn't admitted that it was a mistake. But The Tartan Army haven't let him forget it, as he continually opted for an ultra-defensive outlook throughout the campaign, at one point rescued by a 97th minute winner against minnows Liechtenstein at Hampden.
Levein's only two other competitive victories in charge of Scotland were on the visit to Vaduz against Liechtenstein and when Lithuania visited Glasgow at the end of the Euro 2012 campaign, while his side could only gain a point in the return fixture in Kaunas.
This campaign has got off to a horrible start and with Levein's reluctance to change and adapt to the players that are eligible to play for the country, it may be time for him to step aside and allow someone to come in and start with a blank slate.
The question then is who should be next in the Hampden hot seat? Former managers Walter Smith and Alex McLeish are currently available, while former Celtic boss Gordon Strachan is currently out of work, although the SFA may look further afield, with the Dutch influence currently inside the association in the form of Performance Director Mark Wotte.
One thing that is for sure is, unless Scotland can improve their away record, they will be watching events in Brazil from afar.
Follow Matthew Harold on