Chelsea
forward
Eden Hazard
has set his sights on winning the
Premier League
and
Champions League
in 2014-15 following an "almost" campaign at Stamford Bridge.
The Blues finished behind Manchester City and Liverpool following some damaging defeats late in the season, including against Crystal Palace and Sunderland, and were eliminated from Europe by Atletico Madrid at the semi-final stage.
But Hazard believes the club have what it takes to go even further next season.
"This season was an 'almost' season – almost getting to the Champions League final, almost champions in the Premier League," he told
Chelsea magazine
. "I hope next season it will be better and we can go to the next level.
"I came here for trophies and in my first season we won the Europa League. This season we didn't win any trophies but we were back in the Champions League, which is the best club competition in the world.
"Next season, with this team, I think we can win the Premier League and maybe the Champions League. If we win trophies that will make it better because it will be a good season for the whole of Chelsea."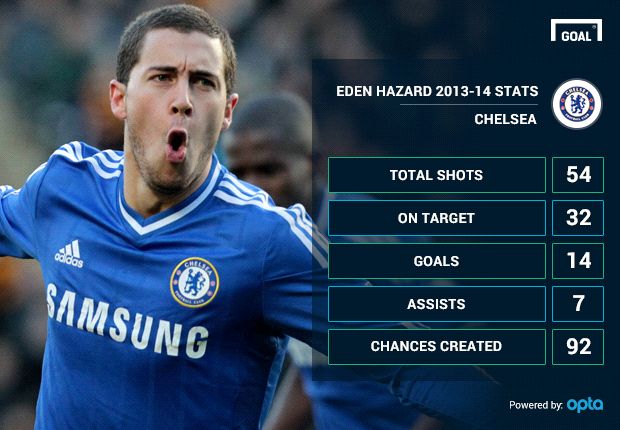 Hazard has been consistently linked with a summer move to Paris Saint-Germain in recent months,
and admitted himself that he would consider a move to the French capital
.
The 23-year-old's relationship with Chelsea boss Jose Mourinho has also been called into question after the Belgium attacker said the Blues
"are not made to play football"
,
before Mourinho hit back by saying he is not ready to make sacrifices for the team
.
The Portuguese also said he "wants more" from Hazard just before handing over the club Player of the Year award at a recent ceremony, and the Belgian is up for the challenge.
"It's true and it's good. I prefer it when we speak like this, rather than things like, 'He is the best, he doesn't need to work'," he added.
"I know maybe I have to do better in training or on the pitch – I want to score more and help the team score more goals and next season I hope we can be better.
"I try to play like I did when I was a young boy playing in my garden – sometimes it's good, sometimes it's not so good but I try to always make sure I give my best to help the team, even if I am not having the best game myself.
"I think I'm not complete yet but I have experience. When you are young, you sometimes play one good game and then one bad game. This season I was able to be more consistent which is good for me.
"It was a good season for me but, as the boss says, we finished third and I hope next season we finish first. I always want to score more goals and improve, that is a big objective.
"My aims here are to win trophies, to play games, to score goals and to enjoy my time on the pitch. As a player I want to continue working hard and enjoy playing as I have this year."
The latest edition of Chelsea magazine goes on sale from May 19. You can download a digital version of Chelsea magazine to view on your tablet at www.chelseafc.com/mobile.