COMMENT
By Tom Maston at the Etihad Stadium
Four days ago,
Manchester City
arrived at Anfield still widely considered favourites to secure a second
Premier League
title in three years. Now, by responding to defeat in
Liverpool
with a fortuitous draw against
Sunderland
, they look completely out of the running.
On Merseyside they showed plenty of spirit to get back into the game after going 2-0 down during another blistering Liverpool start, but Philippe Coutinho's winner looks to have taken the wind out of their sails once and for all.
HIT AND MISS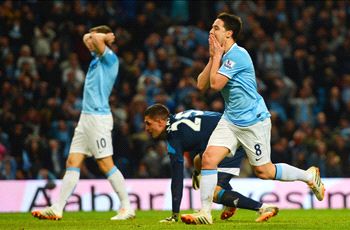 NASRI RATING v SUNDERLAND





Had plenty of the ball but did precious little with it. Got lucky as Mannone spilled his shot over the line for the equaliser before missing a great chance to win it as he blazed over the top.
Their performance against the Black Cats was sluggish at best, the tempo was slow, the atmosphere was dour and the visitors deserved to win in the end. On this evidence alone, City don't deserve to finish the season as champions... and they won't.
The scars of the Liverpool ordeal were apparent, and Manuel Pellegrini admitted as much.
He sounded a beaten man in his post-match press conference, repeatedly blaming Sunday's result on his players' malaise here, insisting any tiredness was mental and not physical.
"I don't think there was less confidence," he said. "We couldn't take out of our mind the game against Liverpool.
"Before the match I was very worried about this match. I'm sure, in just three days, it is very difficult for the players to take their mind off Liverpool. They are more mentally tired than physically tired."
The fact they could not free themselves from Sunday's horrors despite taking a 1-0 lead inside two minutes against the worst team in the league speaks volumes about the club and their chances of winning the title from here.
Pellegrini must be one of a select band of managers to have been worried by Sunderland this season. City did miss some big players on the night but a mental fortitude needed to win matches at this time of year - and indeed major honours - had clearly deserted them, too.
As any side would, they struggled without the injured Yaya Toure and David Silva; any impetus from midfield was severely lacking. With Jesus Navas not on the bench, they didn't have any type of energy available in reserve, either. Compared to the home performances at the start of the season, this was abject.
Vincent Kompany clearly isn't fit and Sergio Aguero stepped up his recovery from a three-month absence with a starting berth but was withdrawn after 56 minutes when it seemed the game was won.
Barring Joe Hart and Pablo Zabaleta, the key members of the squad which won the title in 2012 are either out injured or just working their way back to full fitness.
This time two years ago City were putting their title charge back together after a defeat at Arsenal in early April which left them trailing Manchester United by eight points. They clawed their way back into contention then and won their first Premier League crown with the last kick of the season, but on recent evidence they don't look like they have it in them this time around. Time is running out, and they surely cannot rely on Liverpool or Chelsea to both implode like United did, either.
With five games to go, it looks like they've missed the boat.
All the fluency from the first half of the season seems to have gone. Passes in the final third went astray with regularity on Wednesday, it was Sunderland who looked by far the more threatening side on the counter attack and Connor Wickham, a man whose only other Premier League goal came over two years ago, tore their defence apart in the second half.
Samir Nasri's late strike may have salvaged a point, but it probably means more to Sunderland's survival hopes than it will to Pellegrini's charges.
Granted, this was a rearranged midweek fixture, but the amount of empty seats inside the stadium can't have inspired the home players, either. It is hardly a new problem at Eastlands but this is a club supposedly fighting for the title.
Compared with Anfield on any given weekend, let alone Sunday, this game may as well have been played in a library. The loudest it got was when boos greeted the final whistle. This does not look or feel like a club in a title race.
City must now lick their wounds ahead of West Brom's visit on Monday in what is another match they will be expected to win with ease.
But if they were damaged by defeat to Liverpool, who knows what this result will have done to their fragile confidence. Chelsea should be seven points clear of them by the time they next kick a ball, Liverpool should be nine.
Arsene Wenger spoke on Tuesday night of rebuilding his side's confidence game by game as he vowed to keep going in the fight for a fourth-placed finish. Listening to Pellegrini, you wonder if he knows how to convince his players that they are even still standing.