COMMENT
By
Ewan Roberts
With
Tim Sherwood's
explosive if short-lived
Tottenham
tenure coming to end, the focus at White Hart Lane is now on finding a successor.
Louis van Gaal has been the clear favourite for the job, having shared a sofa with chairman Daniel Levy in December as they watched Sherwood's first match in charge. In a curious quirk of fate, though, the opposing manager that day, Southampton's Mauricio Pochettino, has now established himself as a rival to Van Gaal.
The two managers sit at opposing ends of the football spectrum and appeal in wildly different ways. Pochettino, still taking the first steps of his career, offers longevity, while Van Gaal brings virtually unparalleled experience. The Argentine has shown a capacity to work, even flourish, under a demanding chairman, while his counterpart has often courted controversy and clashed with his superiors. One is seen as manageable, the other uncontrollable.
But, regardless of the respective pros and cons, there is really only one option worth pursuing.
That option is Van Gaal. Everywhere the Dutchman has gone he has brought success, as seven league titles in three different countries attests – and it stands in stark contrast to Pochettino's career-high eighth-placed finish with Espanyol.
He is belligerent in the pursuit of silverware, has encountered and traversed every obstacle imaginable and would not be daunted by the expectations placed on him at Tottenham. But at the same time, his reputation as a volatile and divisive dictator is hard to ignore.
The reservation is that Van Gaal could make White Hart Lane an even more toxic environment than it already is; the club need someone to repair, not tear down. Surely a man once likened to Adolf Hitler, who alienated much of his Bayern Munich squad during a recent two-year spell, offers only further turmoil and carnage, not the nursing salve Spurs crave.
Yet his short time in charge of the Netherlands national team paints a different picture. The side he inherited from Bert van Marwijk was at war with each other and in disarray after exiting Euro 2012 without a single point. Van Gaal quickly set about changing that.
He called the group together, showed them a documentary about
Oranje
's notorious implosion at Euro 96, and grievances were aired face-to-face. A line was drawn in the sand, a chance to start over. An unbeaten qualification campaign saw them book their place at this summer's tournament faster than any other European side.
He has also dispelled notions of being idiosyncratic and reluctant to hear, let alone take on board, the views of his players. Assistant Danny Blind, for example, was hired because he is "a worthy adversary in debates", while, in a little quirk more usually associated with an empathetic manager like Arsene Wenger, he has made sure the squad have the quickest internet available to them as slow speeds were disrupting their video gaming habits.
His objectives with Holland are almost identical to the remit he would be given with Spurs. First, he wanted to play recognisable 'Dutch' football, a lofty aspiration not dissimilar to 'the Tottenham way'. Second, re-establish the relationship between the team and supporters. Third, integrate the next generation of talent. It reads like a check-list of the criteria Levy will be looking for in a manager.
"I'm not the kind of coach who just goes out and buys players for the sake of it. I'm a coach who wants to – and can – improve players."





- Van Gaal

Further to that, Van Gaal will work with and maximise the squad at his disposal. Whereas Sherwood was keen to rid the club of last summer's signings, save for Christian Eriksen, the Dutch coach will toil to ensure the £100 million outlay is not wasted.
"I'm not the kind of coach who just goes out and buys players for the sake of it," he says. "I'm a coach who wants to – and can – improve players." For all the rhetoric, though, and given his appreciation of Kevin Strootman, you would imagine he'd be begging Franco Baldini for a creative central midfielder.
One laudable trait of Sherwood's otherwise maligned reign was the introduction of youth players, and that would continue under Van Gaal.
With Bayern, notably, he brought through many of the youngsters now firmly established in the first team, such as Toni Kroos, Thomas Muller and David Alaba – in fact there has been far less opportunity for academy products since he left, with Pierre-Emile Hojbjerg the only Under-21 player to be handed a Bundesliga start since. At Ajax, meanwhile, his Champions League-winning squad had an average age of just 23.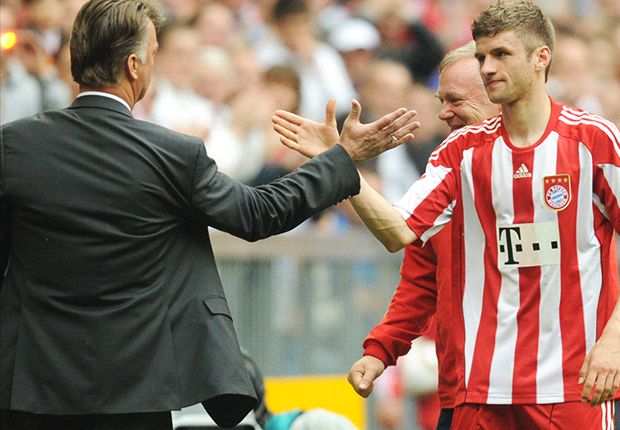 If you're good enough, you're old enough | Van Gaal brought through a host of Bayern stars

Van Gaal, then, is concerned with laying foundations, and much of Barcelona and Bayern's recent dominance is owed to the 62-year-old. It was he who began
die Roten
's transformation towards a possession-dominating outfit and blooded in their youngsters, while the reinvention of Arjen Robben as a disciplined, diligent winger owes much to the emphasis placed on the value of team work under Van Gaal.
On the opposite flank, though, Franck Ribery claimed he "hadn't had fun on the pitch under Van Gaal", which goes some lengths to explaining why the squad began to loathe their manager's devotion to a defined philosophy rooted in discipline and which limited the scope for individuality and expression.
"Players count for nothing, the team is everything," says Van Gaal. "I set more store by a player's character than by his on-field qualities, and particularly whether he is willing to give everything to the cause. There are some incredibly talented players who haven't got the character or the personality to suit my methods." Statements such as that set off alarm bells for a club that contains a player as unreliable and hot-headed as Emmanuel Adebayor, yet it is the sort of thinking that Spurs desperately need.
For a long time Tottenham have felt rudderless and bereft of identity, crying out for instruction and a defined way of playing. Under Harry Redknapp there was an entertainingly ad hoc approach under which spontaneity and improvisation were king, yet the side was naive and there was no clear gameplan.
Under Andre Villas-Boas the squad were organised defensively but bereft of purpose in the final third. Sherwood's style has been hard to define, other than unpredictable.
But Van Gaal's emphasis on the team, on every player knowing their role, on every cog locking together and on the sum of the parts being greater than the whole, feels deeply attuned to Spurs' needs. In this sense, his time at AZ in the late-2000s stands out as the most relevant to Tottenham. Here was a club who had not won the Eredivisie since 1981, yet comfortably lifted the title under Van Gaal with the best defensive record and second-best scoring record.
AZ finished the 2008-09 season 12 points above giants Ajax, despite the Amsterdammers' frontline being led by Luis Suarez. Interestingly, Van Gaal had been close to leaving the club prior to their title winning campaign, at least until captain Stijn Schaars led a delegation of players who begged him to reconsider – not bad for a universally disliked manager.
During that season, the veteran coach remarked: "We are not the best club in Holland, but we have the best team in the country." It is this thinking that Spurs need if they are to overcome their relatively limited resources, boasting only the sixth-largest wage bill in the Premier League.
Tottenham are used to being told they should not be competing at the top end of the table, and after a while it becomes the accepted narrative. But Van Gaal, who does not care for status or a club's perceived place in the food chain, could change that.
Even the major drawback to appointing Van Gaal – his age – feels redundant. Levy's desire to appoint a young, progressive coach in the Wenger mould betrays the short-termism of modern football and his own history of hiring and firing. On average, he has afforded the eight permanent managers he has appointed just 22 months in the job. Thus, the priority should not be finding a manager for the future, but finding the manager who can do the most in the limited time he will be given.
That man is unquestionably Van Gaal. In an era where every club is chasing 'the next Pep Guardiola', Spurs can appoint the manager who inspired the Catalan; the original article. If Tottenham pass up the opportunity to sign such a distinguished coach, they may find themselves asking 'what if?' for many years to come.
Van Gaal once dropped his trousers to give a rather literal display of his ballsiness to his underperforming Bayern team. Now Levy must do similarly.
Follow Ewan Roberts on