Goal
spoke with The 1975 frontman Matt Healy about
Newcastle
,
England
's
World Cup
chances and why
Liverpool
will win the
Premier League
this season.
We'll start with Alan Pardew's headbutt…
Right, well, I'm a Newcastle fan and you write for a football website so you know that any footballing bias is amplified in a Newcastle fan. So I'm never going to slag off Pardew directly at the moment.
But, I mean, what the f*** is he doing? What a nutcase. He's like Mick Foley. For a start you can't be 52 and throw your head into a 24-year-old, regardless of the professional circumstances. It's just a bit ridiculous.
When I was watching it, I thought: 'Well, I've squared up to someone before and, I suppose, led with my head' but you can't be doing that as a manager, can you? What am I going to say? I can't defend it. It's good that the club's fined him £100,000 and the FA have made an example out of him.
Headbutts aside, what do you think of Pardew?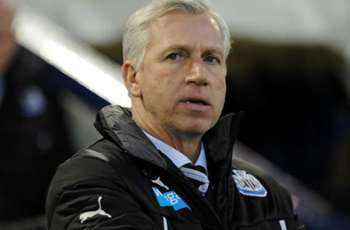 "I just think we've got to get through the season without a manager punching someone"
The problem is that it's a club where its heart is paramount. It's a club that's so involved with its supporters. The stadium is in the centre of the city, it is the heart of the club, and I suppose there's always going to be an underlying resentment when it's run by cockneys.
I think there's a slight suspicion towards Pardew and Mike Ashley - 'casino lad's club' - throwing headbutts in and combing his hair.
We're in a very typical Newcastle position at the moment, regarding our place in the league. It's been a difficult time for Newcastle fans during Ashley's reign because we've had everything. We've been relegated, we've beaten Manchester United 3-0 and finished right near the top of the table. People haven't been able to decide.
I think it's getting a bit of a mess. It's always airing on the side of getting really messy. I'm quite outside of it right now. It's hard for me to watch and keep up as much as I'd like. I was in Munich last night, I'm in Heidelberg today, I've been on tour for a year as well so I'm slightly out of touch.
I think Pardew a solid manager. What is he, the second-longest serving manager?
He is, behind Arsene Wenger…
I think that's kind of a sad reflection of the Premier League as opposed to a strong reflection of Alan Pardew.
And the Joe Kinnear appointment didn't help…
Yeah, that's exactly what I was talking about. What was going on with that? All of those things are without mentioning the renaming of St James's Park and stuff like that. People just don't understand what the club means to Geordies.
I know it sounds ridiculous but, if you're not from a club where people have such a stoic adherence to it, where its foundations are not only embedded in the cultural aspects of the place but the politics and the way the people see the world and care about things...
You wouldn't get a club like Newcastle United in a Conservative area, for example, so, when people's behaviour is reflective of things that fly in the face of the pride that's installed at Newcastle United, people get f****d off by it. I get f****d off by it and I haven't lived there since I was 11.
And now Kinnear has gone, are you confident the club will sign a replacement for Yohan Cabaye?
Well, I'm never that confident when it comes to transfer season, to be honest with you.
I think we were slightly lucky with [Loic] Remy and I don't know if we'll find a replacement for Cabaye. Cabaye, when he was at his best, he had a really good relationship with the club. Let's see what happens. I'm not too sure, to be honest with you.
Being a Newcastle fan, I want to see more Geordies. If you look at the history of our club, from Gazza [Paul Gascoigne] to [Peter] Beardsley, we need a player who understands the club. [Alan] Shearer knew what wearing the No.9 meant. That's why people believed in him.
Even to the extent of Andy Carroll. I remember seeing online a mock-up image of that Leonardo Da Vinci painting with the touching of the fingers and it was Shearer to Carroll. We're as fickle as any club but I'd like to see some new Geordie players who don't run off and play for f*****g Manchester United.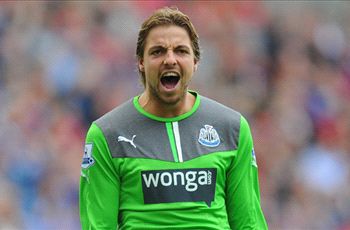 "We've got Tim Krul, who I think, just on the record, is the best goalkeeper in the Premier League"
Where would you like to see the club improve this summer?
The day that we lose [Fabricio] Coloccini is a fearful day. We kind of need to strengthen front, back and middle, don't we?
We had Cabaye and [Hatem] Ben Arfa, which was kind of holding up the middle and it was quite exciting. Ben Arfa, on his day, is amazing.
Obviously, we've got Tim Krul, who I think, just on the record, is the best goalkeeper in the Premier League. On his day, yeah. F*** it, I'll say that, I'm a Newcastle fan.
We could have done with [Papiss] Cisse keeping up how he was first playing when he first lined up for us. Remember that goal against Chelsea? Him and [Demba] Ba were amazing but he's just lost his legs. I'd like to see a proper No.9 at Newcastle.
I think with Ben Arfa, if we get a replacement for Cabaye and a strong, bullish centre forward, that's what I'd like to see. No kind of weak attempts like Leon Best.
I just think we've got to try and get through the season without a manager on the sidelines punching someone.
How do you rate the season? Because it started well but it's tailed off…
Being in eighth, I always kind of bite my lip a little bit. It's always slightly disappointing with losing Cabaye and everything like that. We've conceded a lot of goals as well.
I've been to one game and seen about four this season as I'm always in a venue. I'm always an hour ahead and I got so frustrated but I've just switched back on recently.
It's always slightly frustrating. With us, if we win two games, we're going to be in the Champions League, that's the way we think. If we get excited, we get really excited, which obviously leads to a lot of disappointment. It's another typical Newcastle season but I think the Pardew situation has exacerbated the state of the club. It's going to make people start to look and question everything.
And would you rather avoid a Europa League place, given what happened last season?
It's what always happens. It's funny, isn't it? People are almost scrapping to get out of finishing in that place. It's not good for a team like us.
If it was Manchester City who dropped down, it's OK for them because they've got two squads. Same with a lot of the top-flight clubs.
But I do kind of dread it. We had a nightmare, as well, with the Africa Cup of Nations, when you lose a player like [Cheikh] Tiote or [Shola] Ameobi from a team like Chelsea or Manchester United, you don't really lose much but, if you lose that from Newcastle, you're f****d.
It's really difficult for us to lose players, especially with how much we suffered through injuries to Ben Arfa. I do dread it at the moment.
And you'll be following the World Cup this summer?
Yes. Well, there's a chance we might be going out there to do a gig. How amazing would that be?
It would. And how do you rate England's chances this year?
It's 'Come on, England', isn't it? It's a bit 'Come on, Tim', isn't it? It's a bit feeble and a bit 'doing it because you feel you have to'.
Let's be realistic, if we get into the World Cup, we've got a young side at the moment, the last international tournaments we've had. I like seeing Danny Welbeck play for England. I like seeing a younger side but we can barely challenge. Pick a team that's barely recognisable, we struggle to beat them so, when it comes to Italy or Spain or Argentina we haven't got a chance.
I'd like to see us get out of the group. I do like to see that faux sense of national pride. That ridiculous belief. It's always fun, the World Cup. I want them to stay in it as long as possible so I have more of an opportunity to get out there and play that gig.
If you were Roy Hodgson, would you go for a young team or would you stick with the old guard?
I think, with the position he's in as a manager now, he needs to be realistic. He needs to know that we need to do well, do kind of all right, try hard and the nation will get behind it.
And I think we've done that loads with the older side of the team. What I mean is that we've got nothing to lose by having a tenacious, younger team, that's at least going to be more of a proud underdog rather than rolling all of the old dogs out for another attempt at it. You know what, we might just have a spark and get a couple of results. Yeah, I'd go for the young guns because we've got nothing to lose.
And which team will win it?
The World Cup? [Pauses] Do we go... [Pauses] This is the thing: I'm thinking players, you obviously think [Luis] Suarez because I think Suarez is more on form than [Lionel] Messi but Argentina are ridiculous and Argentina haven't won the World Cup in a while.
Who do you think? You write about football, I'm actually genuinely interested.
I'll go for Germany.
This is the thing: Germany are probably my favourite international side. It's their efficiency and their approach to it. Yeah, you know what, I'd probably be inclined to agree with you.
And the Premier League - who'll win that?
I want Liverpool to win it. Kind of. I do want Liverpool to win it. I don't necessarily want Suarez to win it but because, as a Newcastle fan, I relate to the way people feel about that football club and I'd like to see Liverpool do well.
Do Liverpool remind you of that Kevin Keegan team at Newcastle?
This is it. This is what I'm talking about, 1997, it's got a feeling of that, hasn't it?
If they have that unfortunate last-hurdle fall and finish second, which was devastating, I remember being there at that game when we just lost out, I was there with my day.
We'll see what happens because Chelsea, [Eden] Hazard on his day is a f*****g joke. He's just insane.
But I'd like to see Liverpool win it and I think they will. That'd be great, wouldn't it? They've got more fight in them. It's more of a realistic prospect and I think their fans will get behind them more. They've got [Steven] Gerrard - give them a couple of penalties and they'll be fine.
The band's self-titled No.1 album is out now on Dirty Hit Records http://the1975.com