COMMENT
By Paul Macdonald at Old Trafford
Juan Mata
and
Manchester United
have had a surreal seven days. He has arrived. He has played. And yet, despite the best efforts of everyone concerned to convince us otherwise, things aren't that much different than before.
The Spaniard made his debut in Tuesday's economical, but thoroughly unconvincing, 2-0 victory over Cardiff at Old Trafford. Mata represents a bona fide marquee signing, a muscle-flexing statement to offset a summer of transfer mismanagement, and, at face value, has given the club a renewed vigour. He is the vindication United fans needed that they are still relevant, that their owners will back the manager, and that David Moyes is beginning to develop an air of authority.
AN IMPORTANT MATA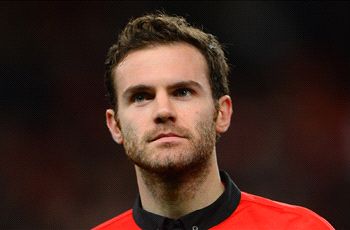 PLAYER RATING VS CARDIFF





Will only have met his team-mates in the last few days, and it showed, as he remained on the edge of the action for much of the contest. Still finding his way, but that will come with time.
FROM OUR LIVE! COMMENTARY


Things are suddenly looking up at Old Trafford. A dream start to the game, their main Dutchman back and firing, and Mata heavily involved already. No wonder the Stretford End is awash with noise!
That might be an awful lot of subtext to extract from a single transfer, but given how grim the mood was after Sunderland's Capital One Cup victory just seven days ago, signing Mata in the notoriously treacherous January window probably exceeded every fan's expectations.
In truth, the hysteria surrounding his arrival has provided a convenient diversion from the despair of the six months that preceded it. It's important to remember that Tottenham, Swansea, Sunderland, and Chelsea have defeated United in January alone. Two cup competitions were ungraciously exited. Mata is a footballer that would improve any side, but United's deficiencies remain abundantly clear, and this smoke-and-mirrors splurge shouldn't detract from those truths.
For any fan with perspective, this inflated positivity should have lasted all of 90 minutes. United are still ponderous in possession to the point of time standing still. Ryan Giggs and Phil Jones as a central midfield duo simply didn't work; Jones' range of passing is painfully limited, and his apparent shortcomings cannot be substituted by endeavour and well-meaning. There's also a palpable unease whenever United's back four are placed under any form of distress. Fortunately for them, Cardiff lacked the incision to take advantage.
Moyes, at least, is very much aware that defeating Cardiff and a massive signing don't write the previous wrongs. This was a win, nothing more.
Speaking to the media afterwards, he stated: "I still want [us] to be more convincing. I want to win better and want to play much better so don't think because I've won tonight that that means that I've got a smile and I'm happy.
"I'm happy for the three points but for where I want to go and the vision for where I want my team to play, I still feel as though I've got a long way to go."
Convincing is the optimum word, because the absence of conviction has characterised many of the home performances under Moyes, and despite the surrounding fanfare, they failed once again in that regard.
Mata can perhaps resolve this to some extent, though his performance here felt like he was experiencing the match rather than truly taking part in it, which is somewhat understandable given how little time he has had to adjust to his new colleagues. He was given the role just off Robin van Persie, the one he craves, and his true impact and future role will be defined when the Dutchman and Wayne Rooney are both fit and ready for selection.
But after watching United with Mata in the team, it's impossible to shake the feeling that his arrival is artificial. A fabulous player signed because he is a fabulous player, but not in the position United desperately needed to fill. Moyes hardly seems willing to deflect such an opinion.
He said: "We will get used to him and he will get used to us. I wanted to see him and Robin together tonight, but we will use him in different positions."
Those aren't the words of a manager who has identified a weakness in his side and has pulled out all the stops to rectify it. It represents the words of a man who has been grateful of the misdirection breaking your transfer record can provide, and is now tasked with making it work. On this evidence, it'll take more than Mata's integration to make United a threat once again.