Former Liverpool player Stephane Henchoz is looking forward to the upcoming English Premier League season and has backed current manager Brendan Rodgers to improve the club's performance but feels a top six finish will be a realistic goal.
"I like his (Brendan Rodgers) philosophy, I like the way he wants football to be played, I think it's the way forward," he told Goal Singapore in an exclusive interview.

"I think football these days is about keeping possession it's not anymore about kicking long and playing long balls. That's finished, that was 1966. For 45 years England hasn't won anything at all.
"It takes some time but I think he is the right man, he is a good manager and I am confident he can improve the team."
Henchoz, who was in Singapore for the 2013 Singapore IG Masters Football Sixes press conference on Wednesday, still feels the top four places will go to the same teams who finished there last season.

"Obviously Chelsea, [Manchester] City and [Manchester] United," he said of his top three for the season.
"I would love Liverpool, but I realistically see Arsenal [in the top four].
"Chelsea will be champions because of Mourinho, because he is a great manger, because he has done it twice, and he is going to win it again."
However, Henchoz believes a club of Liverpool's stature should still target finishing within the top four spots, or even win some silverware, and felt that an improvement should be made this season seeing how the changes made by Rodgers is proving effective so far.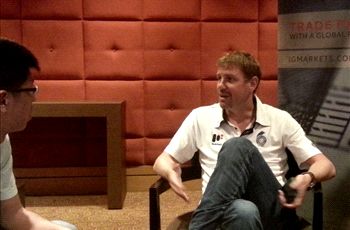 "I think they have to aim for the top four spots, knowing realistically it will be very difficult," he said.

"I hope that they can improve from last season, at least be in the top six. A decent run in the cup? Why not win one of the cups, that would be a trophy.
"I think Liverpool conceded too many goals [last season], that's why Brendan Rodgers decided to make a change, which is why he changed the goalkeeper. So far the pre-season has been very good, they have only conceded two goals in seven games, which is a big improvement."
The former Swiss international believes Liverpool need to bring those pre-season defensive performances into the league when they kick-start their season against Stoke City this weekend, so as to help gain momentum from the start.
"They need a good start against Stoke, they need to aim for clean sheets and then it brings you confidence. When you build the confidence and the goalkeeper has the confidence, it makes it easier," he added.

With Jamie Carragher and Pepe Reina departing the club, Steven Gerrard remains as the only experienced and influential player left at Anfield, something that Henchoz believes should change with younger players stepping up.
"Steven Gerrard has been crucial for Liverpool," he said flatly of the Liverpool captain.

"Now that Pepe Reina and Jamie Carragher have left, [and they were] two very important players on and off the pitch, it's time for players to step up and fill their boots.

"Players like Daniel Agger and even young players who have got the potential like Coutinho in the middle. Daniel Sturridge up front, he is another who needs to step up. He has got the potential, he is a good player, could be a great player.

"He has a great character, so that is the way it is in big football. You need players who can step up and have great character."