As Arsenal players went on a sightseeing tour of Hanoi upon arrival from Jakarta, thousands of local fans filled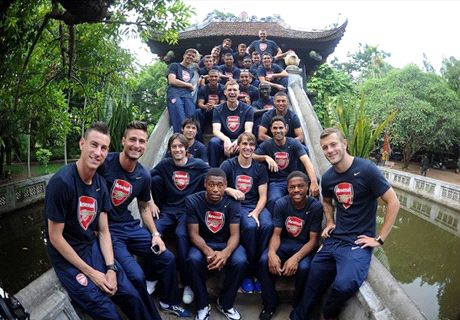 the streets to catch a glimpse of their heroes.
The Gunners paid a visit to the historic Buddhist temple, One Pillar Pagoda on Monday afternoon, and despite the heavy police escort one particular fan was determined to get close to his idols.
Vu Xuan Tien, now dubbed 'The Running Man', chased the team bus for over 6km, evading traffic, and other obstacles to stay within sight of the players, who urged the fan on and sportingly chanted 'sign him up'.
Vu was eventually invited on to the coach by Arsene Wenger no less who shook his hands and had the players sign his Arsenal jersey.
Mikel Arteta was a recipient of a kiss from the fan, while Olivier Giroud was fascinated enough to film the entire incident and post on his official Facebook page.
"I gave my heart to Arsenal when I was five or six, I always enjoy watching them play," said Vu when
interviewed by
Goal
.
"I saw Podolski, Arteta and Szczesny wave at me, telling me to pass them my shirt so that they can give me their signatures. I did what they said. Afterwards, when the bus started moving, the players kept waving their hands, asking me to get inside the bus so I took the chance.
"I don't remember [if the players had applauded me when I got on the bus] because I was too surprised and happy at that moment.I said hello and called the name of every player. They greeted me too and even hugged me. All of them signed on my shirt. In general, all the players and coach Arsene Wenger were very friendly."
Arsenal are the first English Premier League to visit Vietnam according to
arsenal.com
and are set to take on the Vietnam national side on Wednesday following their 7-0 mauling of Indonesia over the weekend.