COMMENT
By Charlie Scott
Ledley King
retired from football on Thursday with just 21 international caps. He could easily have won 100.
How different both Tottenham and England's fortunes over the past decade could have been if the classy defender's career had not been cursed with an ongoing knee injury.
The 31-year-old has confirmed he has hung up his playing boots and taken up an ambassadorial role at the club that he has served so selflessly for the past 17 years.
LEDLEY KING IN QUOTES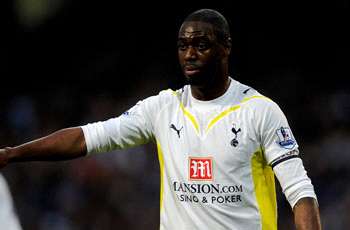 JAMIE REDKNAPP

"He is like a magnet for the ball, a thoroughbred of a defender and the best centre-half in the country."

THIERRY HENRY

"King would get the ball off you without you even noticing … he's the only defender in England who doesn't hold onto you, and he sometimes still gets the ball off my feet easily

."
FABIO CAPELLO
"Without doubt, King is one of the best central defenders in England."
MARTIN JOL

"He is the best central defender I have ever seen."
HARRY REDKNAPP

"He is an absolute freak."

King joined Tottenham at the age of 14 in 1995, but, unlike many other talented players that have graced White Hart Lane in recent years, he never left.
For any normal player appearing that number of times for a Premier League club would be considered a superb achievement. In the case of King however, such figures seem unfairly low.
The graceful defender has been plagued by a chronic knee condition in recent years that has made it impossible for him to train with the rest of the first-team squad, and limiting his ability to play two games within the space of a week.
Such is the severity of the condition that every time he does play, it is in pain.
Despite this, King is still regarded within the game as one of the most talented centre-backs of his generation, a belief enhanced by the manner in which he has seamlessly slotted into the Tottenham line-up whenever his fitness has allowed it.
He performed superbly and did so at the highest level despite his lack of preparation with his team-mates.
The former Tottenham manager Harry Redknapp described him as "an absolute freak", such were the levels of his performances after lengthy spells on the sidelines, while a rival legend from down the road, Thierry Henry, spoke of how King was one of the best defenders he has played against.
It seems absurd to think that King won just one trophy in his playing career, Spurs' League Cup victory over Chelsea in 2008 representing the only piece of silverware for a player who was as good - if not better – than the likes of John Terry and Rio Ferdinand.
In fact, Terry and King played together as youngsters for the Sunday League team Senrab FC in East London, but that was where their paths and achievements would part.
Terry has gone on to win three Premier League titles, five FA Cups, two League Cups, and then last year, the Champions League. He has also accumulated 77 England caps.
Watching some of King's performances for Spurs you cannot help but feel devastated that he never achieved similar success. He certainly was good enough.
It is common for highly rated defenders, like Terry, to garner plaudits based on their knack for making last-ditch tackles or goal-bound blocks, King however, was from a whole different breed.
Not many centre-backs can be described as a luxury player, but King certainly fell - or perhaps glided - into that elite category.
LEDLEY KING'S CAREER IN NUMBERS

DEBUT
SEASONS PLAYED
SQUAD NUMBER
TOTAL APPEARANCES
GOALS
TROPHIES WON
INTERNATIONAL CAPS

1998
14
26
323
14
1
21

His ability to read the play and position himself accordingly made it unnecessary for him to career around the pitch making a nuisance of himself.
When playing for Spurs he provided a calm aura that filtered through to his team-mates and made them a far more accomplished side.
Their win percentage improved dramatically with him in the side, and also made them a more attractive team to watch.
King would get the ball down on the deck and look to neatly pass out of defence, or on occasion dribble forward with the ball at his feet.
His passing ability and composure on the ball was highlighted when at the Euro 2004 he was used as a holding midfielder for England, and even there he shone, particularly in the 2-1 defeat to France in Lisbon.
To Ledley King, the best defender Tottenham and England barely had.