ANALYSIS
By George Ankers
It might be an even wetter British summer than usual, but it is still an oddity to see not a single
Premier League
club miss the opportunity to spend their pre-season away from home.
In 2011, 18 of England's top 20 sides used their preparation time to jet to all corners of the world, and this year, Fulham's announcement of a trip to Germany made it a full house.
While the Cottagers join the likes of Norwich City and Southampton in making the now-almost-dull-by-comparison move to play two or three matches in central Europe, Manchester City, Manchester United, who kick-off their tour of South Africa on Wednesday, and Chelsea are leading the way with high-profile jaunts to "key markets" in Asia and North America. But why do Premier League clubs spend their summers this way?
The root of the answer, of course, is money. As
Barclays' jaw-dropping £120 million three-year renewal of the division's naming rights and primary sponsorship
– an astonishing rise of £13m per year - proved, the English league is by some distance the biggest fish in the financial pond, and the rewards are there for those who can grasp them.
EACH CLUB'S SUMMER DESTINATIONS

Arsenal

Aston Villa
Chelsea
Everton
Fulham
Liverpool
Man City
Man Utd


Newcastle

Norwich
QPR
Reading
Southampton
Stoke

Sunderland
Swansea
Tottenham
West Brom
West Ham

Wigan
Malaysia, China, Hong Kong & Germany
USA & Germany
USA
Indonesia & Spain
Germany
Canada & USA
China & Malaysia
South Africa, China, Norway, Sweden & Germany
Germany, Hungary & Portugal
Austria
Malaysia
Portugal
France
Switzerland, USA & Germany
South Korea
USA
USA & Spain
Sweden
Czech Republic, Germany & Portugal
Austria

"Like any brand, they're looking to access emerging markets or markets, potentially, that they're weak in," explains Adam Raincock of Synergy Sponsorship.
"They will look at it purely tactically from a business-operation point of view in terms of 'what are the emerging markets?' or 'what market do we want to go into?' and then they'll use the tour as their marketing tool in order to access that particular market.
"Manchester United have been everywhere from the Far East to the US – which they concentrated on for a couple of years – and it's not by chance. The tour is the best way that they can launch or re-launch in a particular market into which you're taking the product, because people can see the brand in action."
With so many people in every corner of the globe glued to the television, the prospect of providing face-to-face context for that fanatical interest is lucrative.
Be it
a Manchester United telecoms partnership in Pakistan
or
a Steven Gerrard-themed hotel in Indonesia
, there is no industry that doesn't want to be associated with the Premier League.
So a trip to, for example, Kuala Lumpur, where Manchester City will head at the end of July, is a great way for the club to attract new local sponsors and use those sponsors to help gain exposure and, therefore, long-term support.
There will also be some influence from existing sponsors, as Raincock continues: "If you look at Arsenal, they were going to go to Nigeria this year. Emirates are obviously their principal sponsor and if you look at the Emirates chief executive, last November he talked about China and Africa as being their key markets that they're looking to expand their root network into.
"I think they're key sponsors as well, so they'll play a part in determining where the tour goes, and obviously for Emirates, a tour to Africa is very lucrative to them as well as Arsenal.
"I would still say that the primary reason is to develop new sponsorships, though. These big clubs, they split the globe up – so Man United will have an official mobile phone supplier in Asia, one in Africa, one in Europe and things like that, so they really carve the globe up and sell different packages in different areas."
For all the bean-counting it is, of course, also an opportunity to give back directly to those supporters, who watch every week at ungodly hours of the night and spend so much on merchandise and TV subscriptions, by playing matches and making public appearances to meet their heroes. The Premier League may only listen to its heart when it can make money at the same time, but it does at least have one.
THE TOUR OBJECTIVE
Adam Raincock
Director of communications, Synergy Sponsorship

"What will happen is that the commercial team will all be along for these tours and they'll have spent weeks and months planning, setting up meetings with a range of brands – from mobile phones to cars, styling paste for your hair – so they'll give these potential sponsors behind-the-scenes access, they'll get to meet certain members of the squad.

"They'll also get to see the squad interacting with fans, and ultimately, if you're a sponsor, what you want to do is to access the huge fanbases that these clubs have in their countries.

"Manchester United are in South Africa at the moment, so that'll have been a tactical move. The United commercial team will be speaking to brands in South Africa, demonstrating what a huge fanbase they've got and what a great vehicle Man United is for them to reach these target audiences. That would be their primary motivation for these tours."
That said, another reason why clubs are so keen to play their pre-season games overseas is purely to get bums on seats. With preparatory matches being what they are, and Britain being a small enough country that most people can travel to see the big teams play during a regular season, attendances are low at home.
If Chelsea fly to USA, though, as they have done frequently in recent years, they can attract 69,000 fans for a game in Seattle and afford to charge essentially a regular-season ticket price in the process. A full, thrilled crowd is a bank-balance boost – and probably inspires the players to take the games more seriously, too.
Sometimes the decision is not so much about breaking new ground as merely keeping up with your rivals. Arsenal boss Arsene Wenger had steadfastly ignored the big summer tours for a long time before finally relenting and embarking on a pre-season tour of Asia in 2011, and the Gunners are doing the same this time around.
The Frenchman called it a "compromise" but, when the north Londoners must compete domestically with the ever-growing financial might of City, United and Chelsea, failure to keep up out of season could mean failure to do so during it.
"If you look at the Arsenal case – and I'm speculating here – I think that was a battle between the commercial and playing sides of it," says Mr Raincock. "In terms of Arsene Wenger not wanting to take his squad halfway around the world to play in games that, to him, don't matter in terms of development of his squad.
"On the other side, you've got the commercial team going 'look, we're falling behind Man United' and things like that. I think for a couple of years there was a battle between those two sides of it, but ultimately, I think what they did to bring Wenger round, they needed to show the cold, hard commercials of such a tour, and in the end the commercial won out.
"They did risk falling behind the big clubs because this is where all the money's coming from, the emerging markets, and the top Premier League clubs are in a great position to be able to capitalise on them.
"[The trip to Nigeria] was cancelled more for operational reasons than commercial so certainly, going forward, I think you'll see Arsenal following suit with the big clubs."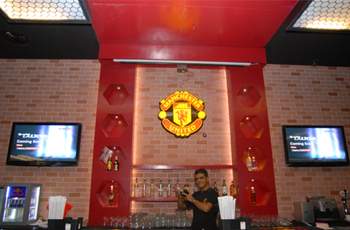 There is no industry that doesn't want to be associated with the Premier League

So it is that Arsenal will face Roberto Mancini's side in Beijing's Bird's Nest Stadium on July 27, the first day of the London Olympics. That in itself will be a fascinating test of football's pulling power, to see whether an essentially-meaningless match will be able to hold its own in the ratings stakes or be drowned under the Games' pull. The Premier League's rampant marketing drive suggests that it should still draw in plenty of interest.
Indeed, the sheer appeal of the league itself might create some openings for the smaller clubs to get a piece of the pie. "Much like the action on the field in the Premier League, there's going to be the haves and the have-nots," Raincock adds.
"People talk about a two-speed Premier League in terms of playing, but I also think that, in terms of commercials, there's a massive two-speed system where the big clubs are securing these deals.
"It all comes down to 'what's your reach?', so Manchester United compared to Swansea City, the reach is clearly massively different. What these smaller clubs can look to do is ride on the coat-tails of the Premier League, because the Premier League itself is a huge global brand.
"Swansea being part of that gives them certain leverage in markets but it's clearly not going to be on the same scale as the bigger clubs. But it's good that they're trying to, because they're identifying the opportunity and trying to capitalise on it."
We may have yet to see the potential pitfalls of these big tours at work. More frequent and extensive touring could bring concerns over player burnout before the hard work even begins, with matches in places like Abu Dhabi and Singapore often played in intense heat, not to mention the many hours of relentless travelling to and fro.
If the Community Shield is soon tempted to follow the Italian Supercoppa's lead and move abroad as well, such an effect could start to pile up.
For now, though, the positives of the far-reaching pre-season tour are far outweighing the negatives for England's elite – which is why this country's training grounds will be 20 squads emptier for these next few weeks.
Follow George Ankers on